Wild City #087: BASSFoundation Roots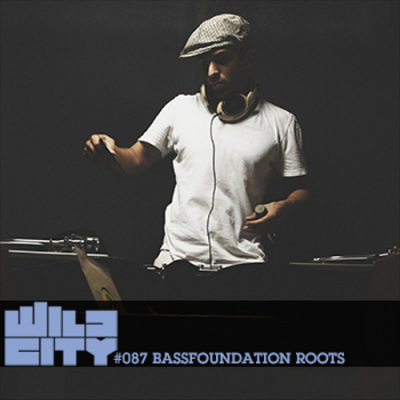 8 January 2015
You'd probably recognise Taru Dalmia as the face behind popular ska/jungle/reggae/dub act - Delhi Sultanate and as a member of D&B and jungle collective, BASSFoundation. His solo venture - BASSFoundation Roots goes back to basics and explores the sounds that initiated dub and jungle music in the early years, dedicating itself to reggae roots and keeping things strictly analogue.
The vinyl only policy comes as resistance to "the new wave of dance music played off laptops with a 'louder-the-better' attitude" (as is described on BFR's website), hearkening back to the days of vinyl old school soundsystem culture.
BASSFoundation is signed to booking agency KRUNK, which tells us that Delhi Sultanate spent the better part of 2014 pressing his tunes on wax and building an enviable box of rare dubplates from some of reggae's biggest influencers. His Wild City mix includes some of those rarities, making it truly one of a kind.
The mix was in fact stitched together before the 2014 edition of Magnetic Fields Festival, but with all the hustle and bustle, it was hard to give this little gem a good listen and upload in time. By all accounts however, his performance in the bedouin village was an absolute stormer. He's since even released a video for his interpretation of ska tune 'Summertime' by Monty and the Cyclones with partner in crime, Begum X.
BASSFoundation Root's 40 minute mix starts off with a very special tune, which features trombonist and one of the original composers and members of the legendary The Skatalites – Don Drummond. Capleton's 'Badmind' dubpate remix was a special treat as was the excellent, surprise (and still to be released) track by Delhi Sultanate called 'Run The Place'. The excellent mix also features some fantastic hip hop sounds in its latter half (particularly Movado's 'Lighters Up', minus Snoop Dogg this time). Worth a download for absolutely anyone, i.e. you don't have to be a roots reggae aficionado to enjoy its classic dance grooves.
"For this mix I used two Techniques turntables and an analogue dub siren in order to create an original Jamaican sound system session vibe. It's the kind of music I like to play at a BFR sound system show as well…. I start with some ska and rocksteady from the 60's and 70's and then go on to some harder rub-a-dub and hip-hop riddims. There are a couple of dubplates in the mix.. The first tune for instance is a special I recorded in Jamaica with Toots and the Maytals earlier this year.. It's not a dubplate but a unique voicing or what is known as special. In general when it comes to dubplates I make an effort to create original voicings that people can't hear elsewhere." - BASSFoundation Roots
If this simply isn't enough, you can tune into the weekly Delhi Sultanate show on DUBFORCERADIO, which is featured live from New Delhi every Wednesday at 11:30 pm (watch its promo video here).
Listen and download below:
Direct Download: Wild City #87 - BASSFoundation Roots
Tracklisting:
Toots & Don Drummond - Funky Bass Foundation Roots (Special)
Eric 'Monty' Morris - Blackman Ska
K.C. White & Big Youth - No No No / Screaming Target (Dubplate)
Cedric Brooks - Idleberg
Horace Andy - Skylarking
Prince Jazzbo - Crabwalking
Prince Jazzbo - Pepper Rock
Delhi Sultanate - Run the Place (forthcoming)
Johnny Osbourne & Jigsy King - What a lalala (Dubplate)
Johnny Osbourne & Beenie Man - Rub-a-Dub (Dubplate)
Delhi Sultanate & Begum X - Fever
Jahdan Blakkamore - General (Dubplate)
Movado - Lighters Up
Capleton - Badmind (Dubplate remix)
Dead Prez & Sizzla - Hip Hop / Solid Like a Rock (Dubplate)
Bounty Killer - Look (Dubplate)
Bounty Killer - Look (Subatomic Dubplate Refix)
Kandiman - Sun is Shining (Dubplate)
Emch Subatomic Sound - Sun is Shining Riddim
*Feel free to share and blog this mix, but please reference this page*
Tags
Join Our Mailing List