Wild City #081: Alter State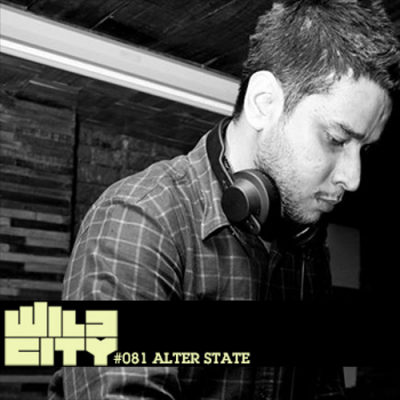 30 July 2014
It's obvious to state that club music usually sounds best in a club, but for Delhi based Alter State - this stands especially true. Hearing tracks from any of the producer's featured in this mix, loud, in a dark room can sometimes make you feel incredibly insignificant. Fuelled by bass sounds that hit like electric shocks, modern day dubstep (trying to recreate the original take on dub inspired bass music) is quite literally at the most exciting part of its evolution.
More and more labels such as SYSTEM Music (run by V.I.V.E.K who played Magnetic Fields Festival last year) are deciding to focus more and more energy on vinyl - sticking true to the philosophy of 'dub' - and salvaging a sound that would have otherwise been lost under a blanket of wobbles and machine-crafted shrillness.
A long time supporter, Sudan has been always been stage side, tagging along for the ride. That is not to say, he's in any way focused on bass music. A full-time electronic music aficionado his DJ sets also revolve around some of the most cutting edge sounds from the house, techno and D&B world. He's also an artist manager at Delhi based Unmute Agency, yet most importantly, he's a straight up music geek.
Right from the very start, his mix is brimming with energy. Wild City #081 quite simply grabs you by the back of the neck and takes you somewhere else entirely. Featuring tracks from the likes of Pangea, RDG, LAS, ID, Icicle and Jack Sparrow - it doesn't fail to explore the dynamics on offer either.
Running for just under an hour, it showcases the purist within this young music lover. And with more and more production in the pipeline, we suspect there'll be more proof of this soon.
This is not a session for the faint hearted.
"This is a 140bpm (dubstep) mix of tunes I have been collecting on vinyl over the years. I really feel dubstep is in a special place right now with all sorts of techno/house/electronica producers bringing something new to the table each day. This is a dancefloor friendly mix which contains a couple of vinyl only exclusives, best heard on a good set of speakers or headphones." - Alter State
Listen and download below:
Direct Download: Wild City #081 - Alter State
Tracklisting:
Karma - How You Feel
Pangaea - Bear Witness
RDG - A Safer Place
Mikael - Drain
LAS - Daggers
Kaiju ft Flowdan - Snagglepuss
Jack Sparrow - Afraid of Me
Kryptic Minds & Killawatt - Cunning Juncture
ID - ID
Jubei & J.Kenzo - Visions
Icicle - Xylophobia
Biome - Chosen
AxH - I Feel Safe
LAS - Uuha
DJ Madd - Follow Dub
ID - ID
Arkist - The Devil's
Mount Kimbie - Maybes (James Blake Rmx)
*Feel free to share and blog this mix, but please reference this page*
Tags
Join Our Mailing List