Wild City #076: MadStarBase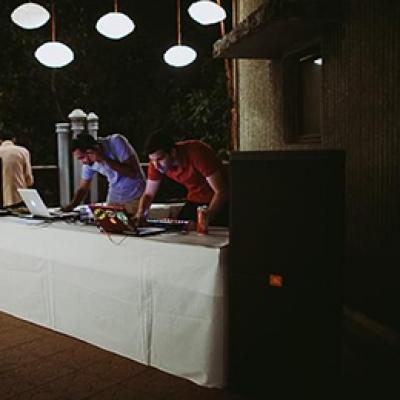 28 April 2014
MadStarBase is an international music crew with members representing USA, UK, Jamaica, and India.
New Delhi based production and DJ duo Ase (Anant Ahuja) and dubSekhri (Neal Sekhri) are the Indian flag bearers, producing original cuts as well as a staggering array of bootlegs and remixes. The tag-team are also resident DJs at the House of bhane. and are known for spinning a selection of space age, future music infused with classic hip-hop, reggae and dub.
Also involved in the development of bhane's online music portal - bhane.FM, they curate mixes and playlists from DJs, producers, and music lovers around the world to give listeners a place to find fresh artists and soundtracks at any time of the day, at the click of a button.
This weekend (2-4 May), MadStarBase will be performing at bhane.live - a 3 day pop-up music festival - officially launching bhane.WIP, the flagship bhane. store as well as bhane.FM. They'll be playing alongside a host of some of the nation's freshest and most exciting musicians. Some of these include Curtain Blue, Frame/Frame, Nanok, Your Chin, When Pandas Attack and more.
Taking us past our diamond anniversary, mix #076 comes full of surprises. Opening with an original bootleg, it blasts through tracks from the likes of Rain Dog, Hayden James, Darkside, Flume and Branko whilst still dipping into original bootlegs and production from this dynamic duo.
"This set was mixed by Ase and dubSekhri. It begins with a newly released MadStarBase remix and features some of our other work along with tracks we jam to and take inspiration from. At about 30 minutes we get into 113 BPM, taking the set into a zone of groovy and funky house tracks which will definitely get you in the party mood." - MadStarBase
Direct Download: Wild City #076 - MadStarBase
Tracklisting:
White Noise (MadStarBase Remix) - MNEK x Disclosure
Regolith - Rain Dog
Permission to Land (Charles Murdoch Remix) - Hayden James
BUBBLEBATHDREAM$ - IAMNOBODI
Make You Say (Maths Time Joy Remix) - Kastle vs. Carter (Maths Time Joy Remix) - Arthur Beatrice [Ase Smashup]
Paper Trails - Darkside
The Twins - FKJ
Holdin On (123mrk Remix) - Flume
Memories - Xtrafunk
Fling - MadStarBase
Running (Disclosure Remix) - Jessie Ware
Body Language - Booka Shade
Waves (ft. Roses Gabor) - Branko
Just Kiddin' (JackLNDN Remix) - Soul Drop
Fetch - Les Sins
Beating Hearts (MadStarBase Remix) - Ocelot
Moonshine - Final DJs
High You Are (Motez Remix) - What So Not
They Said - Dousk & JMP
Dance Me to the End of Love (H.O.S.H. Remix) - Misstress Barbara
Love You Down (eSenTRIK VIP Remix) - INOJ
Hold On - Jason Burns
Beatbox - Jack Beats
SoundCloud - MadStarBase
SoundCloud - Ase
SoundCloud - dubsekhri
*Feel free to share and blog this mix, but please reference this page*
Tags
Join Our Mailing List