Wild City #075: When Pandas Attack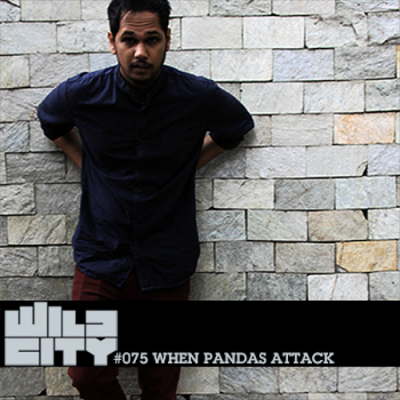 7 April 2014
Gold Panda, My Panda Shall Fly, Alien Panda Jury and now When Pandas Attack.
What the fascination is with putting the word Panda in you band or DJ name, I can't exactly comment on. What I have observed however, is that it seems to be prevalent in acts truly pushing boundaries within their respective genre.
The newest and youngest member of the 'Panda' society is When Pandas Attack - Delhi based musician and graphic designer Ankur Chauhan - someone who's recently popped up, quite literally out of nowhere and created official remixes for the likes of Sandunes and Monsoonsiren as well as uploaded a ton of tracks to his SoundCloud.
In general, electronic artists bringing organic warmth to their recordings are few and far between - yet Pandas does this in a raw and clear cut manner - one of a handful of artists capable of crafting a widescreen and organic-sounding world - full of dynamic space.
In line of that thought his mix comprises of a relatively down-tempo disposition: easy listening for those who've reached the dazed dawn after a wild night out, or for those making the best use of aural interlude. Its incremental progression is an insight into exactly what makes this kid tick - notable but, in the grand scheme, not revelatory. Maybe still, a touch mysterious - just the way we like it.
"These are just some of the pieces that make up the sound and influences of When Pandas Attack. Hopefully, it has pieced together an interesting aural experience." - When Pandas Attack.
As always, listen and download below:

Direct Download: Wild City #075 - When Pandas Attack
Tracklisting:
Klimeks - Tokyo Train (Waved Edition)
Laura Mvula - She (Shlohmo Remix)
Banks - Waiting Game (RuddyP Bootleg)
Touurs - Grand Lux
Odesza - Sun Models (Feat. Madelyn Grant)
FXXXYBLNT - Take Me There (Feat. Touurs)
Lorn & Dolor - One For Barta
Akeda - Born Into This
Kodak To Graph - Rakshasa (Feat. Monsoonsiren)
Chiefs - Nevermind
Cashmere Cat - With Me (STWO Edit)
Flume & Chet Faker - Drop The Game (Maxx Baer Re-Think)
Flume - More Than You Thought
Grizzly Bear - Will Calls (Diplo Remix)
*Feel free to share and blog this mix, but please reference this page*
Tags
Join Our Mailing List