Wild City #074: Reji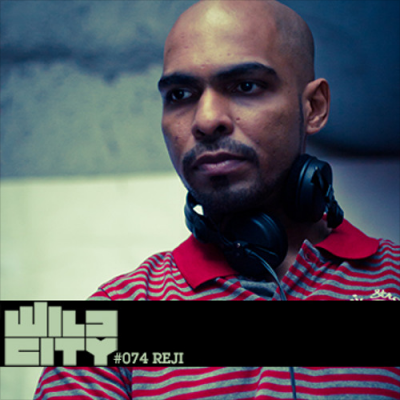 1 April 2014
It's Mixtaped! week here at Wild Cit and we're helping the head honcho celebrate.
Tomorrow night, it would have been a year since the little 'micro party' started by Reji in one of Bandra's smallest clubs - turns one. Not only has this weekly been programmed with great fluidity, it's hosted some rather surprising never-before-seen scenesters from various pockets of Mumbai. An inspiration for our new weekly; Conference.
Since stepping into the world of DJing back in 1998, Reji hasn't looked back. Today he holds a residency at venues across southern India, as one of the most prolific names in Mumbai's booming alternative and electronic music scene.
Just 2 years after steppping into the game, wanting to give back, he also designed and implemented his own syllabus at some of the best DJ schools in Mumbai; training more than 500 men and women in the art of DJing, turntablism and music production. He's also proved himself time and time again as a battle DJ by winning the DMC (Pune - 2000), Times War of the DJs (Mumbai - 2007) and Kingfisher Ultra DJ (2010) championship titles through the years.
The last 12 months have however been pivotal for Reji's career, being scouted to be a course director, author and instructor of the educational modules of DJing at The True School of Music, India's biggest and most contemporary music university.
And then of course, there's Mixtaped!.
One of the very first people we asked for a mix at Wild City, we're thrilled to be able to add him to the list. A genre defying selector, this is a recorded insight to just exactly what a live Reji set can and cannot do. Ripped from a Mixtaped! session, we'd recommend you're not put off by the shaky start. Play it loud and head over for the very special #Weareone Mixtaped! party tomorrow night in Mumbai.
"I had recorded this short set just for kicks during one of my nights at Mixtaped! You could hear my friend Tally and I messing around with some scratching in the start of the set. This set was made using 2 Pioneer CDJ 900's and 1 Pioneer DJM 900 mixer." - Reji
Listen & download below:
Direct Download: Wild City #074 - Reji
Tracklisting:

Smoove - Big Balls

DJ Food - Klute's Groove

Badboe - My Bad

C2C - Delta

Flying Steps - We Gonna Rock It (Jetset Remix)

Gorillaz - Dare (Pollyn Remix)

Hercules & The Love Affair - Blind (Serge Santiago Remix)

Phreek Plus One - New York Dolls
*Feel free to share and blog this mix, but please reference this page*
Tags
Join Our Mailing List