Wild City 063: Donn Bhat + Passenger Revelator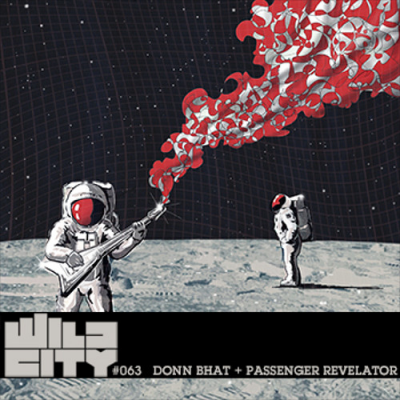 17 September 2013
Donn Bhat is a music composer, producer, songwriter and guitar player based out of Mumbai.
In the past he's written, produced and played for the bands 'Friday The13th' and 'Orange Street' both of which won the Great Indian Rock (GIR) competition in 2003 and 2005 respectively. Eventually, after an extensive tour of Europe with Orange Street, Donn produced his first solo album 'One Way Circle' in 2006 from his bedroom studio in New Delhi. The album received a great response from press and fans alike and has seen a quick appreciating reaction from reputed stalwarts within India's independent music scene.
More recently three of his album tracks got featured on the MTV series 'Bring On the Night', whilst he currently is in the recording stages of his second solo album titled 'Passenger Revelator', alongside regularly composing music for film and advertising in Mumbai. He performs live with his band Donn Bhat + Passenger Revelator.
On the one hand, Bhat's built a reputation as a solid producer, making accessible music that embraces melodrama with uplifting emotion, yet never tipping over the edge. This mix however, showcases a midnight raid on the middle ground, combining high drama with glossy production and beefy choruses. An adaptable shapeshifter – and that, with his orotund vocal sound, an instantly recognisable one.
The Wild City mix he's made just might be our favourite one ever. And since Bhat's currently on his most prolific form yet, we're excited about the timing. If you're lucky enough to be going to Ziro Festival this weekend, you'll be able to catch him perform there. Otherwise, you'll have to wait till he next performs in a city near you. We may just do something about that though.
"This is a completely original set. Two of these tunes just got done last week, the others have been produced over the last few years. Song writing appeals to me and that's what I wanted to showcase. The first track, 'Stars Align' was something Aashar and I came up with in less than ten minutes one afternoon a few months back in Delhi - it was one of those days. Ironically it has turned out to be one the longest tracks we've done in a while. All these tracks were made at home. Hope you enjoy." - Donn Bhat
Direct Download: Wild City #063 - Donn Bhat + Passenger Revelator
Tracklisting:
Stars Align
The Sun
Samson Delilah
Was An Animal
Belong
107 Feat. Malabika Brahmo
*All songs are original*
*Feel free to share and blog this mix, but please reference this page*
Tags
Join Our Mailing List