Wild City 048: Reggae Rajahs (4 Year Anniversary Mix)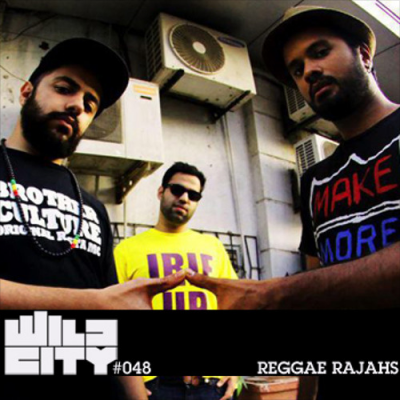 4 February 2013
Reggae Rajahs are India's first and foremost reggae sound system. That much you should know.
For the past 4 years they have been steadily building a loyal and dedicated fanbase across the country, exclusively pushing genres such as reggae, dancehall, dub, ska and rocksteady. This week they will be celebrating 4 years with a self programmed, curated and promoted tour in association with The Polish Institute. As has become a tradition over the years, they will also be celebrating Bob Marley's (68th) birthday within these dates:
Last year saw the trio complete a landmark year. Alongside a European tour they had performances at festivals such as SulaFest, NH7 Weekender, Ragasthan and Sunburn, whilst also supporting Snoop Dogg in Delhi to much acclaim from press and fans alike.
It's been an absolute pleasure watching this dynamic trio grow over the years. From winning the very first reggae soundclash in a 200 capacity club (up against BASSFoundation) to hosting Dub Station at the NH7 Weekender, playing Outlook Festival in Croatia and supporting Snoop Dogg in New Delhi, their positive lyrics, MC'ing style, role as selectors and choice of touring artists has reflected in their progression as one of India's fastest growing live acts.
Supporting them on this tour will be Dreadsquad, who rank amongst Poland's premier music producers. Creating music that can broadly be classified as reggae/dancehall, they combine elements of ska, rocksteady, breakbeat, jungle and dubstep, pushing forward a unique fusion of bass heavy sounds. And as a little treat the Rajahs have put together a mix that elegantly folds together 24 tracks all produced by Dreadsquad, all within 34 minutes.
Alongside Dreadsquad, they will also be supported by Kasia Malenda, a talented singer who has recently started to make her presence felt in the European reggae and jungle scene. For all you production heads, Dreadsquad will also be hosting a free music workshop at ILM Academy, Gurgaon.
More info on all these events can be found below:
6 February - Music Work Shop w/ Dreadsquad: ILM Music Academy, Gurgaon (4pm onwards)
7 February - Delhi: TLR (free entry / 8pm onwards)
8 February - Bangalore: CounterCulture (entry Rs 200 / 8pm onwards)
9 February - Mumbai: Bonobo
10 February - Pune: High Spirits
You can hear and download their exclusive '4 Year Anniversary Mix' here:
http://soundcloud.com/thewildcity/wild-city-048-reggae-rajahs-4Direct Download: Wild City #048 - Reggae Rajahs
Tracklisting:
Soulfly - Kasia Malenda
Hear Me Now Jah People - U Brown
Make It Bun Dem - Damian Marley & Skrillex (Remix)
International Currency - Kush Arora Feat. Jahdan Blakkamoore (Remix)
Appreciate Your freedom - Kasia Malenda
Dancehall Melody - El Fata
Leave This Place - Mickey Lyrical
Champions Anthem - Perfect Giddimani
Beat That Chest - Natalie Storm
My Standard - Steppa Style
Oh Mama - Deadly Hunta
Notion Of self - Blackout JA
Sweet & Nice - El Fata
Jump & Skip - Ward 21
Fire - Jah Mason
Polish Vodka - Dr. Ring-Ding
Smoker - RDX
Someday (Good Old Lovin') - Mothashipp Feat. Marika & Lutan Fyah
Island Loving - Lady Chann
Money Ah Dem God - Lady Chann
Buck Up - Top Cat
Mind Travelling - Million Stylez
Old's Cool - Dr. Ring Ding
Sweet Thing - Tenor Fly
*Feel free to share and blog this mix, but please reference this page*
Tags
Join Our Mailing List