Wild City 045: SICKFLIP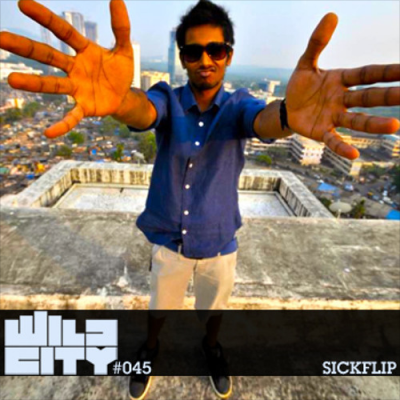 11 December 2012
Sickflip is the new solo project from Mumbai based DJ and producer Sarvesh Shrivastava, also a member of bass music collective Mental Martians.
We picked up on this young producer as he released his debut EP in collaboration with Rohaan Talsania, otherwise known as RT (on guitar). A healthy introduction to a new generation of Indian bass music producers, it sucessfully combined the warm, melodic and soulful guitar work of RT with Shrivastava's futuristic breakdowns and fusion of face-melting bass.
With musical influences ranging from genres such as glitch hop, drumstep and dubstep from the likes of Bassnectar, Koan Sound, Skrillex, Trolley Snatcha, Funtcase, Amon Tobin and Noisia, Shrivastava, is a fiery young producer from whom over the coming years we expect to hear a lot more.
It took only one play of the EP to make us realise that we need to source a Wild City mix from Shrivastava. And boy did he deliver.
Kicking off with the sounds of Haywyre is gradually builds to include the likes of recent Bass Camp headliner Koan Sound as well as Opiuo and a variety of his own production including a remix of Skrillex and Damien Marley's 'Make It Bun Dem'.
It's one way to start your week.
http://soundcloud.com/thewildcity/wild-city-045-sickflipDirect Download: Wild City #045 - Sickflip
Tracklisting:
Haywyre - Prototype
Maksim & Retrospect - The Funk
Koan Sound - 80's Fitness
Opiuo - In Search of King Anchovy
Habstrakt - Get Funky
Koan Sound - Sly Fox
SICKFLIP & RT - Tricky Trap
Opiuo - Fizzle Tickler
SICKFLIP & RT - Lift Off
K Theory - Good & Gone
Ray Charles - Good Thymes (Opiuo remix)
Koan Sound - Eastern Thug
SICKFLIP & RT - Click Into Place
Skrillex & Damian Marley - Make it Bun Dem (SICKFLIP VIP)
SICKFLIP - Chainsaw Wreckage
*Feel free to share and blog this mix, but please reference this page*
Tags
Join Our Mailing List