Wild City 040: Su-Real (Halloween Mix)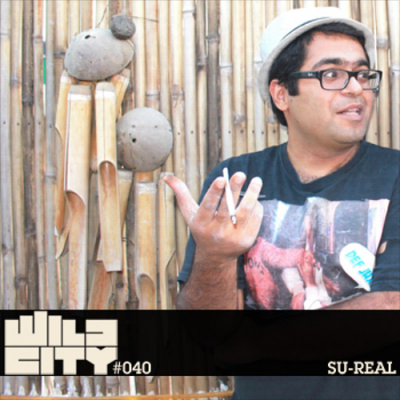 30 October 2012
What more is there to say about Delhi homeboy, producer and DJ, Su-Real.
As a longtime resident at TLR, he co-founded Disco 31, the venue's longest running Saturday night party giving Delhiites a home for fresh, innovative and welcoming vibes. As the current full time promoter at the venue, he has most importantly created a space that has become home for party kids across the capital.
That's not all. As a contributor to Imported Goods, Su-Real has regularly brought words of wisdom to our screen. Most recently he founded The Trap, Delhi's wildest after-hours party, 26 floors above Delhi at CP's Ssky Lounge.
Over the course of the next few days, Su-Real's busy hosting TLR's week long Halloween festivities, as well as gearing up for its climax at Trapo'ween where Moniker (Wild City DJ), White Rabbit, Flash Hardcor and of course Real himself will keep rave zombies bouncing till the early hours. On the eve of the some of the years' darkest hours, we can hardly contain our excitement about releasing this mix. Su-Real's annual compilation is fittingly 66.6 minutes long, running through a whopping 35 tracks from a variety of artists and genres. It's a thoughtful yet fun listen and it's hard to ask for much more than that from a DJ mix...
"I sense that a lot of Indian music fans are somewhere along the evolution between rock and rave. We can all come together on this party mix where I've mingled Metallica, Megadeth, AC/DC, Alice Cooper, Radiohead and The Doors with Skrillex, Justice, Modeselektor, Deadmau5, Crookers and some super old school Prodigy. The mix builds gradually through some nu rave territories bordering the dark side (for one can never directly approach the Dark Side if one wishes to live to tell tall tales) until Alice Cooper bursts through the walls, holding up a human skull in his right hand, and the skull speaks, in spurts, and it gasps and growls, "Trap...or...Treat?"" - Su-Real
http://soundcloud.com/thewildcity/wild-city-040-su-realDirect Download: Wild City #040 - Su-Real
Tracklisting:
Sharkslayer - Hunting Theme
Klipar - Imperial March
Wildchild - Renegade Master
Gregori Klosman - Jaws
Crookers - That Laughing Track
Mickey Fortune / Duck Sauce - Big Bad Wolf (Mickey Fortune Bootleg)
Cristian Arango - Halloween
Modeselektor - Evil Twin
Riton - Dark Place
Herve - Zombies
Bird Peterson & Ocelot - Soul Survivor
Drop The Lime - Doomsday Device
Huarotron - Cryptocracy
Justice - Waters of Nazareth
Skrillex - Kill Everybody
DJ_Schmolli / Alice Cooper / Deadmau5 - Ghosts and Fear of Halloween
Illuminoids / Rolling Stones - Gimme Shelter
DJ Kue / Lady Gaga - Monster
PartyBen / Tegan & Sara / Mylo - Walking in Paris with a Ghost
Plump Dj's / Prince - When Doves Pray
Eurythmics / Steve Angello & Sebastian Ingrosso - Sweet Dreams
Stereoheroes / Offspring - Come Out And Play
DJs From Mars / Nirvana - Smells Like Teen Spirit
Ali B / AC/DC - Highway To Hell
Doctor Werewolf / Metallica - Enter Sandman
Ikki / Megadeth - Symphony of Destruction
Prodigy - Charly
Ministry - Every Day Is Halloween
DJ Antonio - Halloween
Workout Club - The Exorcist (Cardio Training Remix)
Betamax - Disco Dracula
??? - Conan the Barbarian 2010
Zed's Dead / Radiohead - Pyramid Song
Toxik - Saw Theme Song (Dubstep Refix)
Riva Starr / The Doors - The End
"Halloween is my favorite party of the year, and every year I take my vows and rituals seriously, as should any self-respecting creature of the underground, for this is our most important religious occasion. It's the Black Christmas, the White Kwanza, the Diwali of the Dark."
You can grab a free download of Su-Real's "Psycho 808", a remix of the Psycho theme song below:
http://soundcloud.com/dj-su-real/s-m-psycho-808
*Feel free to share and blog this mix, but please reference this page*
Tags
Join Our Mailing List