Wild City 029: Slow Down Clown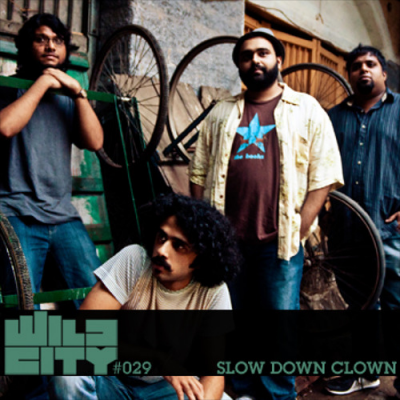 18 June 2012
Slow Down Clown is a Mumbai based 4-piece act that fuses various forms of alternative rock, folk and punk into a sometimes uncategorisable category.
It began as a solo project, formed by singer/songwriter Vitek 'Tek' Goyel in Upstate New York in 2001. Upon his return to Mumbai, Tek teamed up with producer and guitarist Anurag Shanker, to translate his bedroom enterprise into a full band experience together with bassist Wilson Kenneth and drummer Arfaaz 'Fuzz' Kagalwala (also known as Fuzzy Logic).
Their songs are characteristic of Mumbai, "brimming with anecdotes, steeped in nostalgia and entirely relatable. Frenetic and ecstatic, lovelorn yet optimistic." Their debut EP, 'Say Nothing' (stream here) was released on Meteorik Records in September 2010. The band have since played to packed venues across the country, whilst keeping busy in the studio working on their follow up.
To anyone not paying attention, their mix could at first come across as a random collection of tracks, erratically mixed and put together with little technical thought. On a deeper listen however, it shows off the bands varied taste in music as well as a couple of original tracks. A listen that carries you through various genre's and musical era's whilst touching upon a few timeless classics. Thoroughly enjoyable.
"From shy, retrospective, jangly indie-pop (REM), to mind bending psychedelia (Beatles) and desolate landscapes that evoke their own beauty in emptiness (Modest Mouse); this mix compiles some of the music we like to listen to on long road trips. Baroque chamber pop (Sufjan Stevens), quirkiness (Vampire Weekend) and expansiveness (Radiohead), are all part of the trip. Of course, there's also the distinctly early 90's influence of Wilco and Smashing Pumpkins that seems to be forgotten in today's hipsterdom, but one which we all have secretly loved." - Slow Down Clown
Have a listen:
http://soundcloud.com/thewildcity/wild-city-029-slow-down-clownDirect Download: Wild City #029 - Slow Down Clown
Tracklisting:
Phish - Light
REM - Sitting Still
Coldplay - Strawberry Swing
The Beatles - Tomorrow Never Knows
Modest Mouse - Talkin Shit About A Pretty Sunset
Slow Down Clown - Keep You
Sufjan Stevens - Come on Feel The Illinois
Radiohead - House Of Cards
Slow Down Clown - Tonight
Smashing Pumkins - 1979
Moe - Blue Jeans Pizza
Vampire Weekend - Diplomat's Son
Wilco - Misunderstood
*Feel free to share and blog this mix, but please reference this page*
Tags
Join Our Mailing List