Wild City 013: Peter Cat Recording Co.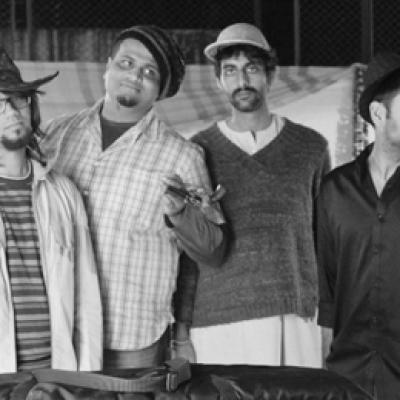 16 January 2012
Initially started as a solo project by front-man Suryakant Sawhney, Peter Cat Recording Co. otherwise known as pcrc is a New Delhi based band that formed in 2010 and is currently made up of 4 members.
""The type of music we play is open to discussion (...) Our style ranges from gypsy jazz to ballroom waltz, midnight moonlight and car chase music (think Don). The sound is heavily inspired by 60s/70s Bollywood music, which was in turn inspired by American music of the 50s, such as big band music and soul. Lyrically, we choose to write about prostitutes, deception, android artists and about films coming to life.""
The gypsy-like free spirits in pcrc express a laidback sound. An incredibly talented group of musicians headed by an extremely potent songwriter. A band that through this process has shown a real passion for discovering new music as well as a blatant disregard for putting themselves in any sort of box. We don't exactly know where this band is going to take us over the coming years. And that is exciting.
This 40 minute mix showcases their broad taste in music and takes on music from Sam Cooke, The Beach Boys, Velvet Underground and even a piano concerto. Currently in the process of writing a full length LP to follow up their debut release Sinema (hear in full below), the band are hoping to have something ready for March 2012.
To keep you going till then, pcrc recently released a short record consisting of old demos, laptop recordings and experiments named Wall Of Want. You can hear it in its entirety here
Enjoy!
Direct Download: Wild City #013 - Peter Cat Recording Co.
Tracklisting:
In An Ice Palace - The Music Tapes
Heros & Villains (Complete Suite Of Arrangements) - The Beach Boys
You Send Me - Sam Cooke
Widows Walk - Van Dyke Parks
Dans Ma Rue - Edith Piaf
Ari's Song - Nico
Destroyed Fortress Reappears - Thee Oh Sees
Kahin Door Jab Din Dhal Kaye - From 'Anand'
Satellite Of Love - Velvet Underground
Piano Concerto No. 5 In F Major 'Egyptian', Op. 103, I. Allegro Animato - Composed By Saint Saens / Performed by Pascal Rogé
Feel - Syd Barrett
Deviants - Unknown
For more from pcrc you can listen to their debut LP in full below:
*Feel free to share and blog this mix, but please reference this page*
Tags
Join Our Mailing List