Wild City 009: Jahcoozi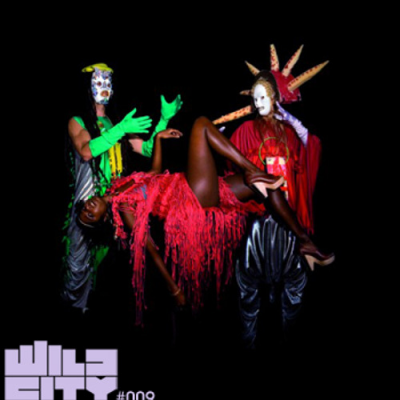 7 November 2011
Last month we announced the now imminent Indian tour of Berlin based electronica trio Jahcoozi as part of the Goethe-Institut initiative, Infinite Opportunities.
Hailing from the German club scene this bass heavy collective is a creative alliance made up of London-born, Sri Lankan songwriter and front woman Sasha Perera alongside two beat freak multi-instrumentalists; Teuton Robot Koch and Tel-Aviv born Oren Gerlitz.
The versatility of their music and sheer energy of their live performance has led the band on an unrelenting trail across 5 continents, playing everything from festivals to clubs, raves, squats, galleries and even impromptu Boombox parties in a Berlin underpass. To say that we're excited about seeing them over on our shores, would just be an understatement.
Wild City #009 is everything we hoped it would be. A dusk-lit garage, bass and house session featuring tracks from UK bass heavyweights such as Shackleton, Dark Sky, Zomby and Brackles alongside alternate versions of a couple of well-known Jahcoozi jams. It also includes a choice selection from their BLNRB album titled Welcome To The Madhouse, a project that involved 22 Kenyan musicians, Jahcoozi, Modeselektor and Gebrueder Teichmann back in 2010.
It's a highly enjoyable ride, partially thanks to the selection and African vibe which seamlessly fades in and out of the mix, but also thanks to the mixing style, which gives some of the transitions an almost hip-hop feel.
Enjoy!
http://soundcloud.com/thewildcity/wild-city-009-jahcoozi
Direct Download: Wild City #009 - Jahcoozi
"This mix features some of the recently released tunes which we made in Nairobi last year as part of the BLNRB project as well as a load of other stuff that we dig. Really it's from all over the place. Some old, some new and some exclusive shit from close and talented friends. It's eclectic." - Sasha Perera
Tracklisting:
BLNRB - Ma Bhoom Bhoom Bhoom (Jahcoozi Feat. Ukoo Flani)
Shackleton Vs. Kasai Allstars - Mukumba Special
Kangding Kay - Pruitt Igoe (Rise)
Zomby - Nathalia's Song / Salamander
Lekan Babalola - Oba Awon Oba (Afronaut Vs Misa Negra Beatz)
Brackles & Shortstuff - Pipey D
Joe - Rut
Joe - Level Crossing
Africa Hi-Tech - Spirit
Jahcoozi - Speckles Shine (LV Remix)
kubo - Coo Coo Riddim
Jahcoozi Barefoot Dub (Stereotyp Remix)
Zomby - Things Fall Apart
Dark Sky - Be Myself
BLNRB - Take It Higher (Jahcoozi Feat. Little King & Robo)
QQ - Tek It To Dem (Kalbata Remix)
BLNRB - Zamaney (Jahcoozi Feat. Ukoo Flani)
Robot Koch - Backwards
Malombo Jazz Makers - Sibathathu
Jahcoozi will be heading over for a 3 date Indian tour later this week and will be playing the following three venues:
Nov 12 - blueFROG, Mumbai
Nov 13 - High Spirits, Pune
Nov 19 - Circa 1193, New Delhi
To keep up to date with Jahcoozi's Indian tour and other upcoming gigs and performances in India check out our events page here
You can check out a promo video for the BLNRB project below:
BLNRB | NRBLN from NRBLN_BLNRB on Vimeo.
Jahcoozi - Website
Jahcoozi - Facebook
*Feel free to share and blog this mix, but please reference this page*
Tags
Join Our Mailing List