Wild City #215: M.A.P // A.M.P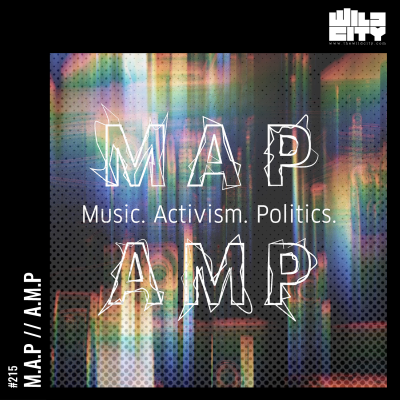 30 September 2022
For almost a year now, M.A.P // A.M.P has explored the intersection of activism and music in South Asia with a variety of platforms, from performance and pirate radio to documentary films and podcasts. One of the biggest efforts from the Goethe-Institut-led multi-pronged project has been its crowdsourced library which presents a repository of socio-political songs from around the world, spanning several hours' worth of music.
M.A.P // A.M.P gives a glimpse of the library's far-reaching span with our latest Wild City mix.
The mix goes from shades of folk music to hip-hop and rock, juxtaposing a myriad of languages and themes. Much like M.A.P // A.M.P's other efforts, especially the documentary series 'Awaaz', it highlights the parallels between voices demanding their right and justice, and the common device of art for people speaking truth to power – irrespective of how different those truths and those powers may be.
"This mix is an opportunity to share a snapshot of a repository of activist music, encompassing a rich and diverse range of activist music and bringing together known and unknown voices. There's no continuity in terms of style, or language, genre or generation, but all have the same overarching theme – using music as an expression and a tool of social and political activism." – M.A.P // A.M.P
Listen to the mix below and follow M.A.P // A.M.P on Instagram or its website for more. Check out its full music library here.
Direct Download Wild City #215: M.A.P // A.M.P // Head here for Mixcloud
Tracklisting
Gjender Gjender – Lilis Surjani
Ek Se Aanth – Bandish Projekt ft. MC TodFod
Torkamanchay – Toomaj Salehi
Utho Meri Duniya – Laal
Gaaon Gaaon Bata Utha – Ramesh Shrestha, Om Shrestha, Sunita Subba
揣啊揣 – 農村武裝青年
Raj Singh – Rabbi
Dastoor [Habib Jalib] – Ammar Rashid
Bella Ciao | Wapas Jao – Poojan Sahil
상록수 – 김민기
Do You Hear the Hong Kong People Sing? 問誰未發聲
Jaati – Harish Kamble
Sab Yaad Rakha jayega – Aamir aziz
Rohith Gaya, Dalit Gaya, Mar Gayi Hai Lokshahi – Sheetal Sathe Troupe
Tags
Join Our Mailing List