Wild City #196: Moses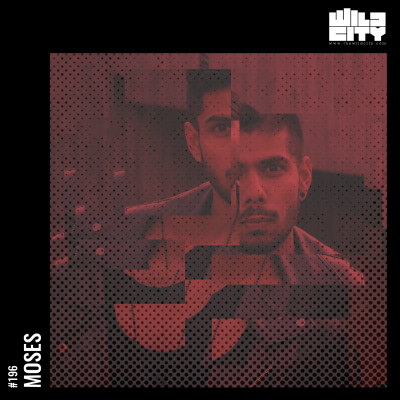 31 August 2020
There's a lot of emotive ground and dynamic range one can cover behind the four-on-the-floor beat of techno. From the more spatial inward journeys of minimal techno born out of YMCAs and church halls of Detroit, to its more hedonistic raw takes morphed within the gigantic confines of warehouses and derelict industrial buildings in Europe – these are merely two distinct points in a multi-dimensional genre.
Shaun Moses finds his footing in the latter, gripping on to the visceral nature of it even further with his new stripped-down moniker Moses, the debut EP of which, entitled 'The End Of The Tunnel', he dropped last month.
The Goa-based DJ and producer uses the EP closer to set the tone for his Wild City mix, which largely forgoes any dynamism of drops and breaks for some high-octane relentless listening. The contrast instead comes from how that sedulous energy is delivered, as Moses transfers it from the rhythmic pageant of Stef Mendesides' 'The Secret Agent's Blunder' to the ethereal futuristic pads of V.i.L.'s 'Cargo'. The journey maintains its ebb and flow by sometimes surrounding your senses and other times leaving you intimately up close with the guttural kick drum, most starkly demonstrated in the contrast between the closing two tracks: 'Encapsulate', from homegrown mercurial techno act dotdat's debut EP 'Subtrap', and prolific Spanish DJ and producer Oscar Mulero's 'Carousel'.
"An hour of deep, raw and hypnotic tunes that showcase the sound of my new alias." – Moses
Listen to the mix below:
Direct Download Wild City #196: Moses // Listen on Mixcloud
Tracklisting
Light At the end of the tunnel - Moses
Over the edge - Ray Kajioka
Escape from the poison river (artefact collage) - Shlomo
Disturbing thoughts - Moses
Stavanger - Yogg
I decided to fly - Vladimir Dubyshkin
Red code - David Lohlein
Octagon - Unbalance
The secret agent's blunder - Stef Mendesides
Cargo - Vil
Let's treat it as such - Temudo
Sarcasm - Moses
Ath - Amotik
Physics - Cardao
Encapsulate - Dotdat
Carousel - Oscar Mulero
Tags
Join Our Mailing List