Wild City #195: November Rose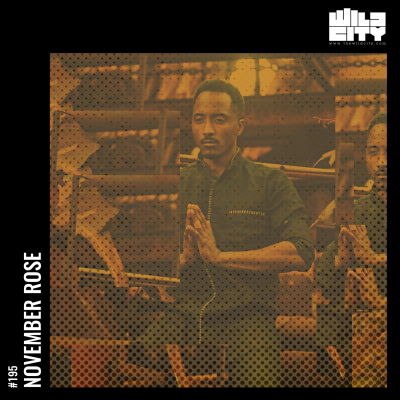 14 August 2020
There is no shortage of producers flipping Bollywood-samples, though a good few of them treat the practice as a gimmick or novelty. Anthony Daniel aka November Rose on the other hand does it out of pure and sincere love for the fun and unique flavour in classic Bollywood soundtracks. It is that fun-factor which the Atlanta-based DJ and producer captures on his Wild City mix.
Born in Pontiac, Michigan and raised in metro-Detroit, Daniel grew up around the region's vibrant dance culture, social movements and immigrant communities, developing a special love for funk. Following those strands, Daniel started exploring the musical elements from diaspora of colour in his work, tracing a natural cohesion shared among ethnic groups till he earned himself the label "cultural electronic music producer". Highlighting the same, November Rose connects the funk beats of Doctor Dru and the four-on-the-floor works from the likes of Detroit Swindle and Leatherette, to the afro house tracks by Black Motion and Juls & Sango, and the concluding flips of music from Bollywood films like Devdas (2002) off of his recently released record 'Desi Spice Vol. II'.
While recognition will ultimately make the Indian film music in the mix jump out to anyone familiar with the country's cinema, the hour-long set gloriously creates a cohesive journey even as it traverses geographic roots and musical styles, all the while generously flavoured by Daniel's romantic relation with dance music.
"This mix is a blend of uptempo styles that span from deep house, disco house, afro house, and Bollywood. The songs I've chosen are a reflection of my personality and my affinity with dance culture. Each song is uplifting and satisfying to the senses." – November Rose
Listen to the mix below and check out November Rose's 'Desi Spice Vol. II' here.
Direct Download Wild City #195: November Rose // Listen on Mixcloud
Tracklisting
I'm In Love (November Rose Edit)
Disclosure - Love Can Be So Hard
Doctor Dru & Adana Twins - Juicy Fruit
Junktion - Baby I Need
November Rose - Sunlight
VHOOR - Bossinha
The Salsoul Orchestra - Chicago Bus Stop (Ooh, I Love It) (DJ Spinna ReFreak)
Detroit Swindle - In Reverse
Letherette - Don't Think About Me
Letherette - You And I
Black Loops - Sex
Osunlade - Momma's Groove (Jimpster's Slipped Disc Mix)
Inside Your Love (Swales' In Detroit Edit)
Black Motion - Banane Mavoko (feat. Jah Rich)
Oshey - (Chief Boima Afro Funk Mix)
Juls & Sango - Ritmo Coco
November Rose - Chapati
November Rose - Moonlit Lover (feat. MTooray)
November Rose - Masala
Tags
Join Our Mailing List