Wild City #189: Noni-mouse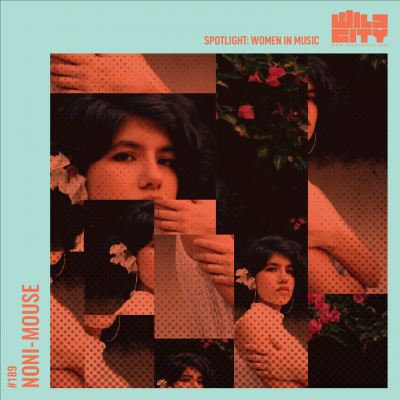 19 March 2020
Every year, March 8 is commemorated as International Women's Day, a day dedicated to celebrating women around the world and their achievements. Since we don't think a single day in the year is nearly enough to celebrate the women around us, we're going to be dedicating the entire month of March to the immensely talented women in our music community and to spreading awareness about female representation and inclusivity in the music industry, through a series of mixes, features and conversations.
No one can accuse Radha Priya aka Noni-mouse of being obvious. She has a penchant for being quirky, inadvertently ridiculing the listener's expectations like a musical dadaist through off-kilter music videos, volatile EPs and light-hearted sporadic SoundCloud uploads, which have constituted her steady but stark progression over the last year.
Radha Priya just might be having fun but she has developed a sound, the core influences of which are hard to pin down. You can distinguish traces of every effervescent style under the electronic music umbrella, like disco, ambient, hip-hop, indietronica, vaporwave and downtempo, but the vibrant concoction of genres acquire an outworldly colour in the hands of Noni-mouse which is uniquely hers. For her Wild City mix, the Mumbai-based producer collates a set of her musical musings that fell through the cracks of her discography, selecting outtakes and unreleased snippets from her live sets.
Continuing to defy expectations (including ours), Noni-mouse kicks off with dark sci-fi textures before giving way to a galactic ode based on synthesised organ work and steady drum beats. It's only halfway through the mix when she introduces her characteristic knack for morphed vocals and peppy synth lines. Through this dynamic journey, Noni-mouse compiles a selection of moods, sometimes lulling you into relaxation while other times inviting you for a dance – merrily oscillating between ideas like the whimsical mind of a happy-go-lucky individual.
"Packed with some of my favourite unreleased material, this one is for all the shy, soft-ravers like me, who like to dance in their own space, whenever they like." - Noni-mouse
Listen to the mix below and head to Noni-mouse's artist profile for further information.
Direct Download Wild City #189: Noni-mouse // Listen on Mixcloud
Tracklist
0:00 – Part 1
12:34 – Interlude 1
14:02 – Part 2
17:29 – Part 3
22:17 – Part 4
22:53 – Interlude 2
24:34 – Part 5
28:10 – Interlude 3
28:52 – Part 6
Tags
Join Our Mailing List