Wild City #183: Hedrun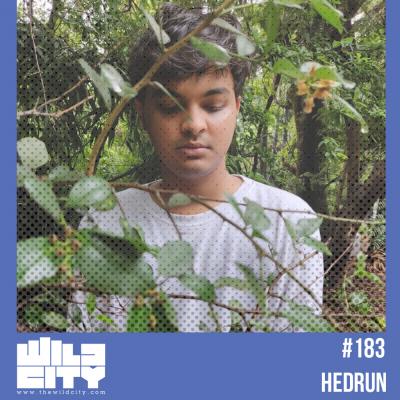 24 October 2019
Wild City's latest mix comes to us courtesy Mumbai-based producer and jwala co-founder Palash Kothari, also known by his moniker Hedrun (previously known as sparkle & fade), who put together an eclectic collection of tracks that inspire him. And that's where this particular mix's similarity to any of our other mixes ends.
We're not quite sure where Hedrun's set belongs. We've previously had mixes whose selections ranged from disco to techno to indie-pop to left-field experiments and beyond. Several sets were club-friendly, some were introspective, some were immersive, or slated for journeys into outer space, or just meant for a relaxing Sunday afternoon. This set could be suited to: a community centre in Dombivali, a cosmopolitan family gathering back in the 80s, the tent of a hippie discovering the wonders of Indian yoga and meditation (and drugs) also in the 80s, at a kitschy post-modern party at a hipster apartment in South Delhi, in the record collection of a seasoned crate digger who frequents New Gramophone House on pay days, at a "world music appreciation party" at a hidden bunker in Berlin's Kreuzberg district – at none of these places, or all.
If that didn't give you a hint of exactly what Hedrun's mix sounds like, perhaps the track selection will. Featuring a range of artists such as Baluchi Ensemble of Karachi, Ananda Shankar, Lalita Bai, Birhi Bai, Don Cherry and Bernard Bonnier, and spanning genres such as Rajasthani and East African folk, Indian classical-fusion, and jazz, calling this mix a whirlwind would be an understatement.
Hedrun was gracious enough to break down his track list for us and his listeners, so we'll let him take over for elaboration (head over to the "Tracklist" below). If you were wondering where he gets the inspiration for his own music, also consider this as a rather thorough explainer.
Listen to the mix below:
Direct Download Wild City #183: Hedrun // Head here for Mixcloud
Tracklist
1. Baluchi Ensemble of Karachi – Jamalu
Love Songs & Trance Hymns (Shanachie, 1999) // Recorded in Malir in Karachi, Pakistan
I love field recordings of folk musicians. I think it somehow captures its raw no-studio-pressure jam-like-character. When I was recording the Barmer Boys for 'Pankhi', there's this moment in the (only) take I have where Manga Ji and Rains Ji sing together but have different lyrics and it just sounds so beautiful.
2. Ananda Shankar – Kaziranga Beat
A Musical Discovery Of India (Cloud Forest Recordings, 2006)
This song reminds me of being in some shaadi [wedding] or Ganpati Visarjan except I never dance at any of these places and my cousins try to pull me into the 'dance circle'. I hate when that happens why don't people just let others be.
3. M Ashraf feat. A Rushdie – Dama Dam Mast Qalandar
David Holmes Supports Finders Keepers (Finders Keepers Records, 2011)
This album is this compilation a few record labels did after losing a lot of their stock in a warehouse fire. It's so fun (the song, not the fire).
4. Haruomi Hosono & Tadanori Yokoo – Ham Ghar Sajan
Cochin Moon (King Records, 1978)
I came across this one through YouTube recommendations and have been hooked ever since. The album's supposed to soundtrack a non-existent Bollywood film. I think a lot of artists decide the 'concept' of the album after it's done which is low-key cheating but who is asking.
5. Don Cherry – Malkauns
Brown Rice (EMI, 1975)
I think the record borrows from a lot of Indian Classical music (Malkauns is one of the oldest Ragas in Hindustani music) which is also why I think the album name is really problematic but hey it's Don Cherry and it was 1975.
6. Masai – Masai Women
David Fanshawe – East Africa – Ceremonial & Folk Music (Nonesuch, 2002) // Recorded in Rift Valley, Kenya
I don't know what they're singing about here so I'm not even going to try but this is what the 'about' part says: "Drumming, instrumental, and vocal music are represented here (if one is to categorize); astonishing in its variety, and often overpowering in its emotional strength, the music celebrates a whole way of life cattle, warriors, elders, girlfriends, the self, hunting and raiding, the manyatta (homestead of the young Masai warriors), weddings, funerals, and children who cannot sleep.'
7. Lalita Bai, Birhi Bai – Mumal
Various – Songs from Rajasthan (Arc Music, 2001) // Recorded by Deben Bhattacharya in 1962 and 1968
My grandmother told me this song is about a tragic love story between a king and a princess, tragic because the king walks in on the princess in bed with what he thinks is another guy but is actually the princess' cousin sister who dresses up as a guy to play or something. The king then sends #fakenews to the princess about his death so the princess kills herself because she truly did love the king. The king kills himself too after he finds out that the princess killed herself. My point here is, communication and transparency is very important in a relationship. I wouldn't know though. Last person I liked liked didn't want anything serious with me. It sux.
8. Bernard Bonnier – Le Demoiselle Au Corsage Vert
Casse-Tête (Succession Bernard Bonnier, 1984)
Someone please help me with the pronunciation
9. Dorothy Carter – The Squirrel Is A Funny Thing...
Waillee Waillee (Rutdog Records, 1978)
I was walking from this place in Hauz Khas to this other much nicer place with a friend [Dolorblind] and he saw this injured squirrel on the road and tried to help it and was sad when he couldn't. He also has a fish tank in his bedroom.
10. Hideki Mitsumori – Colours
Colours (Nada, 1990)
A lot of my friends call the music I listen to 'elevator music' but if elevators did actually play this I wouldn't get anxiety the second I stepped into one.
11. Don Cherry – Sidharta
Organic Music Society (Caprice, 1973)
I have a lot of love for free improv jazz and this album is what got me into it. I always get annoyed when I listen to this song though because it ends so quickly. There's probably a 30 minute cut of just this somewhere.
12. Unknown – Mumal
Various Artists - India, Travelling Artists of the Desert // Recorded in 1980 in and around the Thar Desert
Same story as #7 but another version in a slightly different dialect. I always wonder why folk music from our own country is so much better documented by people not from our country. Do we stick to the 'fusion' versions because the original is too 'street' for us? But don't we love streetwear and the streets? Haven't people built their entire careers around using the underprivileged 'streets' as props for their music videos and photoshoots? Am I just using the three brain cells I have to overthink?
13. Laurie Anderson – New York Social Life
United States Live (Warner Bros, 1984)
This song is 100% what it's like having a small time music career in a metro city.
14. Big Jay McNeely And His Orchestra – Strip Tease Swing
Strip Tease Swing / Beachcomber (Federal, 1954)
I'd like to play this song every morning to get my groove on when I'm some 60 years old with grandkids and decades of music which I've made to look back upon and think about nicer days like these which there is no way in hell I'll appreciate now because nitpicking and being sad about minor inconveniences is a lot of fun.
Tags
Join Our Mailing List