Wild City #182: Stain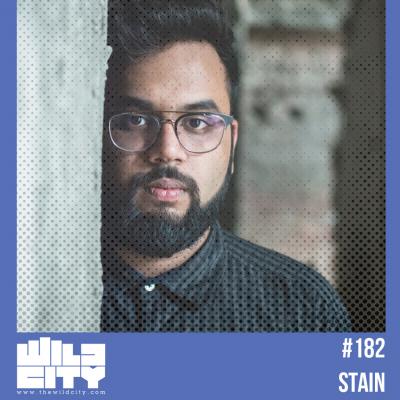 11 October 2019
Ethnic Indian percussions, contemporary vocals, African rhythms, dubby delays, fast-flow raps – Sourodeep Guha aka Stain weaves it all together for our latest Wild City Mix, connecting them with one single thread: bass.
While low-frequency content is an ever-present element in electronic music, Stain doesn't just use it as the foundational fabric, but brings it to the forefront. The main act, so to speak, often presenting the defining melodies and rhythms of the mix. Everything else is fluff. Perched on the low-end, Stain traverses across genres and moods – brooding and bouncing.
The New Delhi-based DJ and producer uses the mix to highlight the dub, Afrobeat and worldbeat-centric nature of his own catalog, peppering a selection of his original releases with the likes of Flowdan, Kaiju and even his Sub-Z contemporary Miredo. By doing so, Stain assembles a combination of inviting rhythms and ominous textures – a listen for those gloomy times when you can't decide whether you need catharsis or a pick-me-up. Stain's Wild City Mix will offer you both.
"Subtle dubby rhythms tinted with a dark aura, floating frequencies of extraterrestrial delights." - Stain
Listen to the mix below:
Direct Download Wild City #182: Stain
You can also listen to the mix on Mixcloud, here.
Words: Amaan Khan
Tracklist
Stain - Land of Lies
Stain - Consciousness
Kaiju - Envy (Ft. Jack Gates)
Karma - How Ya Feel
Stain - High Grade Dub
Egoless - Farpoint
Stain - Badda Dan Dam
Stain - Skeleton Skank
Stain - Shell It Like You Mean It
Somah - Rollin' Dub
Hatcha - Bawl Out
Flowdan - Horror Show Style (Stain Bootleg)
Mala - Changes (Stain Bootleg)
Stain - Rubber Slide
Stain - Era of Paranoia
Stain - The Corrupt Riddim
Stain - Bounded
Stain - Cinnamon
Stain - Why Did I Make This Beat
Miredo - Ret (Rider Shafique Version)
Tags
Join Our Mailing List