Wild City #160: Lefto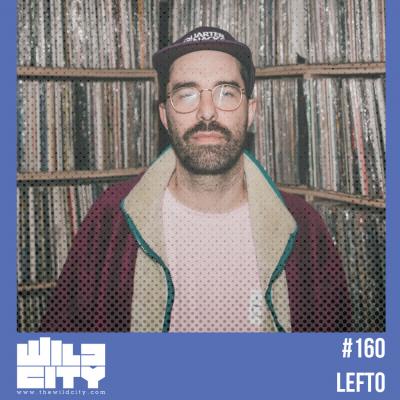 29 October 2018
Tastemaker, selector, curator or "your favourite DJ's favourite DJ" is how Lefto is most often described. Each of those descriptions is nothing if not accurate, and Lefto is one of the few who have indisputably earned those titles.
The Belgian DJ and producer is one of the most important tastemakers around the world – perhaps his record collection, over 15,000-strong, has something to do with it – and also one of the most respected. One only has to listen to one of his sets (like his mix for Wild City below) to see why.
Firmly rooted in jazz and hip-hop, Lefto cultivated his digging sensibilities while working at Belgium's legendary Music Mania record store in his hometown Brussels. A resident on Belgium's leading radio station Studio Brussel since the 90s, Lefto has been a custodian of sorts for new music, and is always one to look ahead and actively seek out new music from all over the world.
Lefto is renowned for his wonderfully eclectic sets – different each time – which seamlessly switch between hip-hop, funk, jazz, house, tropical, future bass, African rhythms and more.
His mix for Wild City is no different. Featuring a balance of known and obscure artists from all over the world, with selections from artists like Noname, Kamaal Williams, Kaidi Tatham, Moses Boyd, Joy Orbison and more, the stimulating set starts off with rap and hip-hop, before taking you all over the spectrum, from jazz, tropical and Irish rock to disco, African rhythms and house.
It might sound chaotic and haphazard to jump around genres like this, but Lefto switches between sounds and tracks so smoothly whilst maintaining a breezy atmosphere throughout.
"This mix is pretty much the vibes I am into right now, from rap to house and everything in between, hope you'll vibe with me..." - Lefto
Lefto will be playing one of his idiosyncratic sets at the Disrupt Festival in Mumbai this November. You can head here for further information.
Listen to Wild City #160 below:
Direct Download Wild City #160: Lefto
Tracklist
Ghost McGrady - LSD Responsibly
Action Bronson - White Bronco
Noname – Regal
Yasu Pacino & grooveman Spot - Tempo 87
NTREK - Nieuwe Wind
Vorace – Moonquake
Stano – Vixen
Kamaal Williams - Nights In Paris
Kaidi Tatham – Joyous
Ghostemane - Trench Coat
Falty DL - Blush Acid
Christoph El Truento - Got2B
Louislava - In Like That
Fancy - Tropicana Beach
Vaudou Game - Tata Fatigué
Kelela - Waitin (Kaytranada Remix)
Moses Boyd - Drum Dance
Demuja - Kensai
Bambooman - Ricochet
Neue Grafik - Bed Stuy's Mood (EVM128 Remix)
Luke's Anger - Bleeper
Marshall Applewhite - Max Date Is Whack
Luz1e - 4/5/20/18/15/9/20
Joy O - Seed
Tags
Join Our Mailing List