Review: NOS Primavera Sound 2018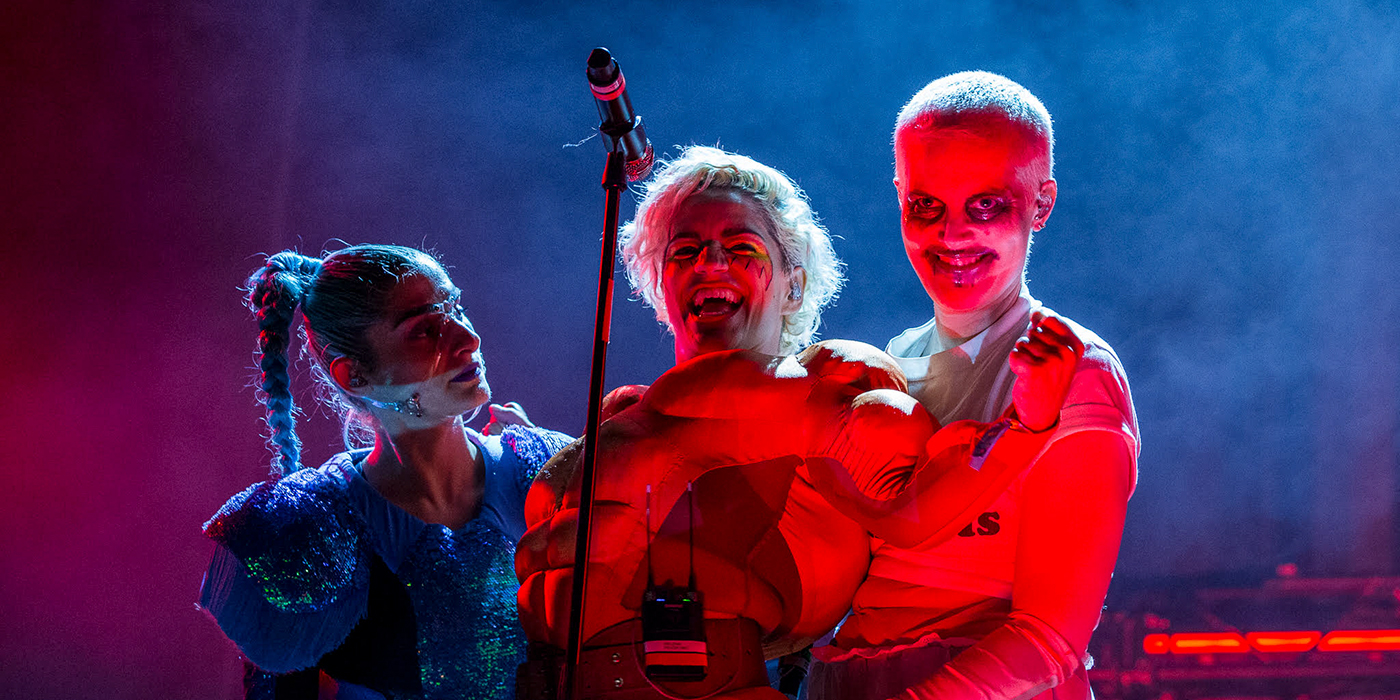 19 June 2018
"Good thing it isn't raining," quipped Ed Droste to a sea of Grizzly Bear attendees on day two of NOS Primavera Sound, Porto - the only partially sunny day sandwiched between days splattered with rain. While this relief from rain was short-lived, the attendees' enthusiasm for artists lined up was not. The rain may as well have not existed.
From a distance, it is possible to dismiss NOS Primavera Sound as a mere afterthought to Primavera Sound, Barcelona. The latter certainly was the first, and is still significantly larger in scale. The fact remains, however, that the Porto festival has displayed a consistent increase in both interest and numbers - crossing the 100,000-attendees mark in its 2018 edition.
A lot of it has to do with the undeviating persistence displayed by the organisers' knack for putting together a festival that sings of great substructure - combining method with insight. Navigation can be a headache in the best festivals out there, relying largely on the audience's ability to tap into hitherto undiscovered talents for divination. At NOS Primavera Sound, Porto, you'd be hard-pressed to find yourself lost or even disoriented. This is a remarkable feat at Parque da Cidade - the Porto city park that serves as a festival venue. I camped out in the city park a few months earlier for 3 days and felt just as mislaid on the day I left as on the day I arrived - so I should know.
Similar care was extended to ensure refreshment kiosks were present across the venue from a variety of vendors. General hankering for bifanas, burgers, and wursts were appeased, even leaving space for a vegan cafe.
A great deal of the experience also draws from being in Porto, a city that lends itself greatly to walking - a valuable characteristic until Herron's walking metropolis vision comes true - and a population that exhibits subdued passion and focus. This was my second visit to Porto, and the first time I arrived there and shared my excitement at being there the only way I know: through an Instagram story. A friend who is a Lisbon local responded claiming "yeah, but, Lisbon is better."
To date, I haven't enough data to substantiate this claim but it feels good to know that the two-city rivalry blueprint is truly universal.
The Primavera família's assemblage of an artist roster that is driven to finding that sweet spot where heritage acts, contemporary favourites, radio giants, future indie heroes, and local rising stars all live harmoniously, however, is what drives the festival's appeal. Wanting to please everybody is a surefire way to set yourself up for spectacular failure, but NOS Primavera Sound takes that risk and wins.
An overcast day, one served as a perfect backdrop for Father John Misty's fatalistic rock stylings, while also lending the additional drama Lorde's act warranted. As a counterpoint things brightened up considerably at Tyler the Creator fueled by his lyrical anguish and youthful ennui.
Day two may have belonged to club-rap forerunner, Vince Staples and rap pretty boy A$AP Rocky, what with the latter instigating two separate circle pits - a phenomena typically reserved for punk and metal concerts - but singer/ songwriter and indie acts rose victorious, too. Pogoing from somber to funny to meaningful to bops to dirges to sometimes all at once, indie darlings Grizzly Bear, psych-rockers Unknown Mortal Orchestra, and psych folk-rock act Amen Dunes created substance where there was vibe.
A particularly moving moment encapsulating just a teensy bit of this tenderness was when the sun broke through chunky, sweaty clouds slowly filling dark nooks with sfumato gold, and I took a now-familiar shortcut through a shrubbery choking with rosemary to witness Yellow Days, pursuing their warm, tarry, guttural sounds about bitterness and regret. It was a Porto moment, and I do not know if it could exist elsewhere but I hope it does because the world needs more of it.
What the world also needs more of is drama and dance. Fever Ray and Arca's paraphiliac vibrancy supplied both - I could honestly imagine straight men quaking in their boots at both - but a compounding of various factors made the Primavera Bits stage the heart of the matter. I harbour a pretty public preference for electronic music, but one look at the line-up is de facto evidence that I am not the only one.
This year was the year that NOS Primavera Sound, Porto really didn't see much of its eponym at all. The rain, not strong enough to cause total resignation but steady enough to cause mild discomfort at all times, meant that all roads led to the makeshift warehouse club on site: Primavera Bits. Many came seeking respite from the downpour but stayed for the steady bedrock of a line-up created both for the electronic music cognoscenti and nosers alike. Tropical fauna threw shapes at the barebones wooden platform flanked by a Bowers & Wilkins sound system. The transformation of a Parque da Cidade nook into a version of London mainstay Printworks was complete as queues snaked out a mile long, and getting in after a point became damn near impossible.
There were 3-hour long build ups fashioned and, predictably, pulled off by Levon Vincent. There was the steady cathartic berating at the hands of Helena Hauff and Marcel Dettmann. There was a repeated acknowledgement that classic disco and electro is a gift that will keep on giving well into the future.
There was a general display of agreement that sometimes living in the past is just as beautiful as it's sad. Even if it's a past you weren't around for.
Vincent closed his set with chicago house pioneer Frankie Knuckles' late eighties masterpiece 'Your Love' and Avalon Emerson with Moloko's 'Sing It Back'. Or:la threw in some brasileiro nostalgia with the Sergio Mendes classic 'Magalenha'.
Rain did not, by any means, act as a deterrent for revellers. We simply spiked our hot cocoa with generous splashes of vino do porto and made friends with the weather.
+
Words: Uvika Wahi
Tags
Join Our Mailing List