Lady Leshurr: Flying The Flag For UK Hip-Hop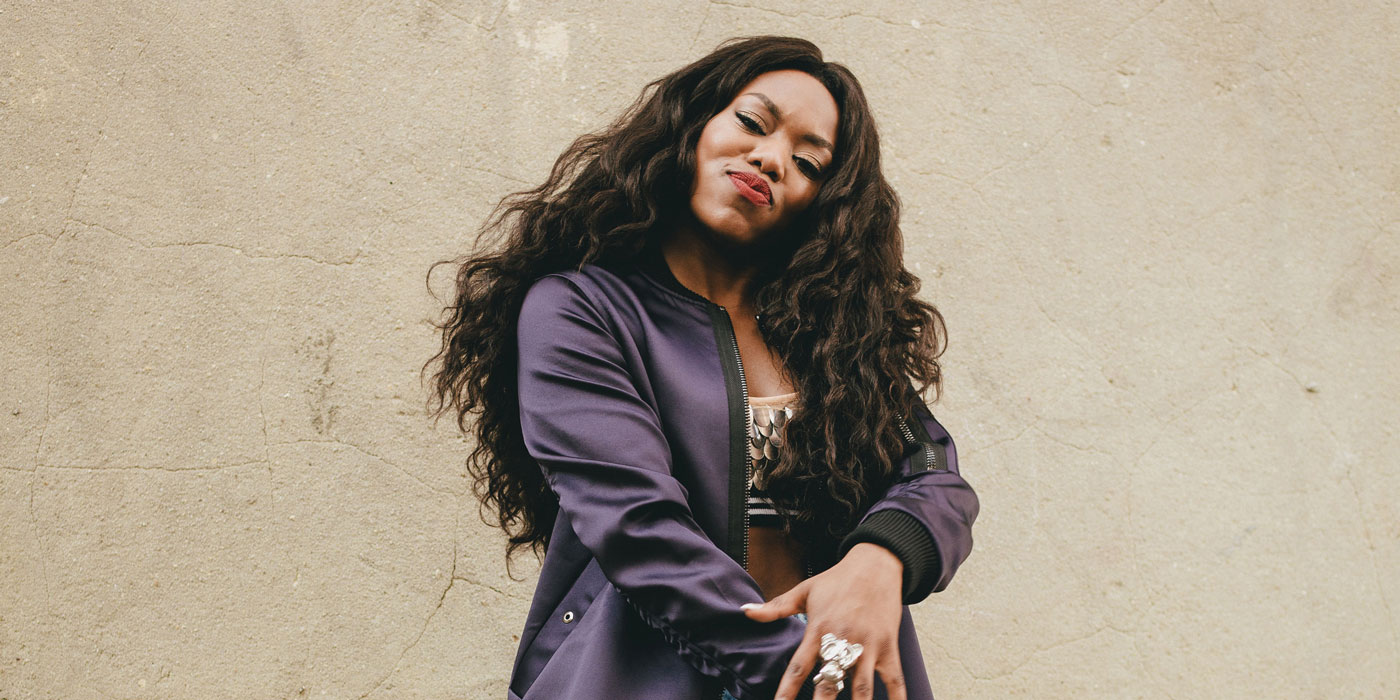 16 November 2017
Lady Leshurr has been spitting bars since the age of 6. At 14, she released her first mixtape and since then has been slowly climbing the tumultuous ladder of success with a fervour rarely seen. Born Melesha O'Garro, the Birmingham native found that when she started out in the industry, playing shows and being taken seriously was a hard path to navigate. Quitting her job to focus on music full-time, she moved away from her family to London with a passion only the cream of the crop possess.
"It's a sacrifice that I just had to make" she told us over the phone from the UK. "I had to do that to benefit my career. The shows were coming in real slow at the start and I just had to create my own brand, draw the attention of people who had never heard of me before." Shows started trickling down to Lady Leshurr partly due to her unique take on covering tunes which shone the spotlight on her incredibly lyrical and musical skills. One such track was a cover of 'Look At Me Now' - a song featuring Lil Wayne and Busta Rhymes, two musical influences on her life.
Using the same rhyme scheme, flow, syllable usage, not to mention the rapid fire pace Busta Rhymes is notorious for, Lady Leshurr's take on his track is an impeccable ode to the legendary rapper. And she did it with aplomb, garnering applause and praise from the legend himself. "When it comes to covers, I definitely try and make it sound as similar as to the original, to show people the artistry involved in creating the same flow, syllables."
Inspired by the likes of Eminem, Nicki Minaj and Missy Elliot, Lady Leshurr also took inspiration from battle rap videos which, in turn, then gave her the necessary push to create her now iconic 'Queen's Speech' freestyle videos. And it was a particular episode of the series that stands out for her: "Queen's Speech Episode 4 changed my entire life. I bought my Mum a house after that," she said, fondly reminiscing.
The lyrics of that song predated the 24/7 meme culture present in today's world yet lines from that track snuck into homes across the world. Bars like "Why you snapchatting in the club for / just dance man / yo famalam / yo fam / yo famalam" and "Some girls wake up / and don't even brush their teeth" along with the now infamous infectious hook "brush your teeth/brush your teeth" was quoted by everyone from grandmothers to young kids. It was one of those early viral moments which then pushed Lady Leshurr onto becoming not just a household name but a global sensation.
With the global surge of grime and UK hip-hop, Lady Leshurr wants to ensure that she showcases the best of the genre that has influenced her most, "Grime is something that is British made, it's vocal, it's gritty. It's only in the UK really and so is completely different to American music. It's a breath of fresh air."
Now, she finds herself on a 3-city tour of India as part of Bira 91's FreeFlow initiative. She's also looking to shoot a music video out here because "I really love to shed light on a part of the world that most English people never see in their life. When you travel, you learn new things. It's a good way to add new words, new culture to my music and my vocabulary."
And she's coming to India hoping to influence artists trying to make it in the industry, especially young ones who are fans of hers, "I want to speak to every single person who comes in. I want them to take away inspiration and hope. There are a lot of people who come to watch me who are trying to do the same thing as me. I didn't have a lot of people guiding me and supporting when I was younger and I didn't have a lot of English artists to look up to so I want to be that artist for young people today."
For Lady Leshurr, being 'that artist', especially a female one, means she has to work extra hard: "I think, for some reason, everyone always thinks that there is only one female, there can only be one female, and that's it," she said. Citing that the media always tends to pit female artists against one other - publications once created beef out of thin air between Nicki Minaj and Lady Leshurr - the UK native also stated how men will always comment on "how we look before they hear what we have to say." When it comes to male rappers, the industry doesn't think like that. And whether it's financial or not, there's still a massive gap between genders in the industry because of how male-dominated the hip-hop world is.
With the likes of Nicki Minaj paving the way, Lady Leshurr wants to also use her influence to create a path for young, female rappers to come through and populate what is a highly male-dominated industry. There has been a rise of female artists within the contemporary hip-hop landscape and that only bodes well for the future; something Lady Leshurr agrees with, "I think things have gotten better and can only get better from this point in time. It's still just a trickle but I can only be happy about things that are improving."
You can catch Lady Leshurr at Bira 91's FreeFlow event series across Mumbai, Bangalore and New Delhi. Get tickets for it here.

Words: Dhruva Balram
Image credit: courtesy of the artist
Tags
Join Our Mailing List