"I'm coming to snatch the throne": Prabh Deep on 'Class-Sikh'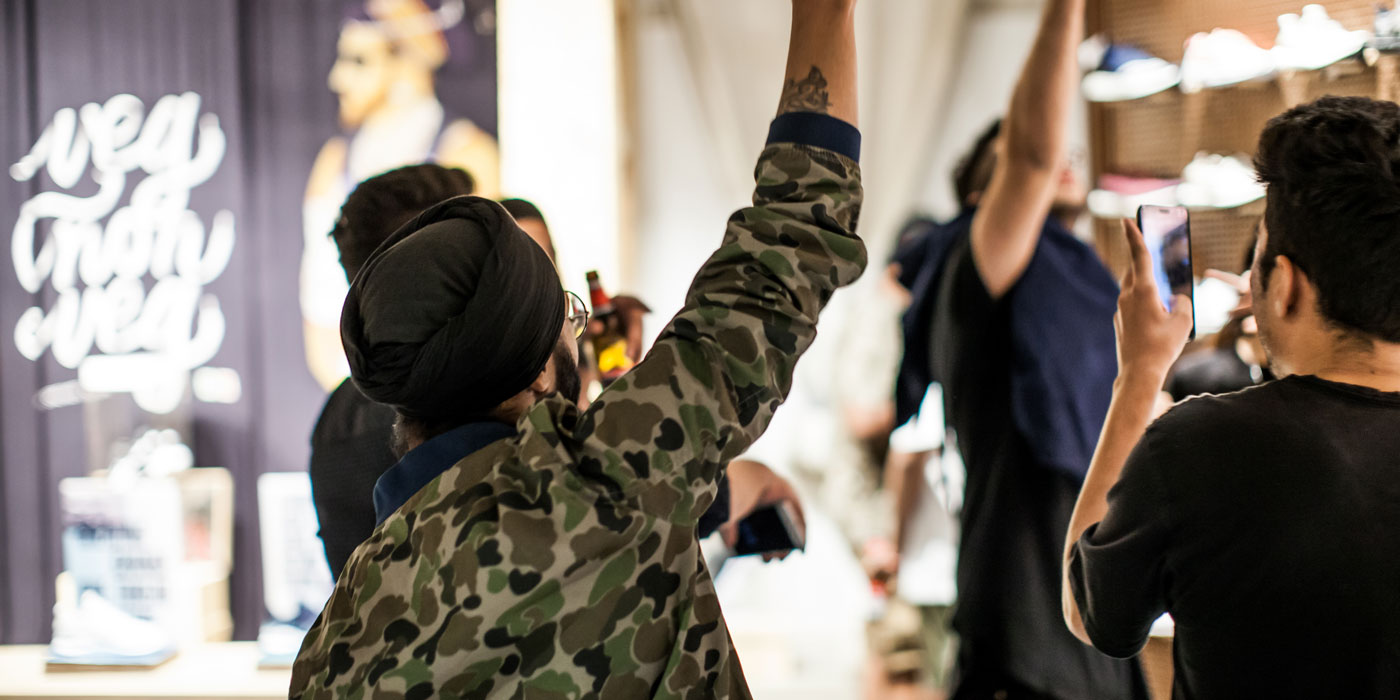 20 October 2017
'Class-Sikh', the debut LP from Delhi-based rapper Prabh Deep, is blaring over the speakers at VegNonVeg, India's first multi-brand sneaker store. His nearest and dearest friends, some of whom make up rap group Seedhe Maut, are going bar for bar with the lyrics to 'Kal (Future)', a stand-out track on the album. The tight-knit circle bounce the words off each other, each person a ball of energy jumping up and down, unable to sustain their glee at having a kid from their neighbourhood playing an album to an audience as diverse as this at a store like VegNonVeg. The atmosphere is nothing but celebratory, especially for Prabh.
After the album's listening session, the 23-year-old rapper answers questions from the audience with a rare kind of honesty and truthfulness that seems missing in the PR-led answers most artists give nowadays. When asked if he ever thought of giving up, Prabh summarised his journey as a musician saying, "I had an interview lined up 3 months ago for my call centre job. Uday asked me for 2 months. It's 2 months now and you're all sitting here."
Prabh's album, which oozes confidence, swagger and aggression, masks the self-doubt and tumultuous journey he's been on over the last 3 years. Despite being young in the game, he has already made his stamp and 'Class-Sikh' is further proof of the artist's ascension from emerging artist to certified star.
"I didn't know I was going to be on billboards," he told us a few days before the listening session at VegNonVeg. "I didn't want that. But I don't want to make any bad move. I want to kill everything; when it's my pen and pad, I take it very seriously."
Uday Kapur and Mo Joshi, who run Azadi Records, ensure that Prabh isn't alone in this battle. "They're with me [on] everything," he said. "They're with me what I do off-mic, in life regularly. If I'm fucked up with whatever, Uday will let me know. He'll call me out."
Ensuring that Prabh stays on the right path has not been easy but it has shown Prabh a new way to look at his music and who it influences. The entire album is in Punjabi with Prabh insisting that all his work - he has two more albums planned out - is universal, it's not just for the gully's and the neighbourhood. When he started out, he was trying to teach the neighbourhood boys and the kids on the streets, but he quickly realised that his message transcended the streets of Tilak Nagar, where he grew up.
"I thought about it and I was like why bring [the message] only to my gully's?" Prabh asked himself. "I want to influence whoever in the UK, in Canada, whoever." He found that signing with Azadi gave him the freedom to do exactly that.
"Uday and I, we have the same attitude," he elaborated. "It's the reason I connected with Azadi. That 'fuck you' attitude. We don't give a fuck, we do things our way."
Another person that helped Prabh make 'Class-Sikh' is the album's producer, Sez On The Beat aka Sajeel Kapoor. "I'm connected with Sez," explained Prabh. "He reads my mind. Like with [the track] 'G Mane', he played almost the same groove on the keyboard that I had on my mind. I made the hook right then."
With a song like Kal, Prabh explained of how he had just been robbed, and after telling Sez, he produced that beat almost immediately. It's a kinship that goes outside just producer and rapper with the duo being friends both within and outside of the studio. Having worked with both Divine and Naezy, Sez also sells his beats online - a first in India. The producer's influence can be heard throughout 'Class-Sikh', mixing and mastering the album as well. He also helped Prabh with the lyrics and was as influential as Dre would be to Eminem with the album's creation.
One point Prabh was keen to make was about how people mistake slums with streets; "They mix it up way too much. I think that should be stopped right now because gully's are different, streets are not slums."
Insistent that you can't paint everyone with the same brush, he also feels that before he was signed to Azadi, that's how he was treated in the industry. People asked him to work for a movie for no pay; others offered him "exposure as an artist" if he paid them Rs 1 lakh advance. He was always promised money with job offers but found that he couldn't trust anyone he was talking to at that time.
This was reflected when he would do the odd show at a corporate event or at a certain venue. "They stopped 7 or 8 boys once because they said they don't let gully kids in," he angrily reminiscenced. He then murmured, "they're fans, man. I'd rather perform for them on the road than instead of performing for a shitty crowd who are looking at their phones."
Prabh is insistent that this attitude towards his fellow neighbourhood kids does not continue. He wants it to change and with hip-hop on the cusp of the mainstream in India, venues will surely figure out that the people they're turning away are the truest fans of the genre. And Prabh reckons everything could change if "we had one female MC to come and fuck shit up. We still need that one fire out of the gully's - some young blood coming from the streets."
Though he cites the rise of hip-hop as a crucial element in changing the image of the gully's, Prabh's on a mission to change things himself as well, "I want to change the whole fuckin game" And for him to do that, there's only one thing on his mind: "I respect Divine and Naezy, but it's all a game. I am coming to snatch the throne."
You can catch Prabh Deep live at Bira91 FreeFlow supporting UK rapper Lady Leshurr on her tour of India. Get more details here.
+
+
+
Words: Dhruva Balram
Image credit (thumb + banner): Mo Styles
Image credit (article): Naina Bhan
Tags
Join Our Mailing List