Kutiman Finds Inspiration Through The Internet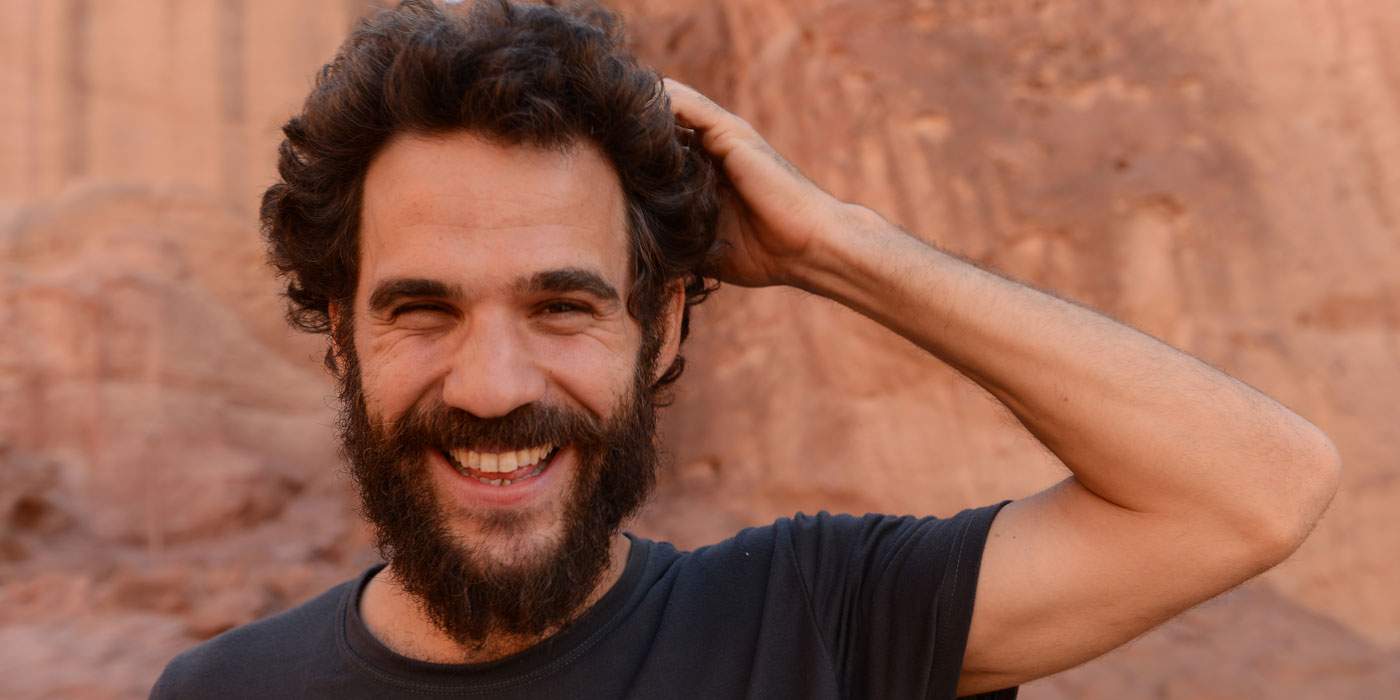 10 October 2017
In 2009, YouTube wasn't the ubiquitous platform it is today. It was still in a nascent stage; audiences worldwide were unsure of its true potential, especially musically. Ophir Kutiel, a musician from Tel Aviv in Israel, launched a project, 'ThruYOU', through his moniker Kutiman that was, arguably, one of the earliest things to go viral.
'ThruYOU' was an online music project that featured a mixture of samples of YouTube videos which, in turn, created its own song. In under 2 weeks the project received over 10 million views. Taking 2 months to complete, Kutiman described the process as intensive, "It took me two months, but it was really intense. I barely ate, I just worked on a computer and went to sleep...day and night, and night and day...didn't see any friends, no family...not even the sun."
Having garnered fame from there on out, Kutiman is now involved with a unique project called Mix The City - an interactive music web-based app launched by the British Council. We spoke to Kutiman over email recently about everything from that famous 'THRUYou' project and copyright issues to why he doesn't own a single vinyl.
After starting piano lessons at the age of 6, Kutiel, who grew up in a small village in Israel, moved to Tel Aviv at 18 because it was where most of the Israeli music scene was happening. Over time, Kutiel "started playing with different bands and working for some big producers. With time, I found my own thing."
All of his future success and fame came from those first few years of passionate hardwork, "In the first few years I had the privilege of playing/working with some very talented and famous musicians and producers. I felt like I was on the way to making my dream come true." Working with the producers he did along with playing in bands, he was exposed to new music that later influenced his own work, "The first band that I ever played with in Tel Aviv was called Anikuku and all the members of the band were older than me and were heavy music diggers. They introduced me to some funk, Afrobeat and psychedelic music. After I got my own Internet connection, it became very simple to discover more and more music."
That Internet connection led Kutiman to discover YouTube and the potential the platform has in terms of remixing, sampling and editing videos to create new music. With the success of 'ThruYOU', Kutiman found that there was a backlash to it. Some critics, publications and lawyers considered digital samples as stealing. But the Israeli artist stuck by his virtues, "I don't think it's stealing. I think it's an art form. There are also a million songs with the same chord progression or drum groove. I think that as long as you give credit and are not making money on behalf of anyone else, then it's all good."
His obsessions don't stray far from YouTube, though. Kutiman isn't one to be finicky about how he digests music, "I don't own a single vinyl and I thank god for not "punishing" me with this obsession," he wrote to us. Happy to steer clear of vinyl, Kutiman said it also "leaves room for my other obsessions - I mostly just listen to music on YouTube."
At the moment, Kutiman has gone back to regular studio music. There's no second edition of ThruYOU in the works, though, especially since Kutiman is focused on Mix The City.
In Mix The City, the audience assumes the position of a creator and builds a complete soundtrack complete with audio and video for a chosen city. All the sounds are based on recorded samples from 12 popular musicians who are locals to that city.
"I started this project a few years back in Jerusalem," Kutiman said. "It got popular and the British Council offered me the opportunity to travel around the world to meet and record different musicians and then cut and paste them however I want. It sounded like a good job to me."
The beauty of Mix The City is that users do not require any prior knowledge of music or rhythm to explore this platform. For most people, making music seems like a daunting task that they can't fathom ever doing.
There have been 10 editions of Mix The City all around the world from Harare to New Delhi to Moscow. The latest edition in India takes place in Kolkata. Strings, tablas, vocals and electronic beats are all included to represent the diverse voices of Kolkata, including a full brass band.
For Kutiman, Mix The City is yet another iteration of how much potential the Internet has for musicians. "In most cases, the scene is too small to make a living out of it but, thanks to the Internet, a lot of us are now able to spread our art around the world."
Create your own soundscape of Kolkata with Mix the City Kolkata today.
+
+
+
Words: Dhruva Balram
Image credit (thumb + main): xlr8r
Tags
Join Our Mailing List