Digging Through The Roots: Amarrass Records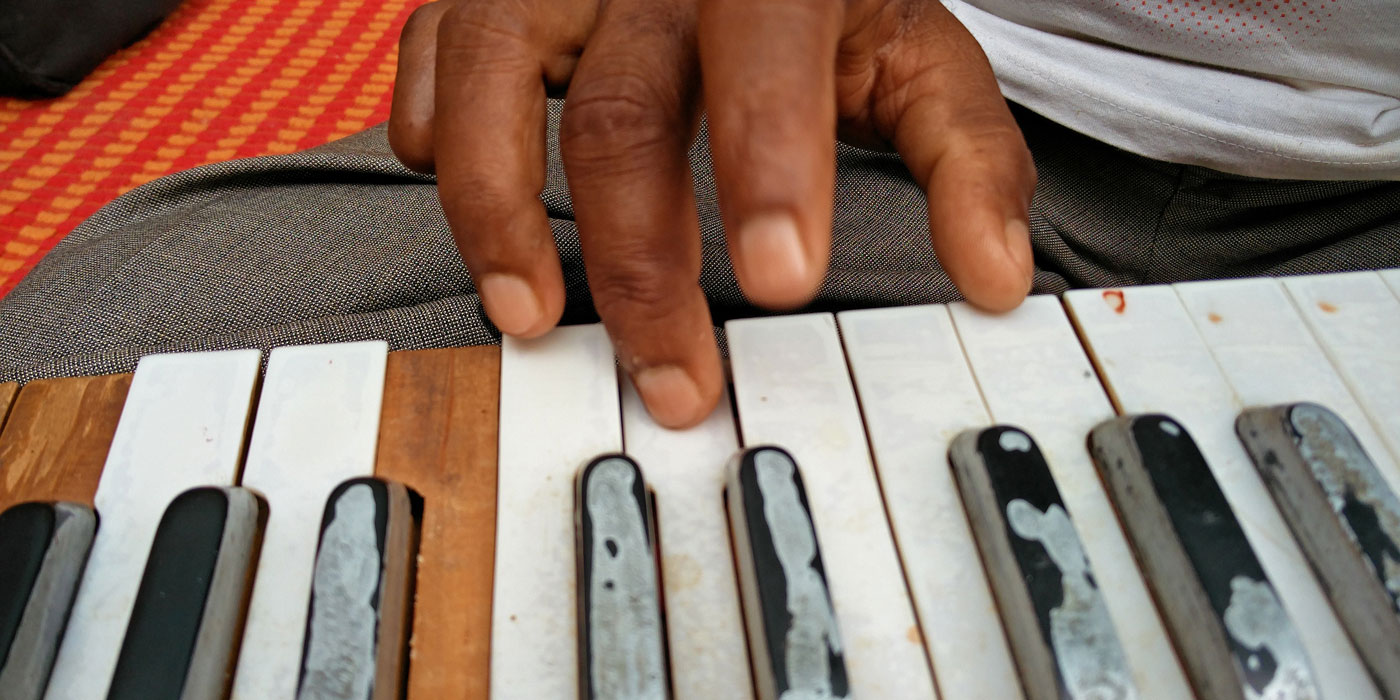 24 March 2017
Ashutosh Sharma and Ankur Malhotra started Amarrass Records out of exasperation.
The label looked inward towards India's vast, rural lands at a time when other artists and labels looked Westwards and flocked towards electronic music. Since its inception, the sounds coming out of Amarrass Records have been exciting, distinctive and embody the imprint's broad taste. Their ability to harness timeless music from the depths of anonymity allows them to stay prominent in an age where everyone looks to the Tier 1 cities for inspiration.
The two friends and co-founders have known each other since they were four. With Ankur working out of Madison, Wisconsin and Ashutosh out of New Delhi, starting Amarrass seemed challenging - they also had other jobs. In Madison, Ankur runs Madison Music Review and is a producer for music festivals; Ashutosh had started Sadhana Travels (an agency that, amongst other things, specialises in placing journalists in challenging parts of the world) in 1994, at the age of 19 because "I knew nothing better. I didn't want to go to college and I had some interest in travelling, having done it extensively in my youth."
With their distinctive skill sets, Ankur and Ashutosh created Amarrass Records in 2009. "I was getting frustrated with the music scene in India," explained Ashutosh. A year after it launched, the label's first release was an album by Rosyten Able on the Manganiyar Seduction, an awe-inspiring community of Muslim court musicians whose royal patrons may have disappeared but whose music, to this day, lives on through their community.
4000 people attended the album launch and initial show propelling Ashutosh and Ankur to do more. "After the first show and launch, we went into the field to do some recordings." The idea was to locate interesting artists and hear their music. What they were left with were two albums of analogue single-take two-track recordings. The double album (Mitha Bol, Banko Ghodo) featured on Songlines with 5 stars and, were left with more than just recognition and album sales.
They had found their star.
The co-founders were in a village recording Rukma Bai, "[she] is considered the nightingale of the Manganiyar community," Ashutosh explained. "She was the first female to sing in public and to eventually get on the BBC Radio." She had called a man named Manga Khan to record on the harmonium as she sang. And Manga, right after they finished recording struck up the confidence to ask Ashutosh if he could be recorded as he also sang. Ashutosh took a leap of faith on Manga and was astonished at the outcome. "We heard this guy's voice and we knew instantly, we had to make a band around him."
While mastering and releasing their initial double-album, Ashutosh and Ankur found musicians to pair with Manga's voice which resulted in the creation of The Barmer Boys. The band quickly gained recognition throughout the country and slowly developed a reputation internationally. Around this time Amarrass further added to their roster, signing Lakha Khan.
Considered to be the best Sindhi singer-songwriter in the country, Lakha is also one of the last remaining Manganiyars to have mastered the complex Sindhi sarangi instrument and to carry forward the century-old musical tradition of Rajasthani folk and Sufi music. "He was trained at an early age by his father Tharu Khan and later, by his uncle Mohammad Khan, in rendering the compositions of the Multan school of Manganiyars," said Ashutosh.
Lakha Khan's two albums on the label received 4 stars each while Sakar Khan's album, 'At Home' received 5 stars, making Amarrass Records the second label to have two albums in the same volume get 5 stars.
Along with the Barmer Boys, Amarrass Records did a series of at-home recordings with Lakha Khan and Sakar Khan, arguably the greatest Kamaicha player to have ever been discovered.
From the village of Samira in Rajasthan's Jaisalmer district, Sakar Khan grew in fame to the point where he was awarded the Padma Shri in 2012 (India's highest civilian award) for his contribution to Indian music. He then went on to work with icons such as George Harrison and eventually released his first solo album, under Amarrass Records, at the tender age of 72. Of course another 4 stars on Songlines.
Sadly, Sakar Khan passed away in his home at the age of 73, a year after his album's release.
Evidently, Amarrass Records are no ordinary label. Choosing to hunt for musicians and artists in spaces that most ignore, their long-term aim doesn't deviate far from what they do. Apart from making good music available and making it sustainable, Ashutosh stated that "probably the more important work was the archival and revival work. We revived a bunch of old songbooks that are dying. Some in completely new dialects to the younger generation as they're usually handed down orally."
They've extended this work into something called the Amarrass Society For Performing Arts. They've also revived the making of Kamancha, Sakar Khan's favoured instrument - the art of which they thought had died with him. On top of all this, Ashutosh and Ankur also run Amarrass Desert Festival, "A platform to showcase artists who are not just from India but abroad as well." In this vein, they've signed revered Mali musician Madou Sidiki Diabaté who they brought to their festival. The 34-year-old is a prominent Jali, someone accomplished in the art of playing the Mande Kora, a 21-string harp used extensively in West Africa. The 71st generation of Mande Kora players in his family, he has been internationally recognised for his talent.
Amarrass Records' latest signees are an American-Palestinian band called The Painted Caves who are based out of Milwaukee, where Ankur currently resides. Described as Arabic folk meets psychedelic rock, their debut European tour takes place at the end of this month.
When asked what Amarrass have in store after the Painted Caves tour Ashutosh nonchalantly says, "Oh. You'll probably be interviewing me again in about another forty to fifty days. There's some fantastic news coming up - not just for Amarrass, but for all music lovers in the country - even for musicians, for that matter." Upon probing to reveal something, Ashutosh laughs and coyly leaves it at, "It's some serious, crazy happy news for music lovers."
Words: Dhruva Balram
Image credits [all]: Ankur Malhotra/Amarrass Records
Tags
Join Our Mailing List