Shaa'ir, The Lady Of Dewarists Fills Us In On Her Top 5 Tracks Of The Moment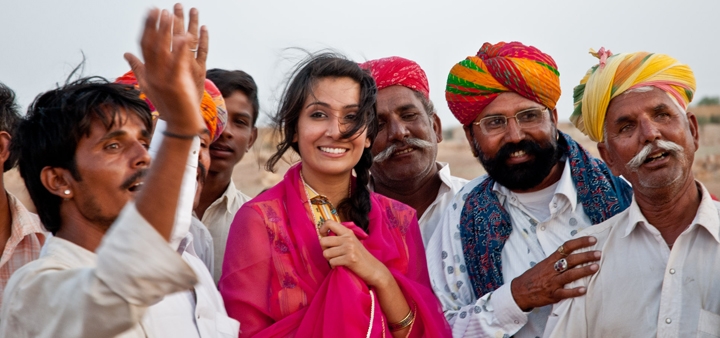 11 October 2011
Monica Dogra a.k.a Shaa'ir is a Maryland raised musician, who grew up listening to Hindu devotional songs, ghazals, and the Bollywood hits of Lata Mangeshkar.
Today, she's the eccentric front woman of arguably the most commercially successful and exciting indie bands in the country, Shaa'ir + Func. Formed officially in 2007, S+F (as they're sometimes better known) have been actively touring throughout India, the UK, and the east coast of the US, for the last three years while also completing three successful albums. Their third LP, Mantis can be downloaded for free via their facebook page here
In case you haven't already heard of these guys, their music includes a heavy dose of experimentation within the popular and cutting edge genres of current dance/electronica and rock music, while still retaining a strong pop accessibility. Live, it's a completely different story all together. An act who rarely sound (and look) like anyone other than themselves.
Currently Monica is playing a pivotal role as host of part music documentary and part travelogue, The Dewarists, a new original TV series which features Indian indie and international musicians collaborating to create music while travelling to locations across India. Having aired its stunning first episode on October 16, the programme shall be aired at 8pm on Star World every following Sunday for a further 9 weeks. The way I see it, this'll be the first time in history that Indian indie musicians will be taken to such an accessible and national level.
"I'm very excited to share this project with the nation as it truly is a labour of love, and all of us involved in the making of it have literally put our lives aside in order to put something together that changes the landscape of independent music and how people think about it in India, forever." - Shaa'ir
The episode list of the first 5 in a series of 10 can be seen below:
Episode 1: Imogen Heap and Vishal-Shekhar
Episode 2: Zeb and Haniya, Swanand Kirkire and Shantanu Moitra
Episode 3: Indian Ocean and Mohit Chauhan
Episode 4: Agnee, Parikrama and Shilpa Rao
Episode 5: Monica Dogra, Shri and Rajasthan Roots
You can see the first episode which aired on October 16 below, via The Dewarists Youtube:
+
In celebration of the project (and some free time) Monica has also kindly given us her top 5 tracks of the moment:
1. SBTRKT - "Trials From The Past"
I feel like this song lyrically just does me in every time. I mean, who hasn't been a young fool in love, and then tortured by all the freedom in that naivete once you've fallen out into being more "intelligent" about love. How boring. So so beautiful... and on repeat for me.
2. Kimbra - "Settle Down"
I discovered this tune accidentally. I don't really like any of this Aussie girl's other tunes, but this one feels like a classic. And contrary to popular belief, I do have a girly side, and I hope to be able to sing this song to a luck contender one day, while dancing the way Kimbra does in her video. Pretty awesome.
3. The Weeknd - "High For This"
This song reminds me of all the firsts you will ever have. That mystique, that intrigue. It's just such an unbelievably sexy song. I love how it builds layer by layer into this explosion of sound. Makes my fists curl up in front of me, my waist hunch over, as I sing at the top of my lungs.
4. Made In Heights - "Wildflowers"
I'm a dancer. I'm a poet. A tiny bit of a hippy - the tendencies at least. This song brings it all out in me. As the lyrics say, "Never thinkin' like the regular". These days, I'm loving minimal music and production, with focus on lovely clean melodies. I guess my ears are tired of heavy crazy dubstep...
5. Chase and Status - "End Credits"
This is a heavy ballad done up Chase and Status style. I love it because it's a beautiful song, with all the angst and vengeance of dubstep.
www.shaairandfunc.com
www.thedewarists.com
+
Image Credit: Kunal Kakodkar
Tags
Join Our Mailing List