Interview: Chicago Based Juke/Footwork Label - Ghettophiles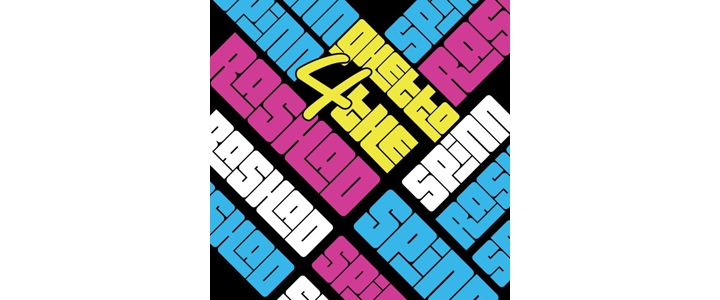 Over the past couple of years, the world has quickly woken up to 2 very distinct genres known in their hometown Chicago as juke and footwork.
Juke first emerged in the early 90s underground movement of Chicago and the word was originally used to describe the fast paced booty shakin house being made by producers and dancers across the city. As it broke into the commercial market within Chicago a few years later, more and more dance crews starting choosing juke as the sound of choice to move their feet (and body) to. The producers (most of which were also dancers) started taking the dance culture in mind when producing, creating a breath-taking scene of quick steps, hip shakin, claps, battles, toms, snares and bass.
Ghettophiles is a label and artist collective which came to the world's attention a couple of years ago, born solely from the love of juke/footwork. Now one of the leading players for the scene's movement and home to some of the most recognised names in juke, footwork, ghetto tech, dub, moombahton and Chicago house they seem to be moving from strength to strength.
"Some of us don't know how to produce tracks; some of us don't know how to DJ; some of us don't know how to type; and some of us don't know how to do anything besides blog. We're all about local scenes and making sure that they get international attention. We want to be sure the leaders, innovators, creators and legends of each community receive sustained love and support from their own community" - Ghettophiles
http://soundcloud.com/ghettophiles/jody-breeze-the-way-i-move
Ahead of their bass shakin Wild City mix, we caught up with label co-founder Matt Frederick to find out more about the sound that has been popping up in sets from DJ's across the spectrum, once again turning the electronic music spotlight on the Midwestern state.
There's not enough people in the world, let alone India that know what this is all about. Fill us in.
Explaining the difference between juke and footwork is kind of like explaining the difference between jungle and drum and bass. It's practically impossible, and even the people who make it have a hard time doing so. Juke is all about dancing with somebody, and footwork is all about dancing against somebody. People juke to footwork tracks and people footwork to juke tracks.
Tell us about first starting the label and how the sound has evolved.
As far as juke goes, it was mostly bootleg remixes of popular tracks in the beginning. Now people are using less familiar samples, and sometimes no samples at all. DJ Earl does some amazing instrumental work on his tracks. Also, after going to Europe a few times, Spinn and Rashad seem to have brought back a ton of new ideas and just passed them along to everybody. If you haven't heard their remix of Addison Groove's Footcrab, you need to.
What do you think of the way this sound has only recently started to play a part in current bass music?
I love it! We were at the right place at the right time, and somehow managed to trick the world into thinking we're innovators, haha. It was bound to happen sometime though. The internet is a wonderful thing.
What's the most influential album to you, the label and its sound?
Spinn and Rashad's 4 The Ghetto is still one of my favourite albums of all time. One of my best friends, Neema (the co-founder of Ghettophiles), took me on a road trip once and played nothing but juke/footwork tracks. Up to that point, I didn't really care about juke. The third track on the playlist was Rashad's remix of Flashing Lights by Kanye West. From that point on I was a fanatic. The hardest part about answering this question is that most juke isn't even on albums. I have something like 50 tracks on my computer right now that are unreleased, and aren't even meant to be released. And I think that's probably the most influential part about the label - Almost everybody does this for the love. Money is nice, but nobody is going to quit just because they aren't making it.
http://soundcloud.com/ghettophiles/dj-rashad-flashing-lights-remix
So, what's next for Ghettophiles?
Next up for Ghettophiles... As far as releases go, we've got a lot on our plate. Something like 10,000 juke/footwork releases from some guys who you haven't heard of but need to get to know. Outside of that, we've got a Distal release coming up, a Cardopusher release and a Nightwave release. We've also got this huge compilation album in the works. I'm still keeping the artist list secret, but it's half big name artists and half unknowns, with the main idea being to help get the new kids out there.
On the non-music side, we're about to totally re-launch the website. I've been slow on releasing albums but with the new back-end there will be so much more we can do for our artists!
The Same 3 Questions
3 most inspirational artists
This is a tough one. Aphex Twin will probably always by my number one. I was too young when I saw the video for Come to Daddy and it totally messed me up forever haha.
After that, I'd say the Geinoh Yamashirogumi. When I was about 14 I watched an interview with Tsutomu Oohashi about making the soundtrack for Akira and it completely changed how I think about music.
Last one would probably be Amon Tobin. I've been listening to him since his Bricolage album, and he completely changed the game when he came out with Foley Room. I've heard his live shows are amazing. Maybe one of these days I'll actually be able to catch one.
3 favourite albums of all time
The Brown Album by Orbital is great. It's basically the soundtrack of my teen years.
On that same note, Music for the Jilted Generation by The Prodigy is also another one I could listen to any time ever. Saw them live for the first time like 3 years ago, totally didn't disappoint.
The last one is probably the soundtrack to the movie Ghost In The Shell. It's perfect in every way, plus I'm a huge nerd. But don't ever watch the newer re-edit of the movie that throws in bad CGI for no reason.
Favourite 3 artists of the moment?
For the past few days I've only been listening to this album "Makin' Magic" by Krampfhaft on Rwina Records. Everything about it is amazing, and it's up there at Hudson Mohawke and Rustie levels.
So many people have good stuff out right now though, so I'll stick with lesser known but equally impressive artists. There's this kid out of Jersey named Nadus who is insane with his tracks. It all has a Baltimore club vibe which don't leave you feeling like you just listened to a bunch of Bmore tracks.
There's also my guy David Beltran, who not only blogs for Ghettophiles, but also has like 8 music projects going on at all times, as well as one of the most amazing cases of manic depression I've seen in an artist in years. He's best known for Starfoxxx but he's got some solo work that is pretty next level.
Watch out for the Starfoxxx Wild City mix coming soon!
Below is a video from footworker AG. "One of the premier footworkers in Chicago. Back when I started going to battles, almost everybody had learned how to footwork from him. Styles are really starting to diversify now, though." - Ghettophiles
Tags
Join Our Mailing List