From Rock Operas To Folk-Fusion: How Kabir Lives On In The Music Of Today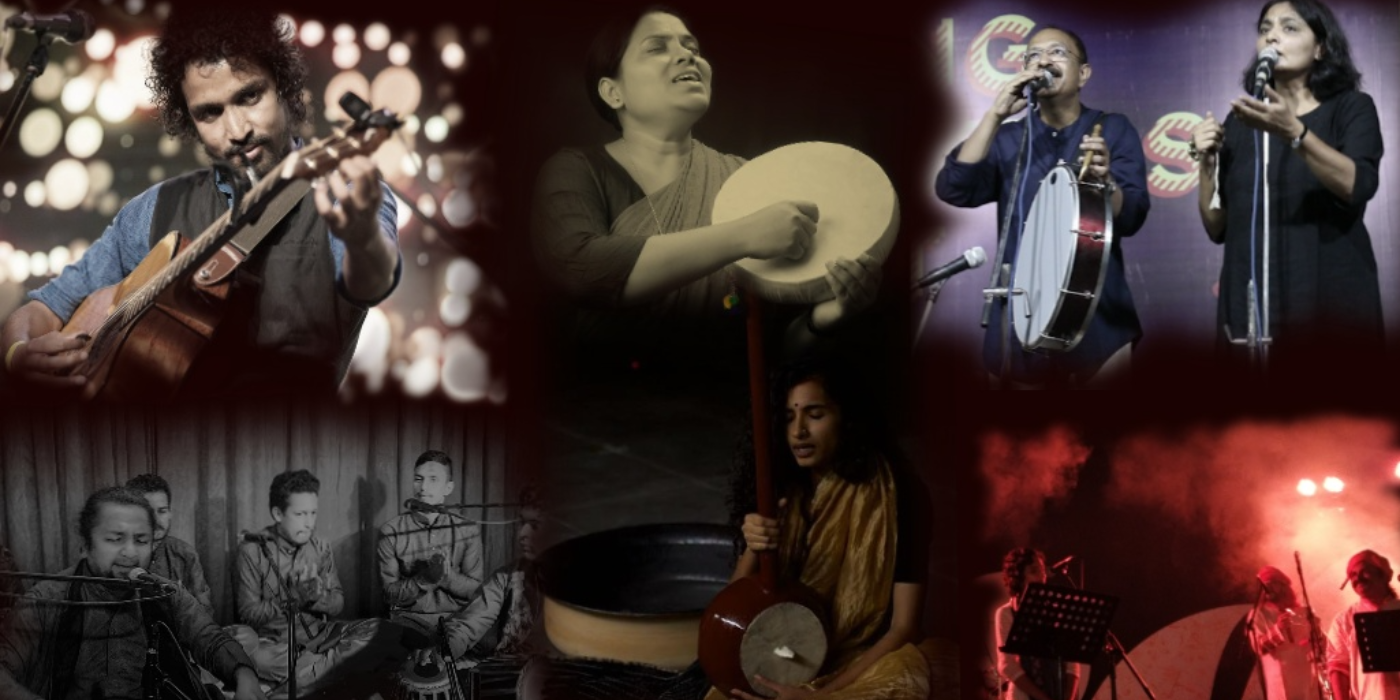 11 January 2022
Sant Kabir Das, the 13th-century mystic poet and philosopher, remains an enduring reflection of India's polyglossic tradition, his hard-hitting dohas (couplets) detailing ways to live by. His work has been claimed by several –and at times conflicting–socio-religious traditions and schools of thought.
The celebration of Kabir's work itself and the forms in which it has persisted across the subcontinent is an exercise in tolerance and multiplicity. As filmmaker Shabnam Virmani has put it, "The sociology of the many Kabirs itself becomes a fabulous device that pushes us towards opening up our minds and hearts."
Though the poet's writings have always been celebrated through the ages as a seminal era in Indian literature and poetry, they remain uncannily resonant in contemporary times. Within today's polarized political climate where divisiveness is only esclating, his teachings and ethos are the healing salve needed to soothe a fractured nation.
And now, amidst artists increasingly becoming socio-politically conscious in their work, Kabir's fundamental ideas of equality, inclusivity, and syncretism are reaching listeners in entirely new forms.
Reimagining Kabir For Today's Listeners
Over the last two decades or so, a sizable creative economy is making Kabir's message accessible to the current arts aficionado. Together, its members are reimagining his work in new, fresher formats that appeal to the sensibilities of modern and younger audiences.
It started 17 years ago with filmmaker Shabnam Virmani and Vipul Rikhi's Kabir Project, which came to represent the possibilities for the cross-cultural archival, proliferation and revival of Kabir's poetry for the next generation. From a web-archive to music, books and urban yatras, the group conceptualized an array of formats to engage students and adults alike.

The initiative began its efforts with a film series on the international legacy of Kabir's work through interviews with artists helming distinct folk traditions in India and Pakistan. The Project has also been credited with bringing the tradition of Kabir festivals to cities. In 2009, they organized the first urban Kabir Festival in Bangalore, hosting 15 local and Pakistani artists.
Inclusive Expression, Poetry & Social Justice
Former members like Mukesh Kulriya have gone on to join similar conversations capturing folk music traditions and social justice like Goethe-Institut's M.A.P // A.M.P. Kulriya contributes as the curator of the crowd-sourced activist music library of M.A.P // A.M.P, joining RJ Sarthak, who hosts the Pirate Radio series, and journalist Bhanuj Kappal, who hosts its podcast.
As the multi-pronged programme explores the intersection of activism and music in South Asia, its collection of championed musicians has revealed a noticeable presence of Kabir's influence – from Rehmat-E-Nusrat, the Uttarakhand collective which recontextualizes qawwalis for the modern times and throws in bhajans by Kabir for good measure, to the Sheetal Sathe Troupe, which started as an off-shoot of Pune's Kabir Kala Manch, to Loknaad.
Led by Vinay Mahajan and Charul Bharwada, who ditched their corporate careers to travel the country, Loknaad brings voice to several forms of social injustice from farmer suicides to communal killings and gender-based violence in their seminal first album, 'Insaan Hain Hum', borrowing Kabir's approach of utilising relatable understated colloquial expressions to make bigger socio-political statements.
One of the many reasons Kabir's poetry and couplets traveled so widely was in part due to their form and language, which could be understood by citizens across social stratifications. While discussing their Right to Information (RTI) Act anthem' Janane Ka Haq' with RJ Sarthak, Vinay identified this similar approach in their work.
"The problem was figuring out how to write a song about RTI that everyone could understand. The most critical thing about the kind of songs we are writing is the seed of that song. How does it relate to the lives of the people? Various dimensions of the lives of the people, food, shelter, communal harmony…"
Emerging Creative Forces
In the last decade, one of the most prominent hubs that fostered this kind of work and gave it a platform has been the annual Mahindra Kabir Festival, a corporate-backed festival celebrating the spirit of Kabir across music, literature and the arts whose fifth edition was recently held in his birthplace of Varanasi.
"Kabir's whole text is about celebrating oneness, multiplicity, and an equitable society. Even in 2021, when people are going to space and there are Mars missions happening, we are still grappling with these same fundamental questions globally", says Anirban Ghosh of Dastaan Live, who produced a rock opera set to Kabir's poetry from the critically acclaimed MK Raina-directed play, 'Kabir Khada Bazaar Mein' at the festival's 2021 edition. The group specializes in creating immersive and highly visual A/V performances set to the works of poets of yesteryear, now including Kabir.
Describing the experience as "surreal" and a "bridge between two worlds", several generations of artistry converged through Kabir as Dastaan Live brought music from the play back to Varanasi after Raina had staged it there decades ago.
Another participant in the 2021 edition was Delhi-based folk musician and performer Vedi Sinha, founder of The Aahvaan Project, a music and storytelling collective which delivers moving performances featuring the works of Kabir and other poets, along with original compositions that deliver powerful social commentary through the stories of everyday Indians.
In fact, the idea for the collective came about when she was doing some soul searching of her own while volunteering with the Kabir Yatra, a travelling folk music festival. "I heard [Malwi folk singer Prahlad Tipaniyaji] sing Kabir in Rajasthan, and I felt like I truly understood Kabir, for the first time. I found the philosophy I needed to heal", she revealed while speaking to Compassion Contagion.
"Over time it's become more evident, in the layers, we have drowned and lost the simple connections to one another, to life. Kabir, like many, have spoken about that one single thread that connects us. And every time I feel stuck in a place, especially today with politics and hate, Kabir comes to my rescue."
Making Kabir Mainstream
Tracing this growing tradition would be incomplete without mentioning Neeraj Arya's Kabir Cafe, a five-piece which has found both mainstream and international success. The Mumbai group, whose percussionist hails from a family of Kabir Panthis, created their own unique hybrid sound performing Kabir's verses set to their unique folk-fusion compositions spanning genres from rock and pop to reggae.
Arya set off on his journey of discovering Kabir after attending a screening of Shabnam Virmani's short film 'Had-Anhad' (Bounded-Boundless), which featured a particularly inspiring Kabir couplet by Mir Mukhtiyar Ali: 'Pothi Padh Padh Kar Jag Mua, Pandit Bhayo Na Koye Dhai Aakhar Prem Ke, Jo Padhe so Pandit Hoye' (Reading books everyone died, none became wise, One who reads the word of Love only becomes wise)". Like Sinha, he also cites Prahlad Tipanya as a guru.
The band has taken Kabir's poetry out of its traditional performance setting to weddings, funerals, and everything in between. However, they are deeply aware of their position as ambassadors of his ideas, treating performances like a "satsang" while engaging with audiences about the significance of the verses.
Kabir will always remain a seminal figure who symbolizes the multiplicity and syncretic fabric of India. Yet it's promising to see this new generation of creatives taking initiative and innovating unique ways to perform his words for newer and younger audiences to whom it may only exist as words on a textbook page.
A poem by Sinha sums it up beautifully:
I often wonder what would fakiri be in our everyday lives?
I wonder whether it's a state of mind or the actions
or maybe both
I don't know..
I wonder if it means we all run to the jungles.
I don't think so..

But I do believe it's most importantly in how we treat ourselves
and others
how we open our arms or hold them tightly shut
in how the love that creates us
translates into action through us

whether it translates at all in the rigmarole called life.
.
.
Words by Nishtha Jaiswal
Tags
Join Our Mailing List