Spotlight: Pagal Haina – The Indian Label Connecting Prateek Kuhad To Lifafa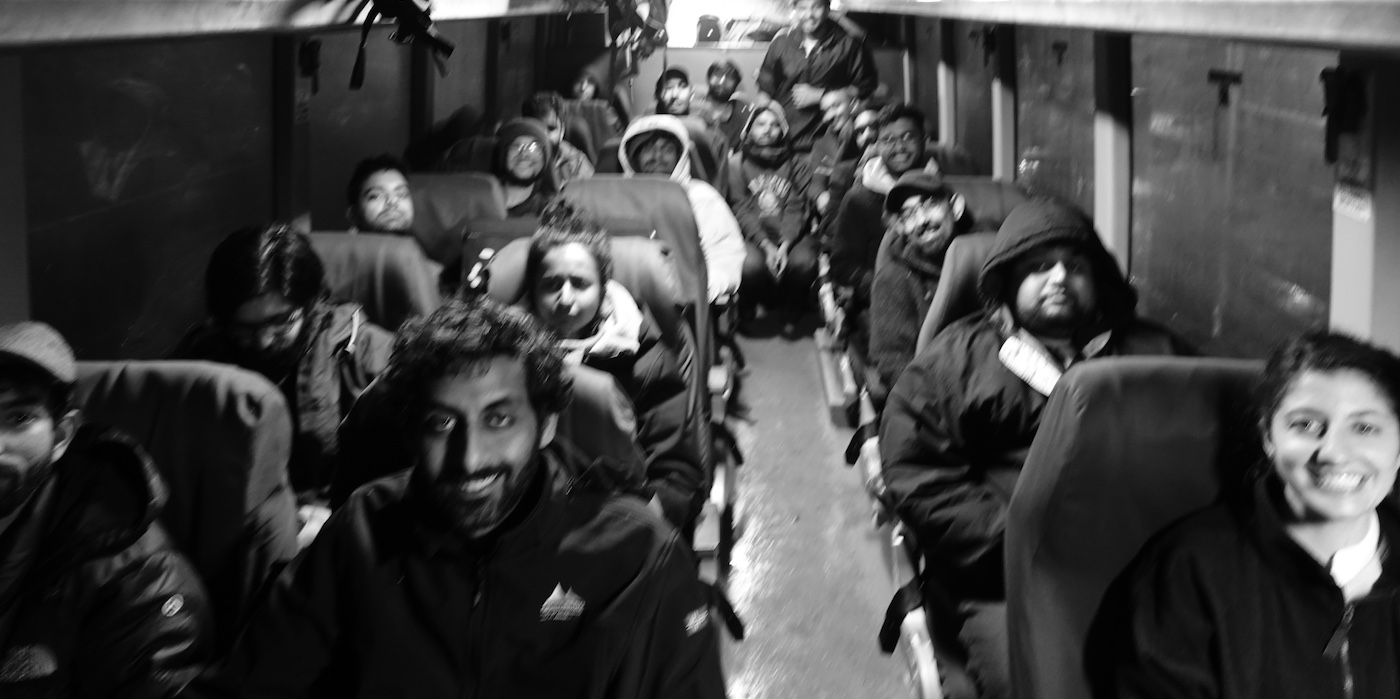 14 December 2020
Pagal Haina? Crazy, right?
The inception of the artist development agency and label which has cultivated the likes of Prateek Kuhad, Rounak Maiti and Shantanu Pandit, and also includes Run It's The Kid, Peter Cat Recording Co., Lifafa, Begum, Bowls, Ditty, Shashwat Bulusu, Hashbass, Lo! Peninsula, Karshni and The F16s on its roster started as a romantic in-joke between its co-founders Dhruv Singh and Lucy Peters. The phrase "Pagal Haina" (translating to "Crazy, right?") were the only two Hindi words Lucy Peters knew at the time the pair met in 2007 at a film school in Sydney and subsequently became the title of the mixtapes the pair would exchange.
In three years, the name passed on from mixtapes to refer to Dhruv's scattered efforts at artist management, and a decade later, a company managing artists that are some of the most notable of crossovers from India's niche independent music scene into a wider audience.
The comments under works by Peter Cat Recording Co., Lifafa and even Pagal Haina's latest signees The F16s are replete with phrases like "underrated", "new discovery" and "going to be big". While at the same time, to the avid dedicated audience of India's independent and alternative music culture, these have been some of the most talked-about artists since long – a reflection of the stark contrast between the independent scene and India's popular masses, and the growing success of Pagal Haina in bridging the two. Prateek Kuhad, on the other hand, who was managed by the agency from the start of his career until after the release of his lauded 2018 album 'cold/mess' remains one of the most successful new products of India's indie scene (until signing a deal with a major label in 2020), selling out shows internationally and finding himself in the (surprisingly) anticipated end-of-year list by former U.S. President Barack Obama.
The singer-songwriter's journey parallels the label's upward trajectory, which was only a side-hustle of Dhruv when he was introduced to Prateek. "A close friend of mine and Prateek's sister went to law school together," Dhruv tells me over a Zoom call. "My friend knew at the time that I was exploring and wanting to work in the music business and Prateek's sister told her of her brother who was starting to write music and played her some songs." Making the connection, Prateek and Dhruv were put in touch and after a round of e-mails decided to meet while back in India on a break.
Dhruv Singh || Image by Ankur Kapoor
"I was just about starting out and he only had a handful of songs to his name. He had no interest in music as a full-time career at the time and was very much still at NYU. He even started a full-time job after he finished college and I think during that time of working full-time, he realized it's not something he wanted to do," Dhruv recalls. Meanwhile, Dhruv only had the scattered experience of remotely managing from Sydney the likes of Kunal Dutta and briefly the musical duo of a friend entitled She Of The Woods.
"He would spend so many hours in between his freelance work, just reading, brainstorming and listening about the music business," inputs Lucy, who would only support him as a partner at the time. "I was just trying to be supportive. I remember one time he was like, 'Can you just go to this gig? I want to manage them. Can you act as the manager?'. And I went, and I literally had no idea what the hell I was supposed to do," she laughs at the recollection, denoting how Pagal Haina wasn't a fully-formed company at the time. "It wasn't until the end of this three year period when he started getting booking queries with Prateek that things started moving. I was between some work and Dhruv was like 'I want to go back and do this full-time'. So, that's when we both moved to India and from that point, the foundation kept getting laid and it grew to be something bigger."

Lucy Peters and Dhruv Singh || Image by Mohit Kapil
While Prateek was winning music contests and getting to perform in places like New Orleans off the back of them, Dhruv and Lucy were helping him record and market his formative EPs in New Delhi. A pivotal moment came when Prateek auditioned his soon-to-become-fan-favourite number 'Raat Raazi' from his living room couch to Dhruv, who liked it enough to forward the video to the then-two-year old music festival NH7 Weekender."I just sent it to them as a shot in the dark and said, 'Hey, do you want to put this up on your YouTube channel?' And they really liked it. I think that put Prateek on the radar. And then we got a call about him playing at the NH7 Weekender in Delhi in 2012," adds Dhruv. The same year, NH7 Weekender expanded into a multi-city event, increasingly finding a wide audience which included college kids and symbiotically, Prateek followed suite.
"He was able to cater to people who like music in both Hindi and English, which is not the case with a lot of artists," says Dhruv. "Especially with independent artists when it comes to English music, there's a glass ceiling to how far you can go in India post which, you have to start building an audience worldwide. With Hindi, I think one has the advantage of being able to cater to a much bigger audience just within the Indian landscape", he adds, noting that by the sheer merit of its large population, India's artists have the opportunity of accruing larger numbers than even some of their more seasoned foreign counterparts. Dhruv would go on to tour Prateek to music conferences and showcases in Australia, Singapore and even the highly sought-after SXSW aka South By Southwest in Austin, Texas. The foreign tours and even release tours within the country meant incurring losses – "done with the greater good of growing together in mind," adds Dhruv.
Eventually, the investments paid off and by the end of their partnership in 2018, Prateek Kuhad had sold out auditoriums, been invited to contribute to Bollywood soundtracks and headlined festivals across the country and stages beyond. Pagal Haina meanwhile had amassed a roster that now included Ditty, Run It's The Kid, Rounak Maiti and Shantanu Pandit. With the lessened work from parting ways with Prateek, the label which had now grown into a full-fledged team of permanent members and interns could take on the indie heavyweights like the New Delhi group Peter Cat Recording Co. and the side-projects of its constituent members like Lifafa, Bowls and Begum – with Peter Cat Recording Co. and Lifafa increasingly following inline with Prateek Kuhad as indie artists crossing over into the masses.

According to Dhruv: "I feel like home territory is important. You've got to get to a really good place in your home territory in terms of following and fanbase, which automatically translates and helps when you start venturing outside of your country. It helped in Prateek's case and obviously, now with Lifafa."

Peter Cat Recording Co. with Dhruv Singh in the foreground || Image by Mohit Kapil
As a whole, the label developed an overarching sonic that felt far-reaching and cohesive at the same time. With their own individual approach, its artists combine the edge and experimentalism of alternative music with the appeal of relatable lyrics. This defining quality is incidental, Dhruv and Lucy argue, who simply rely on their personal taste for curation. "As Dhruv said, if he connects with it, then we're behind it. Ultimately, it's all about their music coming from a deeper place of truth for them," adds Lucy. "It's a blessing and skill that he can see that potential or he can see in a small moment that space of truth that he knows is there. Our goal is to cultivate that and help them express from that place more and more."
The aim meant Pagal Haina had to calibrate itself as an artist development agency instead of management, evaluating the responsibilities that come with artists in the early stages of their career. Dhruv notes how he and Lucy had to serve as a label, tour managers, booking agency, social media managers and publicists before they could grow into a wider team which now splits its duties and even artists among themselves, and also points at the decreasing lack of dedicated booking agencies and PR firms within India's music industry. "A lot of these people have also come to the same conclusion that you have to do a little bit of everything, to begin with, till you're able to get to a stage where you have the means to start building a team around yourself and your artists."
The artists of Pagal Haina often collaborate with each other, helping the other out as session musicians or producers, which Dhruv and Lucy reflected on as they travelled together with part of their team and almost all of their roster to Alsisar, Rajasthan for a showcase at Magnetic Fields Festival 2019 around this time last year. The pair was able to take a moment to reflect on how the underlying vision of making impact collectively has come to fruition over the years, with Lucy pointing out in conclusion: "Dhruv and I have always had this dream of a community and a family of musicians, where everyone supports one another and is there for another. This year that has come together and so to see everyone here together, that's nice!"
Celebrating the label's journey, Pagal Haina has released a short film from their time at Magnetic Fields Festival 2019, which you can watch below:
Words by Amaan Khan
Thumbnail image by Mohit Kapil
Banner image by Karanjit Singh
Tags
Join Our Mailing List