Wild City Singled Out: May 2020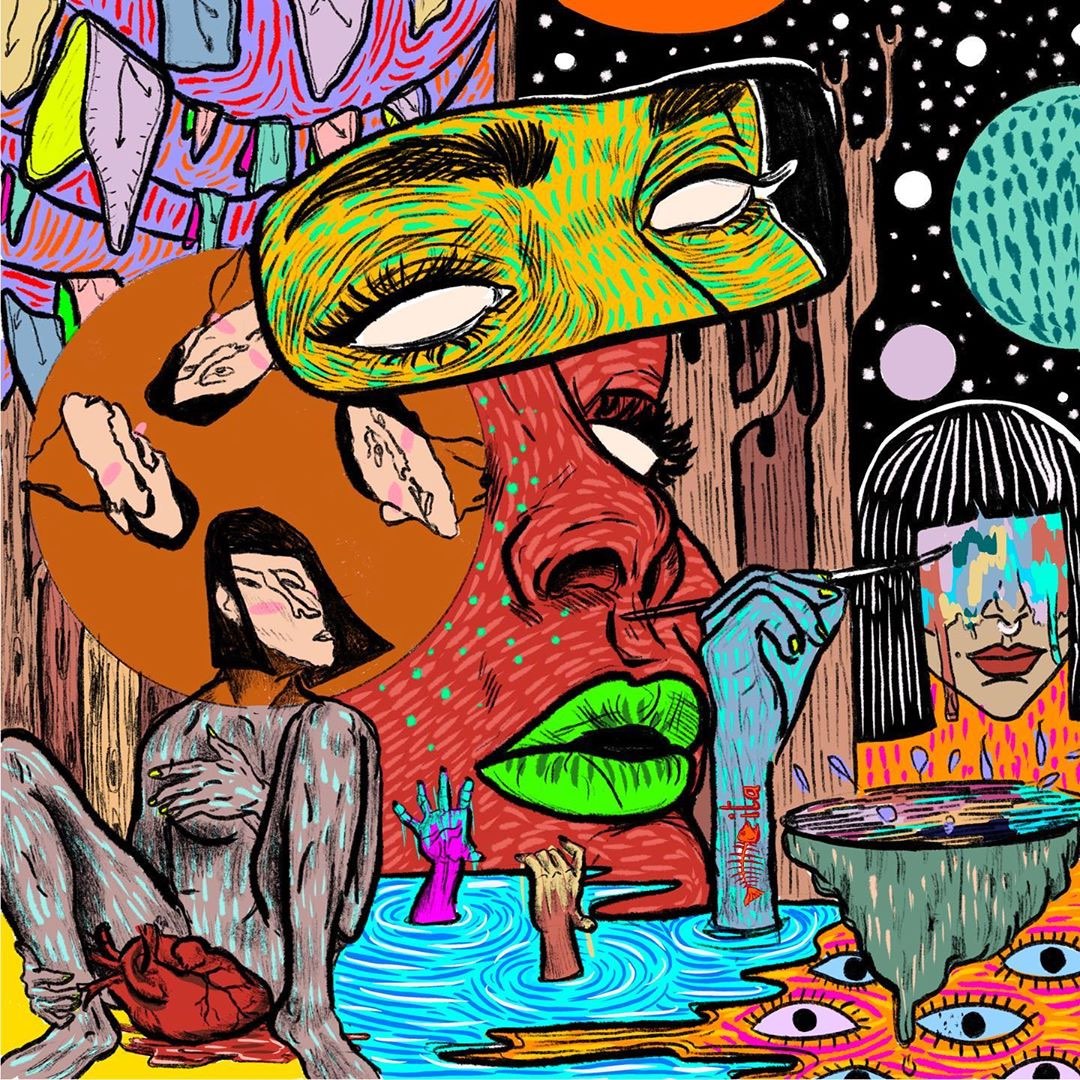 1 July 2020
Wild City handpicks the most interesting one-off singles released by artists in South Asia in our monthly feature - Singled Out. If you'd like us to listen to your music, send the relevant info to music@thewildcity.com.
'Cross Border Politics' By Iqra
'Cross Border Politics' is the musical affirmation we need at the start and end of our day. The collaboration between Bangalore-based producer Pranav K and Nigerian poet, producer and singer-songwriter Kafayat Quadri as Iqra offers jazz poetry over a hypnotic hip-hop beat. 'Cross Border Politics' doesn't just put out its own expression about itself into the void hoping it will find an audience that will listen. It talks directly to the listener, leaving room for responses and lets each line of the conversation linger and mollify the mood.
'Giving Up Our Youth' By Neon Crayon
Sometimes all you need is a good old-fashioned guitar-rock rant against Ambani and Jeff Bezos. The pan-Indian group Neon Crayon offers that with a track that's a time capsule to simpler times with its no-nonsense arrangement and a simple structure that's punctuated with uptempo hooks and concludes with a sing-along outro, carrying all the staples of the genre in their unadulterated forms.
'Fake Feminist Boys' By Plastic Parvati
Toto Music award-winner Plastic Parvati's 28 seconds-long punk outburst is like a bonus offering in this list, owing to its brevity. Yet, it so honestly captures all the silent screaming inside your head as you stand there with a poker face, too angry to even find a befitting expression.
Besides, what's good punk if not unabashed, unadulterated and straightforward frustration directed at a present-day relevant subject?
'Crocodile Tears' By Komorebi
The sultry cynicism of Tarana Marwah aka Komorebi on 'Crocodile Tears', one of the jazz-inspired songs she has written for the Netflix series 'Bombay Begums', is a peak into her songwriting stripped to its bare bones, supported by just her voice, a double bass and drums and an occasional piano filling some gaps. Focused and tamed, the accusatory single takes the darkness and sinisterness of blues and jazz songwriting and dolls it up in the sonic equivalent of a velvety cocktail dress for a pop package.
'Oceans Beyond' By Nowhere Station
Elsewhere, the music academia is discussing the 'death of melody', but with New Delhi-based alternative band Nowhere Station, it is very much the main tool of expression. Sit patiently through the extended intro and soon enough the lilting vocal, guitar and violin melodies of 'Oceans Beyond' will begin to transport you. Each component of the song follows its own emotive journey through musical notes to ultimately serve a common mix of feelings: future-facing hopefulness and past-facing nostalgia.
'Project #6' By Barun Sinha
Music is definitely subjective, but not just in regards to the listener's taste but also when and how the listening is taking place. Delhi-NCR-based composer and producer Barun Sinha's track 'Project #6', co-written with the lead vocalist on the track Aadya Jaiswal, is definitely meant for listening when there isn't much in the day to worry yourself with and you can take a moment to think of yourself. "Everybody'll hear me if I hear myself" – the sheer rawness of Aadya's singing on the line lends the musical melting pot of jazz, rock and electro-pop that is 'Project #6' a kind of intimacy that makes you feel privy to the moment and emotion the ensemble channels on the track.
'Home' By Priya Darshini
NYC-based artist Priya Darshini's introspective weighing of her relations with her home on her album 'Periphery' is the sound of modern-day Nomads, containing her South Indian roots, a Celtic sense of melody and elements of American folk music in varying measures. Recorded live in an abandoned church in Brooklyn like the rest of the album, the lead single 'Home' consolidates the expansive dynamics of the release into a composition centred around the memorable chants of the chorus.
'Watercolour' By Sanjeeta Bhattacharya ft. Dhruv Visvanath
Sanjeeta Bhattacharya's voice and songwriting seems to go strength to strength with each release lately. On her collaboration with singer-songwriter and guitarist Dhruv Visvanath, the New Delhi-based artist takes short flutters of wavering melodies before breaking free in the chorus, tenderising and firming up her voice and tastefully utilising her skills of dancing between the scales for a soothing expression of love.
'Dheere Dheere' By Osho Jain
Indore-born singer-songwriter Osho Jain distills messages of socio-politics and environmentalism into soft poignant poetry on 'Dheere Dheere', further augmenting its serenity by the lush scenery of Spiti in its music video. Instead of preaching about his opinions, the slow acoustic ballad invites you to feel the basal emotions that guide these opinions while delivering the painful themes as a soothing lullaby.
'May Day' By Treble Puns
The musical growth of Bangalore-based act Treble Puns in 2020 has been fascinating to bear witness to. Always carrying an energy that you'd find in an spontaneous jam instead of a tightly-knit composition, the duo of Abhimanyu Roy and Sohini Bhattacharya are very much proponents of bedroom rock, but with an entirely different and varied sonic palette to the genre – one that borrows more from the world of sample-based electronic music. 'May Day' is as good an introduction to that as any.
'Romeo and Juliet' By Disco Puppet
The Bangalore-based artist Disco Puppet's emulation of Daniel Johnston's rawness through his own off-kilter singularity pays off on his EP 'Thoughts To Melt To', laid out most accessible on the track 'Romeo and Juliet'. The recontextualisation of Shakespeare's love story to the current days of social distancing works particularly well when you're up for a love song while feeling too imperfect for polished perfectionism.
'lim·i·na' By philterSoup
Varun Desai's label Social Isolation has been a fascinating source of music since the imposition of lockdown, bringing ambiences both jarring and welcoming. Mumbai-based artist philterSoup's track 'lim·i·na' from his EP 'Decoherence' belongs to the latter. Captured in a live take of meditative piano improvisation over generative arpeggios and textures from modular synths like most of the album, it captures, even in its spontaneity, the impact and economy of a meticulously crafted ambient composition.
'Lysis' By Abhi Meer
"Minimal" as a term is thrown around quite liberally in the world of music writing. Mumbai-based synthesist, DJ and composer Abhi Meer, however, truly lets his composition grow with minimal movement, patiently waiting for arpeggiated motifs and textures to emerge from their own shadows on 'Lysis'.
'Electric Birds in Concrete Jungles' By Oblique
Modular synth-enthusiasts must be spending more time with their machines during the lockdown, for there seems to be a notably higher number of quality releases utilising the compositional capabilities of the system – a praxis strongly reflected in Kolkata-based artist Sourya Sen aka Oblique's 2-track EP and its title track 'Electric Birds in Concrete Jungles'. Recorded as a single-take performance, the track is an exemplary instance of creating tender humane expressions through entirely machine-based sounds.
'Proof Of Concept V' By Investigations of a Dog
The entirety of elusive producer Investigations of a Dog's EP 'Proof Of Concept' is a journey into a sonic world of contained chaos and unrelenting rhythms. The fifth title on the release is but one of its most compact representations, offering a vibrant collage of random beats and spiralling melodies laid over the bedrock of noise.
'SUNDAY' By Mozzey x Rugks
Kohima-based producer Mozzey and visual artist Rugks' collaboration 'Sunday' captures the end-of-weekend mood as a hip-hop influenced slacker-pop anthem. The syntax of a catchy melodic singalong chorus punctuating soft rap harkens back to the best of the pop music from around the turn of the century, while attaining a modern sheen with its breezy lo-fi beat.
'Don't Go' By Trap Monk
Jaipur-based artist Trap Monk's take on a teenager's mindset going through his first break up on his EP 'Sad Boi Forever' carries over perfectly in the simplicity of its lyrics and melodies. The basicness of the track 'Don't Go' might for a moment prompt you to even resist liking the track, but that very quality is what makes it an exceptional earworm – further helped by the mumbled singing adding an off-kilter edge to an otherwise unassuming work.
'Chandra' By Vedang
Vedang has a straightforward locus on his EP 'Shastriya Hip-Hop' – as straightforward as the EP's title – which is: combining the grit of hip-hop with the emotionality of Shastriya Sangeet or Indian classical music. Lesser attempts would overmorph the classical samples to fit the vision they always offer, but Vedang lets both the worlds dictate each other in equal measures, careful not to let the effort of showcasing one diminish the impact of the other.
'Krantinaari' By Krantinaari
Mumbai-based Ashwini Hiremath aka Krantinaari's eponymous debut single is a female-centric anthem made up of straightforward rap interspersed with chanting that reminds sometimes of slogans at a protest and other times of Hindu religious chants. Ashwini doesn't cover up her message in metaphors but offers them as headstrongly as her delivery over a beat by Swadesi's RaaKshaS.
'Thadavara – Nee Mayalle (Stalvart John Afro Jazz Miks)' By Stalvart John
One of India's premiere disco pioneer of modern times, Stalvart John's remix (or "Miks") of the 80s Malayalam classic track 'Nee Mayalle' from the film 'Thadavara' is a welcome distraction in these dire times. The dance floor number is gentle enough to work for some energy-infusing casual listening, beguiling and uplifting the listener through the horn lines and its classic playful melody.
'The Forest belongs to the Maibi' By Serpents of Pakhangba
The manic musicality of left-field prog rockers Serpents of Pakhangba is not for the faint hearted. The follow-up to the more tamed lead single 'Headhunters' from the group's self-titled album, 'The Forest belong to the Maibi' is where the group showcases its lineup at its versatile best.
'Burn Every Bridge' By Sandunes Ft. Landslands
Frequent collaborator Landslands' appearance on Indian electronic frontrunner Sandunes' EP 'Spare Some Time' is made up of moments and moments that can snatch the breath from your body. The generously decorated track feels like stepping into a colourful fantastical world created to convey a message of realization about the self. Every once in a while, the track builds itself up and carries you along with its lush ear candies from both Sandunes's characteristically intricate production and Landslands's dreamy vocals before letting you fall head-on to the pay-off line about losing and finding yourself.
x
x
Now, you can also listen to Singled Out as a playlist on SoundCloud (though some of the tracks may unfortunately be missing), here:
Words: Amaan Khan
Image: Artwork by Ishita Thawait for Sanjeeta Bhattacharya's 'Watercolours' ft. Dhruv Visvanath
Tags
Join Our Mailing List