With 'The Oomph, The Bass & The Kick Drum', Todh Teri Gears Up For The Lab Mumbai: BUDX edition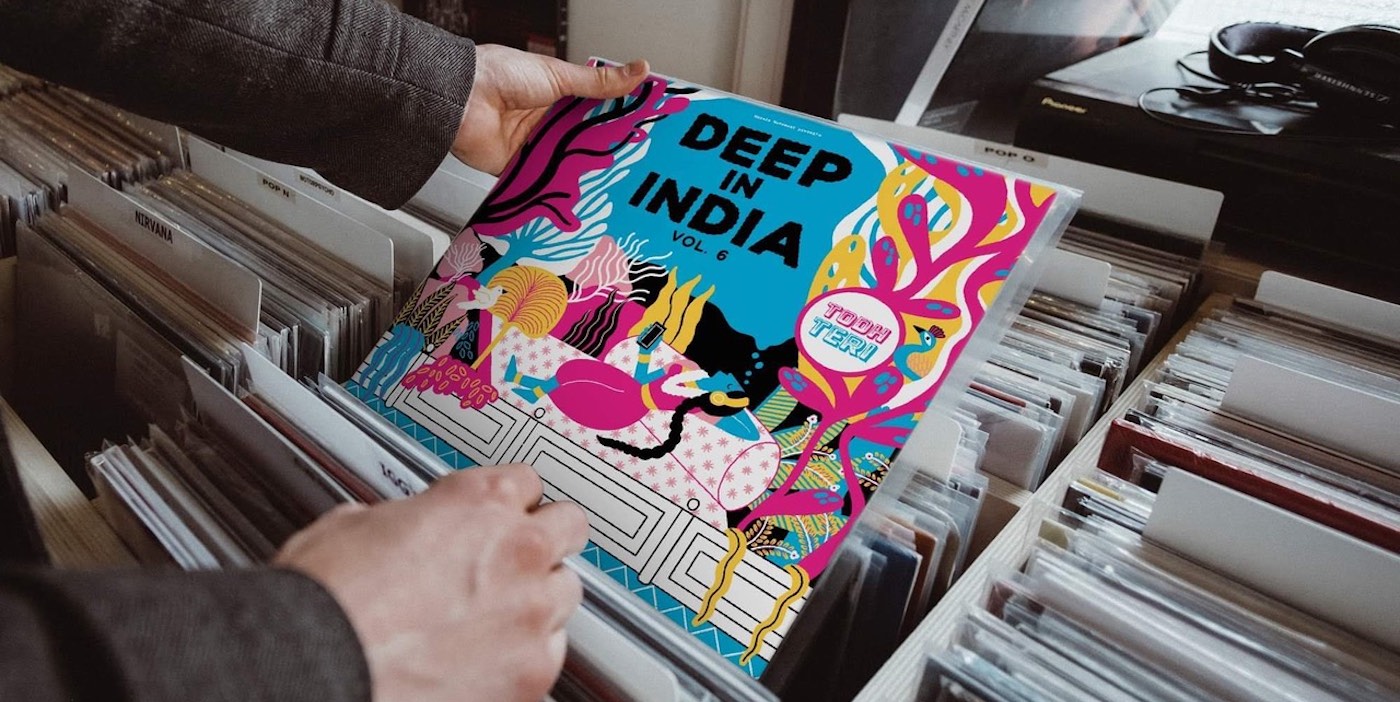 18 February 2020
Earlier last year, Mixmag brought their flagship live stream event series The Lab to emerging dancing music scenes around the world including Mumbai by partnering with Budweiser and launching Lab: BUDX Edition. As part of its foray into the subcontinent, the event series has championed both global and local talents that have performed in India over the past few months through its weekly streamed intimate parties at Mumbai's antiSOCIAL.
We talked to Todh Teri as the anonymous producer gears up for a live set alongside Dualist Inquiry and Friendly Fires on Thursday, February 20 at Mumbai's antiSOCIAL.
.
"The oomph, the bass and the kick drum" – those are the three elements that sit at the core of what Todh Teri does and why he does it. "I was just playing around with this Nazia Hassan track 'Boom Boom', sitting in a friend's kitchen and I was like, 'this is too good!', [while] listening to the oomph, the bass and the kick drum. So I decided to just add something to it, so I can play it out," says the anonymous music producer, recounting his beginnings over a phone call. "That was the whole idea but then it just went from there to here."
The "here", of course, is the producer's present-day standing as one of the most notable figures in India's fresh brand of selectors that are bridging the gap between Indian film music and the electronic underground – two worlds that existed largely exclusive of each other until a few years ago. While the country has latched on to EDM-inspired Bollywood remixes by the likes of DJ Suketu and DJ Aqeel since the fall of cassette tapes and still continues to choose them for birthday or wedding parties, you weren't likely to see the acts share the bill with the likes of acts such as Arjun Vagale or Dualist Inquiry. Fast-forward through musical juggernauts like Daphni and Palms Trax dropping classics from India and Pakistan's 80s and 90s mainstream at major electronic music festivals, and the rise of the likes of Todh Teri, Kone Kone, Babloo Babylon and MadStarBase, and your average Indian techno/house producer now is less reluctant to touch a Bollywood number. Dualist Inquiry has, in the end, been juxtaposed with the sounds of Bappi Lahri and Illaiyaraja edits as he shares the bill with Todh Teri (and British group Friendly Fires' Jack Savidge) on Thursday for Mixmag and Budwesier's Lab Mumbai.
Todh Teri can take credit in parts for shortening the distance between these two musical spheres, as well changing people's listening habits. "People have evolved", the producer tells us. "They are listening to more electronic music, more house, more disco – a bit more underground sounds. So I was just trying to put these two worlds together. This old nostalgic Indian music that everyone knows and the modern disco, acid, twisted stuff that also people know. There was no bridge between these two and I just tried to put them together."
Sonically the two worlds had a lot of crossover, the producer insists – and the blame for not highlighting that link ultimately rests with us as listeners. "If you listen to Laxmikant-Pyarelal or Kalyanji-Anandji, their soundtracks, the stuff they've done, there's all this funk, krautrock and acid bass, which nobody really cared about. They cared about the cheesiness, the vocals and stuff," Todh Teri remarks, noticeably enthusiastic about his musical heroes. "What you hear in the background was the real shit. Hence, I started the whole project [Todh Teri] to revive that: the forgotten groove, the forgotten funk, the forgotten sounds and the forgotten funky riffs, which no one paid attention to – even I didn't pay attention to."
To that purpose, the producer, who has dawned on anonymity simply for the belief that "people should worry about the music more than the name behind it", has methodically picked out the overlooked sounds from India's mainstream and highlighted them through edits and remixes as part of his vinyl-only 'Deep In India' series. "I go after the songs that I have heard over the years, growing up in India. Or I go after the songs that I think are super cheesy but have that one little element which can change the whole game," he tells me. "For example, that 'Gupt' thing I had in 'Sampadan 12' – the [original] track was a whole rip-off of Deep Forest, the French artist. But the track had that one sentence where they were singing 'Yahan wahan dhuan dhuan'. That was it. That's the catch. I am trying to follow those things, find those little things in the song and then make something out of it."
In contrast to his keen ear for Bollywood undercuts, the producer grew up surrounded by a different Indian musical heritage altogether, born to a Sitar-playing father and a vocalist mother. "During summer with my family, I would play Tabla with my father when I was like 10 years old. I predominantly grew up with classical music at home. We rarely had any Bollywood records." The exposure to Bollywood music (inevitable for someone growing up in India) that the producer found deeply moved him: "Stuff like, 'Har Kisi Ko Nahi Milta Pyaar Zindagi Main' – that was like a very groundbreaking track that brought western and disco together. It didn't exist! You can't imagine this cowboy theme happening with that fat disco bassline."
Years later, Todh Teri has expanded this love for classic Bollywood numbers into a 3,500-records-strong vinyl collection that he often uses to conjure loops and edits, which he then decorates with his humble assortment of classic synthesisers like the Roland 505, 808, or TB303 – recontextualising the hooks for the modern-day dance floor. A typical Todh Teri edit filters out the evergreen elements from the 80s and 90s South Asian mainstream hits, which the country's present-day youth grew up around, and highlights "the oomph, the bass and the kick drum" with modern musical sensibilities to tickle the collective nostalgia of his audience. "I've played in Berlin, Hamburg and these underground clubs and they react to the exoticness of the track when the hook line comes in or when that Indian element comes in," says the producer, addressing the difference in audience reaction he has observed over the years. "But the same thing, if I do it in India – they lose their shit because they know of the track but they haven't heard it in this way."
Words: Amaan Khan
.
.
Todh Teri performs a live set alongside Dualist Inquiry and Friendly Fires on Thursday, February 20 at Mumbai's antiSOCIAL as part of Mixmag and Budweiser's 'Lab: #BUDX Edition'. RSVP here.
Meanwhile on February 27, the event series will return to the Mumbai venue to host Mama Snake, alongside Audio Units and Kollision. RSVP here.
Tags
Join Our Mailing List