A Guide To Hot Chip In 7 Songs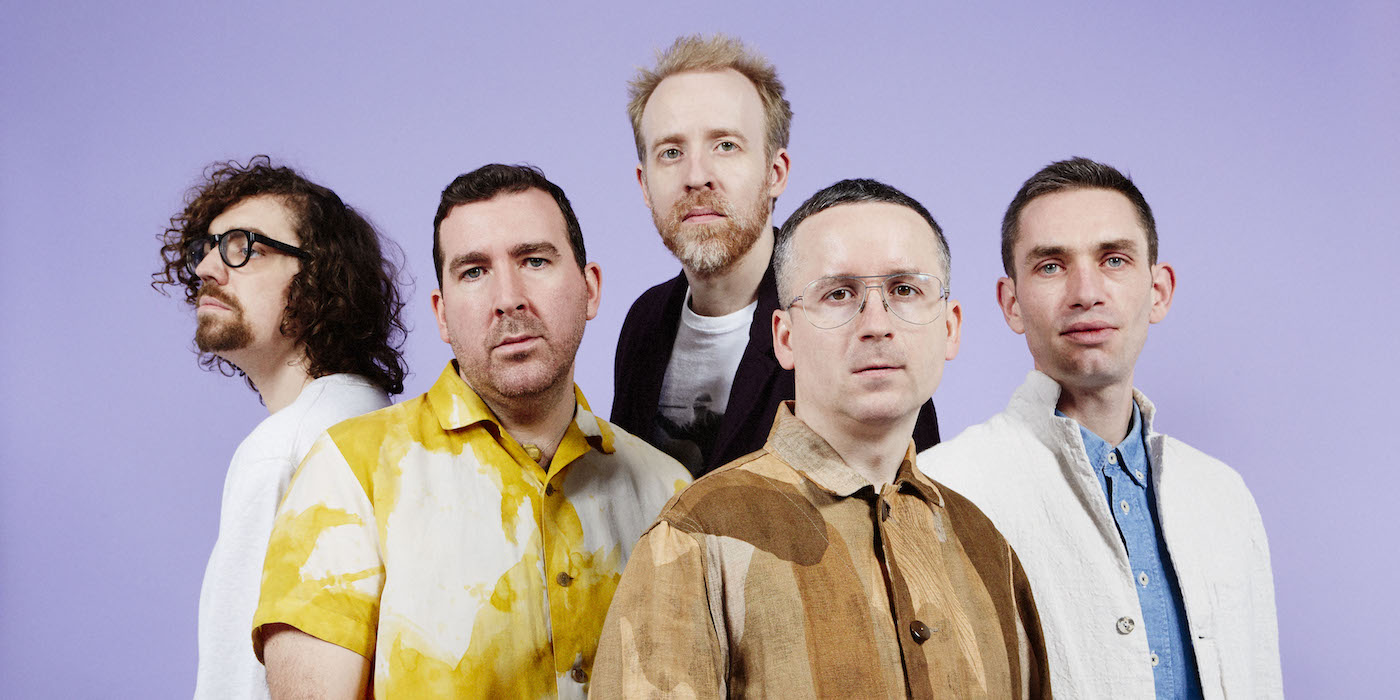 30 January 2020
Hot Chip have always been a mix of contradictions. The British group have remixed Kraftwerk and New Order, as well as Lizzo and Katy Perry, yet would be an odd entry on a lineup if slotted next to any of them. They've been headliners at festivals around the world, without ever topping the charts. They distill house, hip-hop, R&B and pop into their music, yet they don't really fit any of those categories.
This mix of genres is central to Hot Chip, reflecting even at their roots. The band started as a bedroom production project of Alexis Taylor and Joe Goddard, who bonded over Beastie Boys after meeting at the now-famous Putney's Elliott School – an institution which counts the likes of Burial, The xx and Four Tet among its alumni (Four Tet even remixed an early Hot Chip track 'The Ass Attack' for the bonus edition of his debut album 'Coming On Strong').
As they bring their unique amalgamation to India for the first time at SulaFest 2020, which takes place this weekend (February 1-2), we have picked out a track from each of their 7 studio albums, to trace their development as artists, and to help you familiarise yourself with them ahead of their India debut.
'Down With Prince' From 'Coming On Strong' (2004)
Before their eventual success recontextualised their early works to appear as nascent forms of pop genius, Hot Chip's first album 'Coming On Strong' actually dropped to lukewarm response. Early reviews would simply remark at the album's "potential" or draw parallels with 90s reigning acts like Beck, The Beta Band or even the then-fast-emerging LCD Soundsystem – mostly presenting Hot Chip to pale in comparison. This was, of course, before Hot Chip became a more enduring act than the relatively-forgotten The Beta Band, and before Hot Chip's Al Doyle became an integral member of LCD Soundsystem.
In retrospect, the critical response for the album can be interpreted as a reflection of the band being slightly ahead of their time. It would take the band some reiterations of their own sound before the world became comfortable with their rough productions of indie-rock-meets-dance-music.
Alexis Taylor recalled in an interview with The Guardian, "Joe was getting into house and UK garage, I was listening constantly to Destiny's Child, but we still travelled to be together often and started trying to do our own weird take on the music that we liked."
Consequently, Hot Chip was neither hard-hitting enough like their dance music contemporaries, nor clean enough like most pop music, functioning somewhere in the middle, which reflects in 'Down With Prince'.
Lyrics like "Snare drums pound on the 2 and 4 / If you've got a kick drum get on the floor" followed by a couple of intelligible lines is practically the band declaring themselves what the reviews eventually would: the band is almost dancefloor-ready but not quite while being something, not yet decipherable.
'Over And Over' From 'The Warning' (2006)
It was their Mercury-nominated sophomore album that married the band with a narrative of success. Even 'Coming On Strong' started being labelled as "brilliant" by the gatekeepers of the industry. 'The Warning' was where the band inadvertently catches up to the expectations hinted at by their previous album – rising from the softer nature of 'Coming On Strong', the beats were finally more hard-hitting and the choruses clean enough to get stuck in your head. Consequently, tracks like 'Boy From School' and 'Over And Over' turned the band into a pop charts-gracing act.
With the success of the record, the world also turned a keener eye to the band, noticing and latching onto other details, more notably, that the bands look like geeky oddballs – sometimes to the group's annoyance. Taylor confessed to The Guardian: "Obviously, it's become fashion-able to be a geek in some ways. If we've accidentally crossed over with that, then maybe people think that as well as being geeks, that we want to have geek chic. It's a bit of a shame if people think that. I think it bothers me that the British press seem so preoccupied with describing the look of a band before they even get down to describing the music. I also think it's quite lazy. But then again, we probably do look a bit nerdy."
However, the band unintentionally seemed to refute Taylor's narrative with the music video of 'Over And Over', and with their late 70s Kraftwerk-like side-by-side live setup minus the glamour of coordinated wardrobe or eye-catching visuals. As a live act, Hot Chip still seemed to be finding their niche. As Goddard reported to Timeout London: "People who like the record often come and see us live and say, 'It's too noisy, where's all the detail?' And people who see us live buy the record and say, 'It's too relaxed; where are the tunes to jump around to?' I guess it's something we should remedy!"
'Ready For The Floor' From 'Made In The Dark' (2008)
That remedy was finally achieved with 'Made In The Dark'. When asked if the band tried to bridge the gap between their live shows and records by self-titled Magazine, Goddard replied: "That is part of the reason we chose to record stuff live. Yeah, people have been telling us for so long that the live shows have this kind of energy, which they totally do. When I listen to 'Coming On Strong' now, it's one of the most gentle records you could possibly imagine, and mellifluous and soft-sounding. At the time, we thought it was a club banger, but we were obviously wrong. Yeah, we wanted to capture that energy." Subsequently, the band found itself making appearances at stages like Glastonbury and Coachella.
'Made In The Dark' was also notable for a shift in the group's songwriting. The Beastie Boys-akin cheekiness that the group showcased in previous work was replaced by a mellow introspection. Although, 'Ready For The Floor' isn't the best example of that, it ultimately is one of their most successful tracks – losing the Grammy Award for Best Dance Recording to Daft Punk's 'Harder, Better, Faster, Stronger (Alive 2007)' (a true honour in my books) – and testament to the band's success in successfully marrying their various musical interests.
'I Feel Better' From 'One Life Stand' (2010)
After Mercury and Grammy nominations, Glastonbury and Coachella appearances, multiple chart-hits, remixes for the likes of Kraftwerk and Queens Of The Stone Age, and collaborations with Peter Gabriel and Robert Wyatt, Hot Chip had little to prove at this point. Moreover, the band had at that point grown from the recent-college-graduates they were at the start of Hot Chip to leading adult lives with families and kids. Subsequently, 'One Life Stand' is notable for how the development reflects in the music. The tracks were more cohesive and tamed in their experimentation. The band told Prefix magazine: "We tried to find a tempo where the music still makes you want to move around, but you can do some other things. If you listen to an album in the home, you're going to be doing chores, like washing dishes. One Life Stand is the perfect record for this sort of thing. That sounds very domestic, but there's only so often you want to go to the club and listen to music."
Moreover, a new drive to do things differently started to rear its head in the band's work. Moving out of their bedroom studios, the band started to experiment with different drummers and larger spaces, attaining the liberty to include textures like flugelhorns, steel pans or the lush strings you hear in the single 'I Feel Better'.
'Ends Of The Earth' From 'In Our Heads' (2012)
With 'In Our Heads', Hot Chip seemed to continue revelling in the traits they developed with 'One Life Stand', presenting a record that's in a lot of ways a sister to the previous album.
However, the band seemed to grow more comfortable in their skin, more content in their adult lives – incorporating the contentment in their music to develop a positivity that is now seen as a part of their signature sound. "People try to be more edgy, or write about that first explosive meeting between two people in a club, but not so much the long-term issues; I don't know how to write a song about teenage heartbreak anymore. I try to have this honesty as far as singing about what is happening to me now," remarked Goddard to Pitchfork.
With the new comfort they'd found, both as songwriters and an established act, the band members around this time also started exploring other genres through side-projects, which in turn would feed back into the band's sound. Goddard's work as an in-demand DJ, for instance, doing residencies in Ibiza and London, clearly reflects in the steady four-by-four rhythms and rise and drops of 'Ends Of The Earth' or the lead single 'Flutes' – both of which are only tied to the world of pop through Taylor's gentle vocals.
'White Wine And Fried Chicken' From 'Why Make Sense?' (2015)
If 'In Our Heads' was a result of Goddard's DJ outings feeding into Hot Chip's sound, 'Why Make Sense?' is where Taylor's musical explorations as a solo artist start dominating.
"Sometimes I tire of every song having a 121 BPM and sometimes in Hot Chip that can become the model that works. You are just doing it all the time [and] I question if there is a need for it all to be 4-4 timing." mentioned Alexis Taylor to Variance magazine after the release of 'Why Make Sense?'. While the album still contained plenty of the dance-pop anthems, more in tandem with Hot Chip's overarching identity, the influence from the minimal arrangements and jazz-natured work of Taylor's solo efforts inclined Hot Chip's sound on 'Why Make Sense?' more toward the gentler R&B-style of their debut record. 'White Wine And Fried Chicken' is the perfect representative of this, demonstrating both the group's ability and willingness to do ballads and slowing things down – a direction the group will eventually take with their next release.
'Echo' From 'A Bath Full Of Ecstasy' (2019)
After a four-year gap, Hot Chip decided to change things up to avoid falling into the trap of predictability. "We were getting out of our comfort zone – working in places we weren't familiar with and with new producers. We were trying to use some equipment we wouldn't have necessarily used much before, lots of newer modular synths of Felix's and Joe's and some software Rodaidh introduced us to for vocal manipulation," Taylor told Pro Sound News. For the first time, the band delegated production duties to an external source, hiring French house giant Phillipe Zdar and prolific producer Rodaidh McDonald (who worked with the likes of Sampha, Adele, The xx). And, in tandem with the change, the band even donned a coordinated, colourful pastel wardrobe in their live shows, reflecting the album's artwork – coming a long way from their "nerdy", minimal visual aesthetic.
The album even kick-started through a songwriting session Taylor and Goddard did with pop icon Katy Perry: while 'Into Me You See' ended up in her album 'Witness', the duo incorporated 'Spell' and 'Echo' from the session into their own record. Resultantly, 'A Bath Full Of Ecstasy' stands out from any of their previous work, merging the economy of pop music with the band's electronic experimentation more triumphantly than any of their previous offerings.
Words: Amaan Khan
.
.
Hot Chip headlines SulaFest 2020 which takes place at Nashik's Sula Vineyards on February 1 & 2. Head here for tickets.
Tags
Join Our Mailing List