'I play jazz for fuck's sake – it's revolt music': Tarun Balani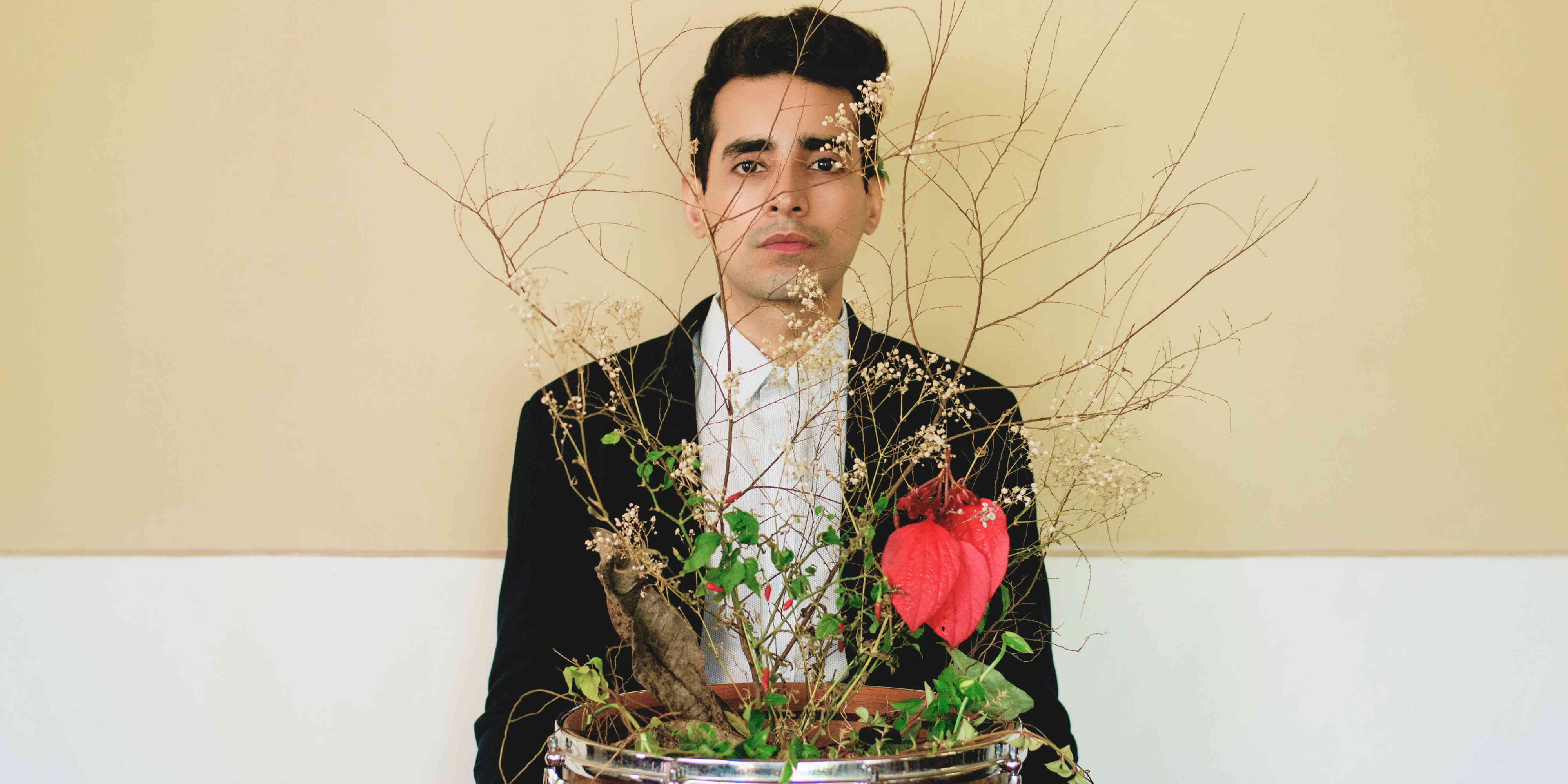 7 May 2019
The reason Tarun Balani is a jazz drummer and composer ultimately boils down to a technical error. Roughly 14 years ago in New York City, technology reared its ugly head and inadvertently changed the life of an 18-year-old boy from New Delhi. The boy's aspirations to further a career as a rock fusion drummer – he then played with Advaita, Artists Unlimited and Incognito – through the Drummers Collective were rudely shattered, and the ambiguous, ever-shifting, devilish landscapes of jazz were thrust into his life.
In a parallel reality, a 3-month jazz drumming course may not have had a life-altering effect on a teenager, but within his first week in NYC, Tarun Balani explored the city's numerous jazz clubs as well as JVC Jazz Festival (now known as the Newport Jazz Festival), and was overwhelmed at the sight of drummers like Brian Blade, Roy Haynes, playing and leading their own bands. "I was just like man, this is it. I'm sitting in these bands with people telling me to shut up because I'm a drummer, but I really want to tell them what to do," gushes Balani, now 32-years-old. "The acoustic and proficiency element of the music was also very inspiring for me - people were playing so beautifully. I decided I needed to learn how to do this, the technique, the sound, the sonic qualities. I think I was just completely taken back," he tells me.
Seated in the living room of his CR Park apartment, which he shares with his wife Pattie, I can see Balani's personality reflected in the minimal decor, the small collection of records strategically placed under the record player, the bare windows collecting natural light – inviting, yet unassuming.
"The idea of being an artist was petrifying for me, and I didn't even want to be an artist, to be completely honest. I was a very regular, chilled out guy who was like 'let's play some cricket, hang out'. I would have done anything else," he confesses, as I inquire into his origins.
His introduction to the idea of being an artist came from his elder brother, Aditya, who was already a "rock star" in the making in school. Balani followed him into band rooms, and even started piano lessons, until he had a chance encounter with Adi's bandmate pounding on a blue fibreglass drum set. Balani was so consumed by the power of the beats that he chucked away his Casio and made his first life-altering decision: to learn the drums.
Image: Gltch
Even then, he was agonised with the idea of choosing this – the life of a performing artist – as a long-term decision, something that occasionally troubles him even now. His shy demeanour, eclipsed by his insecurity and lack of confidence prevented him from seeing this as a feasible option, and it didn't help that he was plagued with comical, yet despairing images of the typical struggling, broke artist, thinking "Shit, I'm going to die early, I will have no money, and my parents will be like 'we told you so'".
The Drummers Collective in New York, in this aspect, played a monumental role and helped forge a path that ultimately brought him where he is now, freshly returned from a short European tour for his second studio album 'Dharma', which was debuted at the prestigious jazzahead! festival on April 26 in Bremen, Germany. (He claims he will be embarking on a much longer 3-week tour for 'Dharma' later this year).
"I've seen some rough days," says Balani. "The first 3 years at Berklee were tough. You have 30 drummers in your drum lab, and everybody sounds better than the other guy because they've had 18 years of training, and you are here sitting there like pappu, with no idea. I think it was a reality check that I would prescribe to every musician – it can make or break you."
After listening to 'Dharma', which was released on the reputed German label Berthold Records, there is no doubt about how it all worked out for Balani. He is indubitably one of the finest and most successful jazz drummers and composers to have emerged from the country – he already established that with his 2012 album 'Sacred World' – and the record's delicate, intrinsic, emotional intricacies vouch for that. It's the soaring, lilting refrains, the lulling pain of life's experiences, the solemnity, the understated joy, and the meticulous, controlled interaction of all these contrasting emotions that make this such a fine record, and Balani a standout composer.
The intricate dissimilitude in the album is the exquisite result of Balani's torment from when he was writing the music 3 years ago. "It was a very interesting time for me because this transitional moment had begun for me where I was like, I don't want to be and never wanted to be a full-time performing artist. I thought this is very selfish, and it's all about yourself." Having experienced the struggle first-hand, in an effort to contribute to building up music learning in India, he decided to make the switch to full-time music educator, and only part-time performer, dedicating himself primarily to his duties at Global Music Institute – a music institute that he co-founded with his brother, which was at the time shifting its headquarters to Greater Noida.
Incidentally, this transition began right after he got married, which was in itself a complicated process, right from the get-go. Balani and his (now) wife were unprepared for the waves of social and religious tropes they had to navigate in the process of the wedding (for context – Pattie is a Christian). "I'm not religious, I don't believe in all this societal stuff... I mean, I play jazz for fuck's sake – it's revolt music," Balani animatedly tells me.
Then, on their wedding day, Balani's grandmother passed away. Predictably, it was a near-impossible situation to fathom and navigate, and Balani struggled with the crippling complexity of dealing with death and celebration at the same time. The celebration of their relationship, their life, and the joy of moving into a new apartment was juxtaposed with the insurmountable pain and finality of his grandmother's death. "It was just a lot for me to process and I internalised it in a way, and the expression of that came out in the music of 'Dharma'," Balani tells me. "The question I was seeking was, what is my dharma, what or who really am I?"
Music seemed the only way out, the only way for him to make sense of it, and in the process, the title came to be, as did the essence of the album: the juxtaposition of celebration and new beginnings, versus dealing with the impermanence and the question of life and death. Parizad D's stunning, evocative artwork orchestrates the same visually, by portraying a deadpan Balani and Pattie seated in front of a lush, celebratory feast (or what looks like one). However, a closer inspection reveals a much darker facet – the sausages are rotten, the fish decaying – at once invoking the theme and hinting at the many layers to be unravelled and explored in the album.

Knowing, in so many words, the theme and context to the album might prepare you for the brooding, oscillating pace and mood of the LP. For the mellifluous optimism and anticipation of 'Brooklyn Bound', there is the solemnity and serene moodiness of 'Samsara', which explores the cycle of suffering; the freeing, meditative aura of 'Gatha' is matched with the fluctuating, oscillating emotions of 'Dharma'. 'Malala's Dream', inspired by Malala Yousafzai, was interestingly envisioned by Balani as a superhero theme of sorts for the young revolutionary, while 'Planet Hunter', one of the most sublime offerings on the album, was written not by Balani, but by the band's long-time pianist, Sharik Hasan.
With such weighty subject matter at its foundation, it's no wonder it took Balani 3 years to release the album. The writing process took 3 months, the album was recorded in all of 2 days in Brooklyn with Michael Perez-Cisneros, and was mixed, mastered and in Balani's folder by the beginning of 2017. After that, it was an exercise in "patience, perseverance and shamelessness" for Balani, who was determined not to release the album on his own, but only with a record label.
Balani certainly kept himself busy in the meantime, with work at GMI, short tours with his band, as one-half of a short-lived duo with Chayan Adhikari called Time Machine, a tour with Sandunes aka Sanaya Ardheshir, and his solo trans-media electronic project Seasonal Affected Beats, which made its official debut in March this year with a single titled 'Hypnagogia', and will see an EP in August.
Seasonal Affected Beats is an interesting change for Balani, and his fans, in many ways. Not only is it his first time trying a solo act, but the very realm and technology of the project are far removed from anything Balani has been associated with in the past. "I had never thought that I would make my solo project until I found this tech called Sensory Percussion," he says, his face beaming with enthusiasm. "I was completely blown away with what this piece of equipment can do."
Image: Gltch
Sensory Percussion essentially is a trigger that goes on to the drum kit, which allows the user to turn the drum set into a midi (music digital interface) controller for analog synthesisers, lights, visuals, and so on. Majority of the tech's appeal to Balani was its ability to create sounds that he was hearing in his head, and how it empowered him to do literally everything with just drumsticks; it also helps that the company signed him on to the artist roster and gave him the equipment for free, he adds. "From there on, there was just no looking back."
The moniker and aesthetic of the project are both playful, thought-provoking puns – "I was joking once, and said I think I have seasonal affected disorder because Delhi's summer renders me dysfunctional and immobile" – and a commentary on mental health and climate change, arguably the most significant and urgent epidemics taking grasp over the world. Balani also employs the moniker for subliminal messaging on socio-political issues. On a Seasonal Affected Beats single called 'Dr Escher', for example, he wanted to conduct a social experiment by juxtaposing a speech by Dr BR Ambedkar on caste and class, in a privileged space such as a nightclub.
"I think that was very interesting and challenging," he says, talking about the single and SAB. "I think that jazz music is not the music of the privileged, it's the music of the oppressed, and it's revolt music. But currently the way jazz is consumed is sadly the opposite of that, and it's the same all around the world, not just in India. It's become the music of the white elite, and it's not really their music. And the same with electronic music – I feel it's really the music of the privileged, only a certain class and category of people can play or consume electronic music."
The way to break out of the privilege, according to Balani, and make jazz, electronic, or any genre of music accessible and really build a scene is to first invest in arts education that is accessible and open to all, and then to apply the same principles to venues and promoters.
Another important aspect is relatability, which can only come about from an understanding of respective music cultures. "Every music has a culture associated with it. I think the superimposition and the lack of understanding of the fabric can be problematic. Ultimately, it goes back to who you are, and what you are trying to say," says Balani. Being privileged is not a bad thing, it's not a curse. But what you do with your privilege is the game-changing point. If I'm in a position of power or privilege, do I have a broader understanding of the cultural aspect, history, and a very deep understanding of what all these things mean? And where do I want to take it? Because if we are oblivious of our position of power and privilege, then that is a problem. That is when it becomes self-destructive and the scenes don't move forward, and then complacency sets in, mediocrity sets in, and favours set in. Then it (the music community) is not an evolved ecosystem, it's just a pond that is brewing algae. So for the scene to grow, people with privilege need to be a little more mindful and understand what they're doing."
It's interesting to see Balani break his generally shy, unimposing demeanour for such an animated, lengthy discourse about the "scene". The only other time I see him break it is when he mentions articles that use the phrase "all that jazz", or when we tackle the subject of streaming services-versus-records. While he supports the easy, affordable access of streaming services, at the end of the day, for him music is of the utmost importance. He tells me how, as a kid, he would shut his eyes and even his nose when he listened to a tape, and completely get lost in it. "I definitely think now we consume music with distraction," he says. "For me, the experience of listening to music has been very cathartic, deep, and spiritual. I want to really build that experience, I want to put on a record and then not move. I want to consume the music, because the artist has put thought into it."
And that's how he wants people to experience 'Dharma' as well – "'Dharma' is kind of like an artistic statement from love in the time of Instagram," he jokes – and why he's so aversive to clubs. Even for his debut show as Seasonal Affected Beats, an electronic act one would typically expect to see live in a club, he played a sit-down A/V show at a theatre in Bangalore to pin-drop silence, and hopes to eventually evolve that module to incorporate virtual reality.
He confesses: "My dream gig is to really set up that 'Dharma' table [from the artwork] at a theatre and have people experience that once they walk into the theatre and listen to the music."
Words: Satvika Kundu
Thumbnail + Cover Image + 'Dharma' Artwork: Parizad D
Tags
Join Our Mailing List