'There's Still Miles To Go, But This Is Me In 2018': In Conversation With BLOT!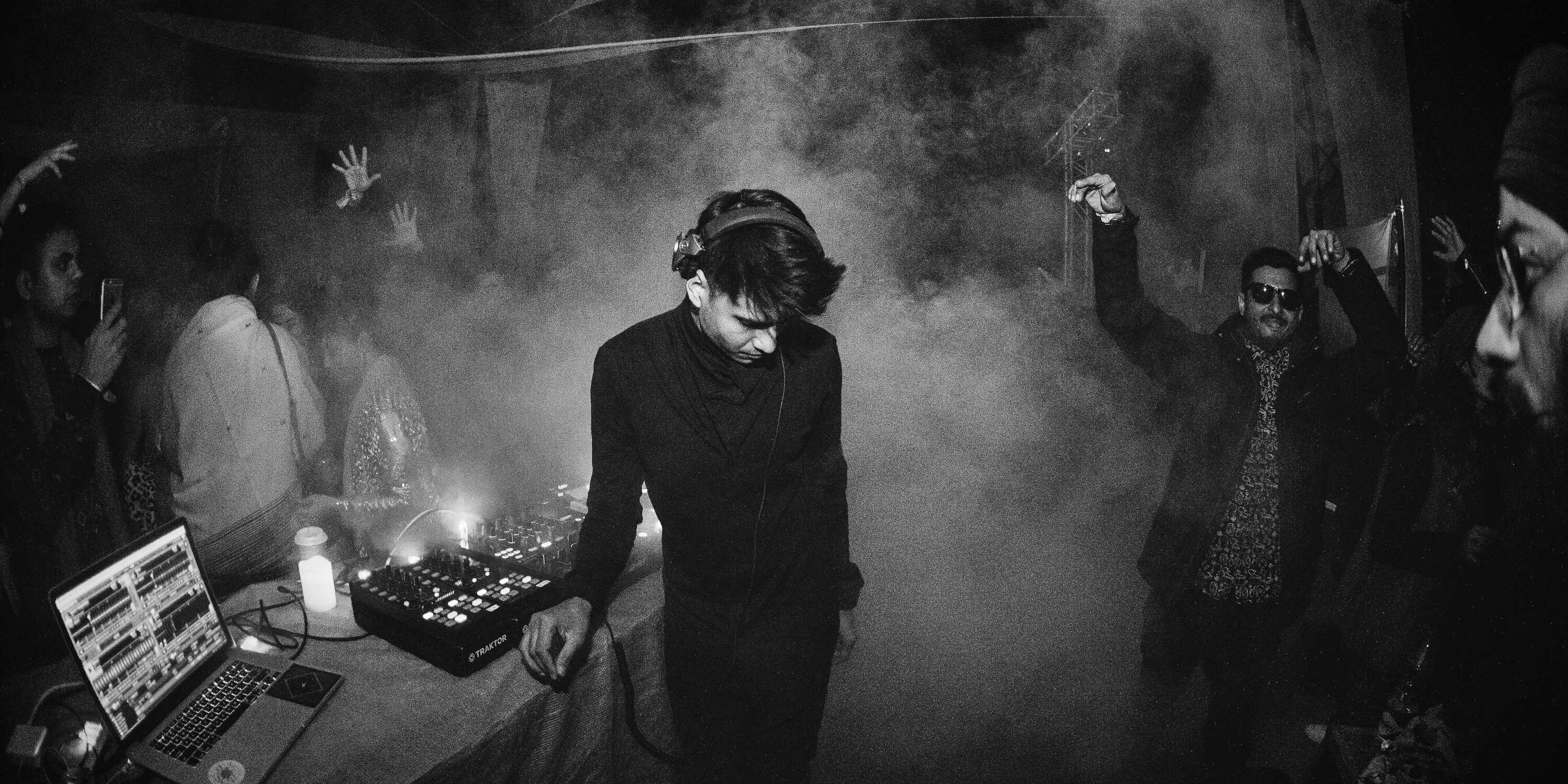 2 November 2018
Flashback to 2007, when most of us were still slowly coming to terms with the imminent demise of rock as we knew it. Two friends sat in a park, talking about how people should only do things for the "basic love of things" and ideating an electronic audio-visual outfit.
Diving head-straight into electronic music at a time when people were still sneering at music not made by "real instruments", in an electronic music scene still taking its first steps, Gaurav Malaker and Avinash Kumar eventually went on to set the building blocks for what is now known as BLOT!.
Cut to over a decade later, following a departure by Kumar – who led visuals for the act, a critically acclaimed record and an EP released via the legendary Diynamic label, Malaker is adding final touches to his solo live show 'Paradise Lost', which debuts at Mumbai's iconic Famous Studios tonight (2nd November, 2018).
At this point, it's an exercise in futility to offer an introduction to BLOT!. Malaker and his moniker are now an intrinsic part of the independent music scene in India, though he may be inclined to believe otherwise.
"I continue to be an outsider," he tells me, perched on a stool in his immaculately decorated living room. "I know everybody now, everybody knows me, and we're all friends. And it may not appear that way, but I don't really think of myself as being on the inside."

Perhaps this belief can be partly attributed to Malaker's reluctance to attend any other gigs – "I feel like I don't have a function in the room if I'm not playing music" he claims – and to his complete immersion in his studio. "Making music is not a job, it's a lifestyle," he says nonchalantly. "I spend almost the entire day in the studio. I wake up early, I get into the studio, and nearly every moment I spend in the studio. Then when I'm exhausted, I either go and sleep or I take my dog out. I also play gigs on the weekend, which is a good way to sort of move away from the studio and break routine."
Breaking routine isn't easy for Malaker – he finds it unsettling, blaming it on his short attention span and his "jumpiness". At the same time, he recognises its importance in forcing him to venture into the outside world and take time away from the studio. It's easy to lose objectivity when you're lost in your own mind, and Malaker often finds himself coming up with invaluable insights when he DJs on the weekends, from carefully observing how people react to certain sounds.
"In my head as a DJ I'm a different person, and as a producer I'm a different person," says Malaker. "It's not a choice. I have a fairly different set of standards when I play a DJ set. I'm very finicky about sound quality and about what the track sounds like on a big sound system, what kind of reaction it gets from people and things like that, so it's a very stringent set of standards. I also think I'm quite varied in terms of my styles as a DJ, and now I think as a producer and as a DJ, the trajectories are intersecting. So, I feel it's a good time to put the live set out and I think the time is right because the stuff I made for the live set is stuff I'd play in my DJ set and that wasn't the case before."
Few of you may have noticed, but Malaker actually started testing the waters for his live set quite a while ago, during his Boiler Room set (above). Playing 3 hours of your own music can be quite a daunting task for anyone, so Malaker started dropping his new tracks during DJ sets to see what people will "tolerate", what they liked, and what they didn't. Being positive is important, but it's equally important to be realistic, admits Malaker.
"I feel a little nervous, but to be honest, I've really just maxed out on what I can do. I can't do any better, so if a person doesn't like it, they just don't like me," he says, with a smile. "I mean not personally, but it's who I am. I have no regrets, I'm quite proud of it."
If everybody liked everything, it would be a problem Malaker points out, because you'd lose a balance or a fine line with which to discern the music. Contrarily, though, his live set – which he has been previewing in bits on social media, and bits of which I had the opportunity to listen to – has an expansive sound, straddling a space between techno and house, putting enough on the platter for everybody. He struggles to describe his set, hesitantly calling it "a little bit dark, melancholic, happy", before finally settling at "casually dark".
"It's not intended to be dark, but there's an underlying darker mood, a layer of melancholic melodies which can be construed as happy, or not," he says, getting frustrated in his attempt to explain his sound. He gets more comfortable, however, once we move to his studio, which accommodates an envious number of synths – at least 6 or 7. "I don't know if you know this about me but I'm an analog synth junkie," he explains, looking at his synths with the pride of a new father. "These are all vintage synths, and all of the music is made on these."

Malaker doesn't know yet what equipment he'll be using for his set, but he's affirmative it's going to be primarily analog. For him, the key to a good set is to have a setup that's "efficient, effective and sounds good", be it with production or DJing. And nobody who knows BLOT! or has attended any of his shows can argue with that, for the crisp sound quality is overtly audible in his music. "I think I'm a bit of a type A control, er...I wouldn't say freak, but I like things a certain way, and I like paying attention to detail. Which is why it takes me long to do things," he says.
This might also explain why he hasn't released anything in so long – a persistent question and reproach that often haunts Malaker. "Everybody keeps asking me why is it taking so long and why don't you release more often, but until now I just felt like the music wasn't right, and now it is. There are some musicians who make music that other people like but they don't like themselves. And that's great, I wish I could be like that. But I have to make things that I like and can be proud of later, which takes time," he says. "I have three hours of music now. It's taken me a while to get this sort of clarity and polish because I'm quite nerdy about these things so it takes me a lot of time to get this soundscape. But to my ears now it sounds finished. From a technical standpoint as a producer, I'm very happy."
Sitting in his studio as he plays 'A Table For Two', a delicate, layered track which remarkably pays as much attention to the bass and beats as it is does to the warm, lush melody, I don't sense any nervousness in Malaker. Anyone would be nervous playing their tracks, apparently for the first time ever, to a complete stranger in such an intimate environment. But in his studio – his home turf– he appears comfortable, confident.
He's been working on this set for years now, "a f**king long time" as he puts it, but Malaker does have about 26 odd tracks to show for it, which will all feature on 'Paradise Lost'. Apart from the obvious John Milton reference in the title, 'Paradise Lost' is also a fitting metaphor for his process in the studio.
"You know, it's this quest to make something amazing and this whole journey of trying to build a live set, a substantial body of work. And you work and you work, and then because you're working so much on the same thing every single day, you lose objectivity," he says. "I took a break some time ago. I came back to the studio after two weeks, and I realised I had already finished this set a long time ago. But there's this desire to constantly keep trying to make it better. Because your skills will keep developing every day, you'll keep getting new ideas everyday. It's not that you're the same person – today I'm someone, and tomorrow I wake up as someone else because of the sum of my experiences. So 'Paradise Lost', for me, it's like I had already found the stuff I was looking for before I started working on it even more."
As Milton himself put it, "The mind is its own place, and in itself can make a heaven of hell, a hell of heaven..."
In hindsight, after speaking with Malaker, it's easy to see why he would call his set 'Paradise Lost'. He does, after all, call himself an outsider to the scene, wreaks Pandemonium at his sets, and started doing BLOT! while the scene was still straying away from electronic music.
It is also interesting to note that Malaker deems it imperative to have contrasting energy in his music: "I think if your music doesn't have a certain feminine energy to it, it's not complete. Maybe I construe it as feminine energy – maybe it's just a C major chord, or C minor chord (he laughs). You never know. Inherently, as individuals, we respond to different things. But also, very distinctly, males and females respond to different things within the same track. Being married and spending most of my time with my partner, who is female in this case, has really helped me understand that. It also makes it accessible to someone who is willing to listen, regardless of gender. And here, I don't mean feminine in a gender context, but more in terms of like yin and yang. There has to be positive and, I won't say negative, but there have to be two contrasting sides to it."
Malaker credits his wife, Vandana, for this transition in his music. "Once I got married, my whole music changed. It's not as simple as having another individual in your life, it's having another point of view that you're not used to. I'm quite observant about what's going on as a DJ, and when the closest person to you is your wife and is a woman, you realise that your music needs to please all genders in a certain way. It makes a big difference to the way I make music."
Unwittingly, Malaker did end up describing his music and his live set after all, because regardless of whether the tracks are more techno centred, like 'Fortune Favours the Rave' (below) or warmer electronica like 'A Table For Two', there is a warm, emotional strain in all of the music, which toys with joy and despair at the same time. Malaker describes it as "joyful moments occasionally take over an underlying bed of despair", qualities which are even more perceivable in the overwhelming, freeing atmosphere of a club, where the sound is so big you can't escape it.
Another reason the music is so diverse is because Malaker wants to bridge the gap between "pretentious techno", which he deigns as being rather insular, and more upbeat, accessible music, while retaining the values of proper electronic music production. "I get really bored with orthodox techno. I like the German precision with the sound, in terms of the way the track and the drum sounds, but I like the UK melodics and the atmospheric sound. So I bought those influences, and something that's unique to India, where there are so many different kinds of people," he says, "I don't feel like I have a responsibility, but I really enjoy being in a position where I can offer something new to people. If you don't push the envelope, how are you going to help people who follow you expand their horizons in terms of taste and things like that?"
In fact, it was his pivotal 6-hour closing set at Magnetic Fields 2015 that ended up breaking ground for Malaker. "I played the whole set with music like this, and that was the moment I was like f*ck this, this is the kind of sound that I want to make. And now, 3 years later, it's closer to reality, so I'm quite happy with it."
Malaker will be playing again at Magnetic Fields this year, but this time for a special festival commission titled 'Natural Selection' with Sahil Vasudeva aka Opus. Though the project is still in an infantile stage, the duo aim to entwine the disparate worlds of classical music and modern electronic music, and to present old classics in a modern format.
BLOT!'s dream for his live set is to recreate the environment from his 2015 set at Magnetic Fields, where the seeds for all this were sown. But for now, he's satisfied. He plays his Mumbai debut tonight, a DJ set at Disrupt Festival in two weeks, a live set in Delhi in the first week of December, and will figure out the rest from then on. He's adamantly against doing India tours – "how can you play at 3 cities in the seventh largest country in the world and call it an India tour?". For him the priority is to give each show its due, and do the best he can.
"I don't want to force things upon anybody. When the time is right and people like it, if they make space for it, good. Otherwise it's fine," he says. "As an artist, I've done my job, and for the first time in my whole life, I'm very happy with my work. There's still time to go, miles to go, but this is me in 2018."
Words: Satvika Kundu
Inline Images: BLOT!
Banner Image: Zac, Magnetic Fields 2015
Tags
Join Our Mailing List