Goa Sunsplash 2020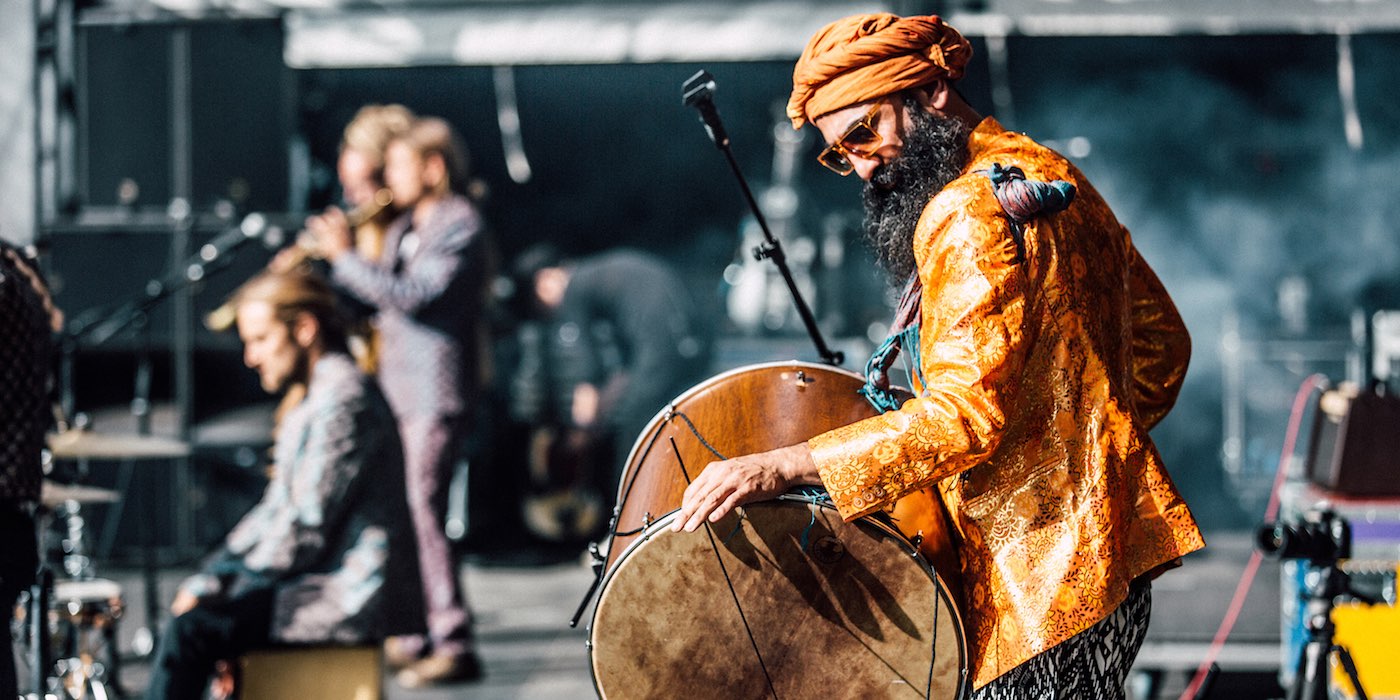 When
10 January 2020 - 12 January 2020
Image: Zoe Savitz
Location: Madrem Beach
Macka B
Macka B is one of Britain's most influential dancehall toasters, pushing the music back toward a Rastafarian political consciousness. His rough, gravelly vocals gave him an instantly identifiable sound, and his production – chiefly handled by Mad Professor – updated dub reggae techniques for the dancehall age, proving that the two sounds weren't mutually exclusive. Although the vast majority of Macka B's material was devoted to spiritual and social messages, he did lighten the mood with occasional humorous novelty material. He shunned any aspirations for a commercial crossover, however, staying true to the sound and spirit of reggae's roots. His 1986 album 'Sign of the Times' still remains a milestone of British reggae, and he continued to record for Mad Professor's Ariwa label into the new millennium.
O.B.F. + Charlie P
In eighteen years O.B.F has established itself as one of the toughest soundsystems in France, playing internationally and progressively becoming one of the most respected dub sounds in Europe. The crew is known for the quality of his productions and its ability to run a session like no other, with an intensity that blasts a crowd. After several releases on 'Dubquake Records' and 'O.B.F Records' including a first LP called '« Wild »', and many collaborations with the best dub producers and singers, O.B.F returns with a long awaited second LP. A new stage in the development of its collaboration with Charlie P.
The Turbans
International legends The Turbans bind together musics from 'manywhere' with their interstellar live show which ignites the crowd. Sonically huge and visually arresting, they are a powerhouse of talent, bringing their vibrant and unique sound to audiences who can do nothing more than smile, dance and shout for joy. Growing from the intertwining paths of many talented musicians travelling the world, this extraordinary project has grown in a few years from very humble beginnings, into a progressive name on the London music scene. Its members have gathered from countries such as Turkey, Bulgaria, Israel, Iran, Greece and England to perform in concerts and festivals around the UK, North America, Middle-East, Hong Kong, India and Europe. Their aim is to bring music to the people, young and old alike, mixing vibrant spontaneity and authenticity with multi-genre instrumental and vocal excellence.
Housewife's Choice
Housewife's Choice have been firm favourites in the Australian Reggae and Dancehall scene for over 15 years. In combination, selectors Miss Fee and Bellyas set dancefloors alight with soul-stirring musical fire, performing around Australia and abroad to deliver uplifting music to the people, in their signature high-spirited style.
Pia Collada
Pia Collada is a half Indian, half English DJ currently living in New Delhi. Her love for hip-hop, reggae and afrobeat comes from having grown up across seven different countries including India, Tanzania and U.S.A. She is part of Coven Code, an all female creative collective working to make the city's nightlife more inclusive by opening up opportunities for women and promoting non-binary culture.
Sara Lugo + Supa Mana
It all started around 2009 in Germany where she kicked off her music journey with Umberto Echo from Oneness Records and her brother's band Jamaram. Sara's music quickly spread internationally and her solo career began to take shape. Influenced heavily by artists like Lauryn Hill, India Arie, and Erykah Badu, Sara's voice is soulful, tempered with a folk-like earnestness, the sophistication of jazz, and the fresh, youthfulness of hip-hop. Her ability to inhabit all od these worlds gives Sara the freedom to experiment with different kinds of music, including pop, swing and R'n'B, and her unique style brings a singular flavor to the genre she loves the most – reggae.
Artists
Tags
Join Our Mailing List