Red Bull Music Academy Home Grown Prepares To Launch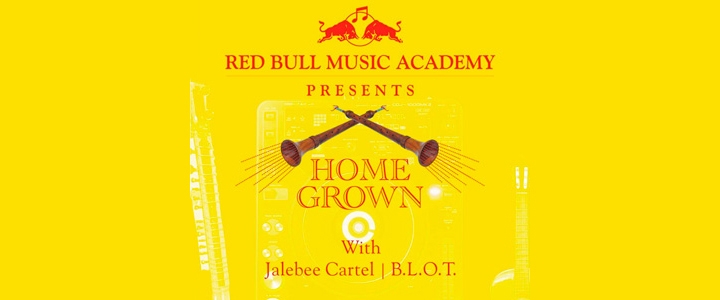 23 November 2011
Red Bull Music Academy is back in India with a brand new platform, Red Bull Music Academy Home Grown.
A truly national tour, RBMA Home Grown will travel to 9 cities across India with the likes of Jalebee Cartel and B.L.O.T taking centre stage from New Delhi all the way to Kochi.
Playing alongside them will be graduates from the RBMA Bass Camp that took place in Mumbai earlier this year where participants collaborated in the Blue Frog studios with jazz/electronic genius Dorian Concept and one of the world's most celebrated drummer Bernard 'Pretty' Purdie.
The Class of '11 will showcase their sound at Home Grown giving the audience a taste of everything they have learnt since their participation in the music lab.
Also joining the Class of '11 will be Jivraj Singh and Jeet Gupta, two of the countries most forward thinking musicians who attended the prestigious Red Bull Music Academy held in Madrid earlier this year.
Below is the schedule for Home Grown, coming to a city near you.
Cochin - The Casino
November 25
Ash Roy (Jalebee Cartel) + B.L.O.T
Hyderabad - The Club
November 26
Ashvin (Jalebee Cartel) + B.L.O.T
Chennai - EC 41
November 27
Arjun Vagale (Jalebee Cartel) + B.L.O.T
Bangalore - Love Shack
November 30
Arjun Vagale (Jalebee Cartel)
Mumbai - Canvas
December 2
Ash Roy (Jalebee Cartel), Jeet Gupta + Bramfatura
Delhi - Shroom
December 3
Ashvin (Jalebee Cartel), B.L.O.T. + Teddy Boy Kill
Kolkata - Tantra
December 7
Ash Roy (Jalebee Cartel), Pink Noise, Ankit Gandhi + Varun Desai
Pune - Venue TBA
December 9
Arjun Vagale (Jalebee Cartel) + B.L.O.T
Goa - Venue TBA
December 10
Ashvin (Jalebee Cartel) + B.L.O.T
Tags
Join Our Mailing List