Releases Of The Week: Sickflip, FOPCHU, Gouri and Aksha & More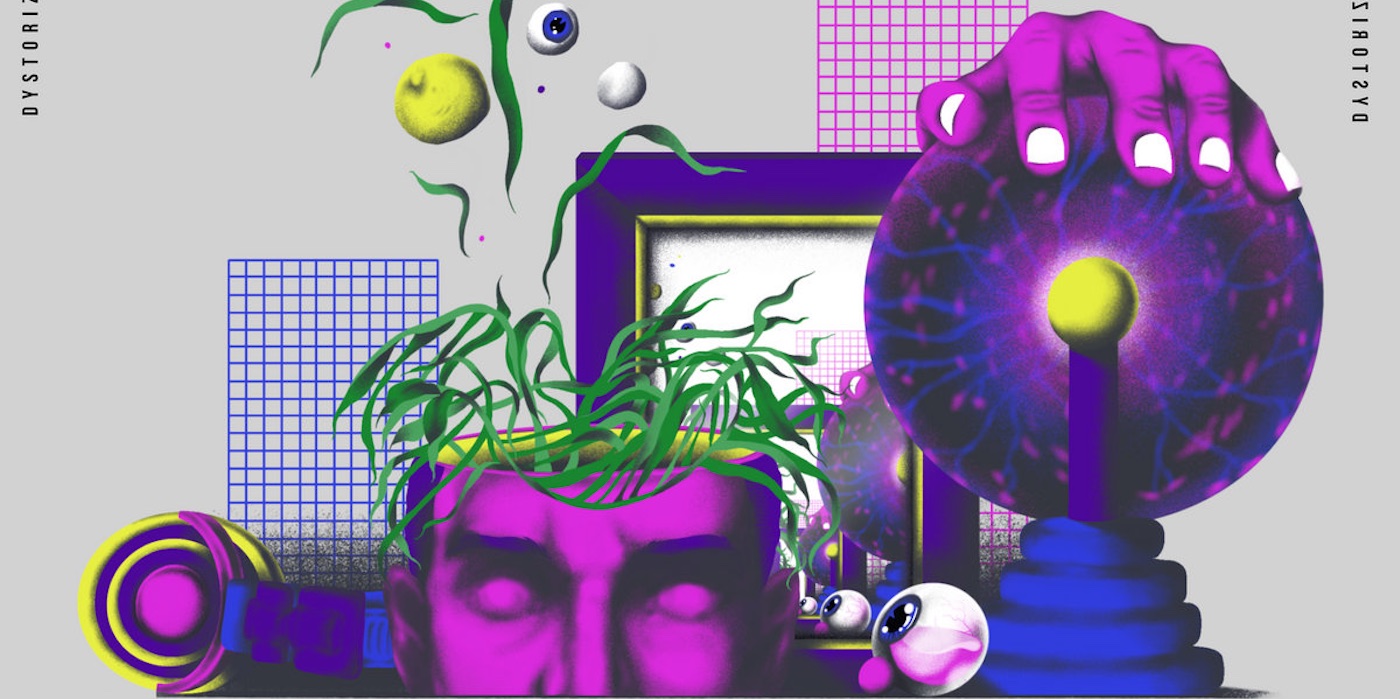 5 April 2021
With 'Releases Of The Week', Wild City handpicks and highlights our favourite new music from the previous week by artists from South Asia and its diaspora. If you'd like us to listen to your music, send the relevant info to music@thewildcity.com.
'Escape Velocity' By Dystorizon
The sophistication of Kshitij Singh aka Dystorizon's 'Escape Velocity' is even more breath-taking when you realize it's the Bhopal-born Valencia-based artist's debut release as his electronic music moniker – only rendered slightly less surprising upon knowing Singh relocated to Valencia for a masters degree in music production. Besides the obvious foundation of the drums, a subtle rhythmic movement defines each element whether percussive or ambient pushing and pulling against each other and rocking the listener gently back and forth amidst the heavy onslaught of volatile textures. The 4-track release flows smoothly from track to track like a single cohesive journey starting with the best, rightly titled, 'Bottom Up Approach'.
'Gotta Be' By Sickflip x Chunky
After a highly successful 2020, which saw the Mumbai-based producer cross over into a larger audience, Sarvesh Srivastava aka SickFlip adds a fresher layer to his musicality with 'Gotta Be', his collaborative single with Manchester's Chunky. The track moulds SickFlip's penchant for off-kilter percussive layers to accommodate the British flow of Chunky, reducing it largely to just that and the occasional gritty boom of the bass.
'Closer' By Khanvict
Pakistan-born and Surrey-raised producer Asad Khan aka Khanvict function just outside the meeting ground of future bass and modern Punjabi folktronica, but never fully abandoning his own singular adventurous edge for the contemporary on 'Closer'. The music video for the track, made in collaboration with filmmaker Anjali Nayar and model-activist Seema Hari, just amplifies that rawness with a bold take on colourism, dialling up both grit, impact and poignancy.
'Unmixed, Vol. 1' By Baba & Prithvi Shetty
Mumbai-based producers Baba and Prithvi Shetty's beat tape 'Unmixed, Vol. 1' takes from the late 90s era of dance music when its sub-genres constantly converged and diverged into each other, and then infuses it all with the modern lo-fi aesthetics and a distinct Indian element.
'Tall Tales' By FOPCHU
New Delhi duo FOPCHU create yet another set of bopping and bustling assortments of guitar, synth and sample hooks on their latest EP 'Tall Tales', continuing to brandish their non-serious fun-focused musicality. Mostly unmarked by anything other than the elements the act is known for, the 5-track release isn't without its appreciable moments like the zany theremin and jazz-led outro of 'Guacamole' and the tamed songwriting on 'Just A Natural'.
'3fer-disco' By Shantam
In contrast to FOPCHU's 'Tall Tales', member Shantam's solo effort with '3fer-disco', released via Brooklyn-based Ceramic Records offers something relatively fresh as it provides a cerebral take on dance music, melting it into a part-fun part-nightmarish disjointed trip of analog sounds and quirky noises hinging on focused club-friendly compositions – at their best on the closer 'jiam'.
'Mona Lisa Smile' By Gouri and Aksha
Befitting to the inception of their partnership with a meeting at a rehearsal of 'Aladdin The Musical', Mumbai-based duo of Gouri Ranjit and Aksha Kini possess a musicals-rooted sonic quality that feels unparalleled in the Indian music scene. Their latest single 'Mona Lisa Smile' beautifully reflects that before growing it further. Supported by a basic arrangement of simple piano and subtle percussions, the duo writes the vocal arrangement into the composition itself, carefully placing each harmony and each layer with meticulous intention to highlight the passing flavours of the lyrical narrative.
'From Toons To Tunes' By Tekina
Voctronica's Warsha Easwar, Bhayank Maut's Ishaan Krishna, saxophonist Jaryd Rodriguez and producer Shannon George – with an assembly like that Mumbai-based Aniket Mangrulkar aka Tekina's EP 'From Toons To Tunes' is as vibrant as you'd expect, underpinned heavily by his own performances on the electric piano. Yet, the best parts of the EP come when the heavy inputs are curbed down for simplicity, namely the opening instrumental and the following title track.
'Samurai Jack' By Specter, Nuke, Zero Chill Ft. Tienas, Quest
Unlike most contemporary releases which cater to the modern short attention spans by attempting to deliver the crux within 15 seconds, the works on Mumbai-based collective Frequency Time Space's Specter, Nuke and Zero Chill's latest album 'Nukye, There's A Ghost In The Room' offer their best as the complementary but contrasting tones of its rappers and producers come together to create a combination greater than the sum of its parts. 'Samurai Jack' exemplifies it perfectly as Tienas and Quest chime in with their unique delivery style while Zero Chill's production jets off into the experimental without losing its booming bass-heavy locus.
'Push It' By Mosambee x Raghav Meattle x Saxontoast
Producer Samarth Chawla aka Mosambee's collaboration with vocalist Raghav Meattle and saxophone-player Rhys Sebastian aka Saxontoast on the single 'Push It' provides a nicely suited ode to procrastination as well as a soundtrack for it. Saxophone supplemented thick synth lines punctuate Meattle's almost conversational phrasing as the track employs a jazz-influenced harmonic progression while maintaining the pop ethos of the work.
.
.
Image: Artwork by Sibangi Sahoo for Dystorizon's 'Escape Velocity'
Tags
Join Our Mailing List