Watch: 'Where The Money Flows' By Peter Cat Recording Co.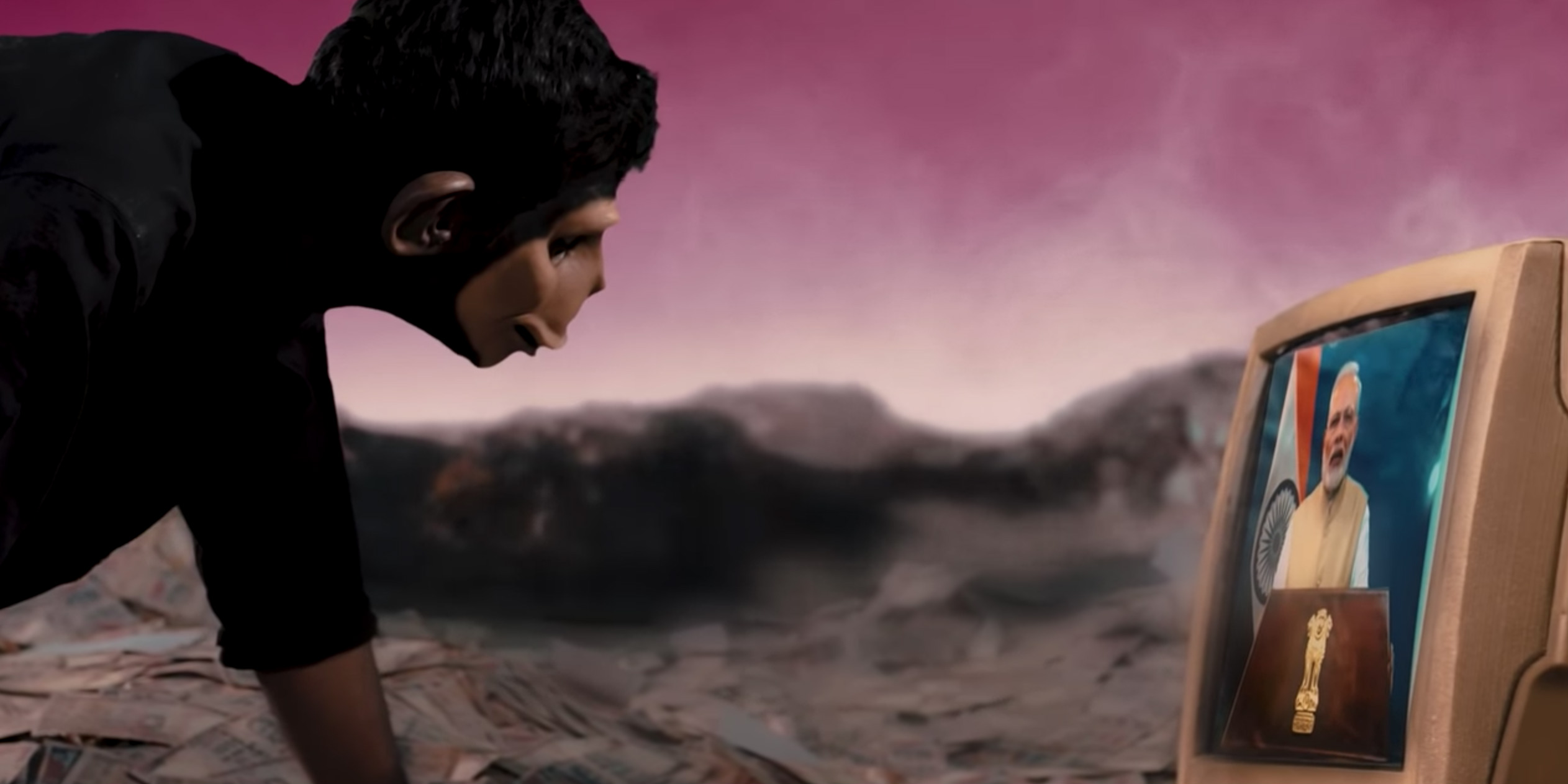 13 May 2019
With their new single and music video 'Where The Money Flows', Peter Cat Recording Co. took the opportunity this Friday (May 10) – strategically, right before Phase Six of voting began for India's 2019 General Elections – to offer a scathing commentary on capitalism, the entertainment industry, the national disaster that was demonetisation, and political corruption.
Traditionally, in India (and other countries), monkeys have been routinely captured, tied up, and exploited for the purpose of entertainment, and subsequently money-making. In the video, PCRC frontman Suryakant Sawhney appears on screen donning an uncannily expressive mask of a monkey, with a rope tethered around his neck. Through this, he becomes the very embodiment of the evils of the entertainment industry – where artists can often be exploited by labels, promoters and the like for minting money and manufacturing entertainment.
Sawhney's eyes deliver the most riveting performance in the video, gleaming desperately from the face of the monkey, blissfully ignorant of the tether around his neck – especially once it starts to (literally) rain money.
"Since the age of man began, we sat around wondering how best to measure our worth on this planet. After several millennia of debate, we are proud to present: MONEY!" said Sawhney, in a sardonic statement about the single and the video. He continued (in all caps-lock): "It's beautiful! It's light... Hurry now and grab all you can because you and I both know, money is something which will survive, well beyond the evaporation of the final black hole."
These campy, advertisement-suited words add a fitting rhetoric to the video's cheeky stance, which literally translates capitalism with piles of cash – particularly, Rs 1000 currency notes. The currency may seem irrelevant to those unfamiliar with demonetisation, but the video graciously explains itself by depicting Prime Minister Narendra Modi's speech announcing the demonetisation of Rs 500 and Rs 1000 currency notes. Consequently, in a proverbial turn of events, the protagonist dons the role of Hanuman from the Ramayana, and like Hanuman did with Lanka, sets fire to the entire kingdom.
With its many layers, 'Where The Money Flows' leaves scope for multiple interpretations, and that perhaps is its most striking quality. The downtempo, breezy sound of the single itself, constructed with the easily-recognisable PCRC aesthetic, adds a touch of whimsy to the visuals and helps it revel further in ambiguity. If nothing else, it's an exciting prologue to the release of PCRC's new album 'Bismillah' on June 7.
Watch the video below:
Words: Satvika Kundu
Tags
Join Our Mailing List