Call For Applications: The Selector Pro Women In Electronic Music Workshops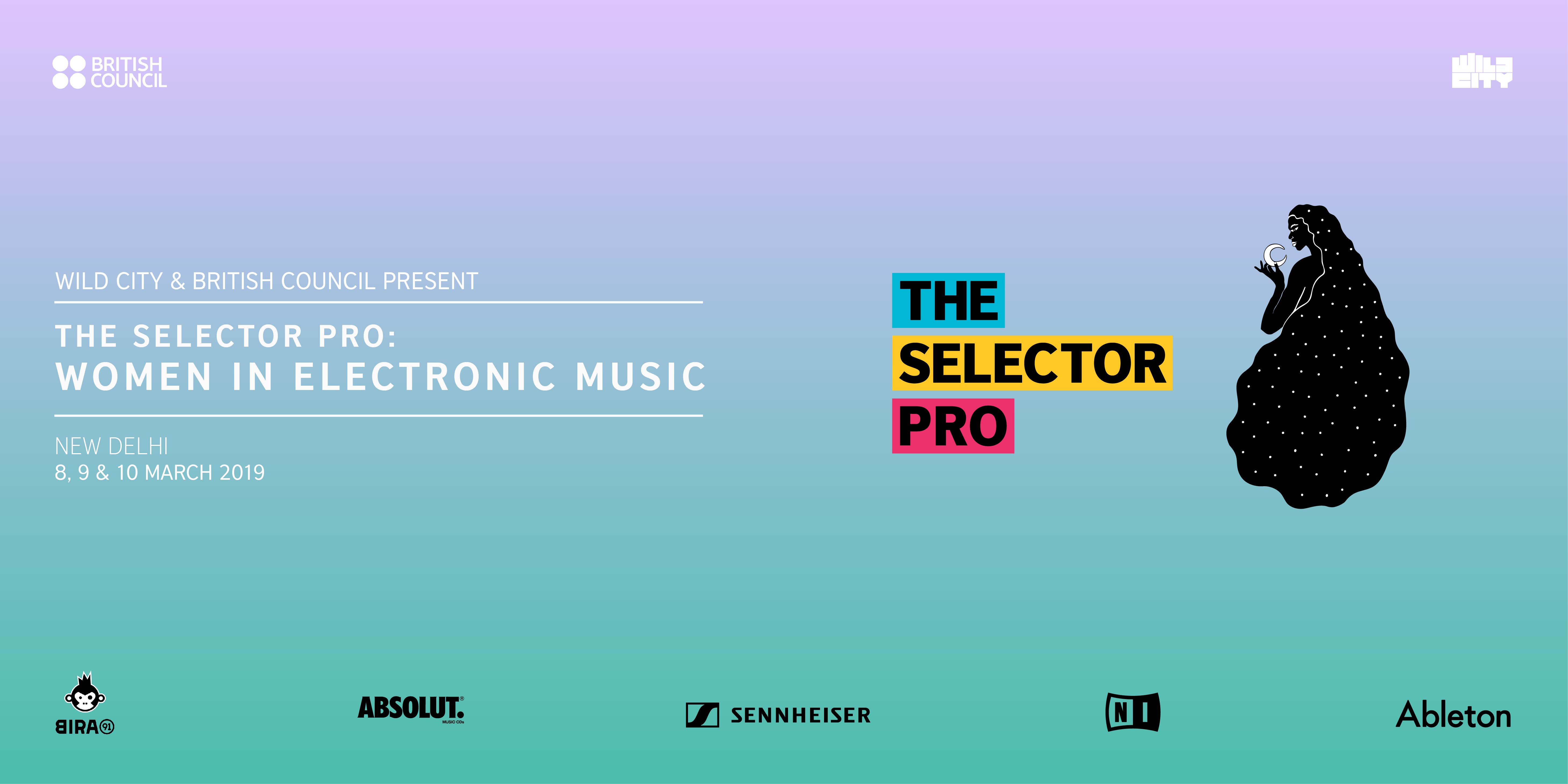 18 February 2019
Last year, Wild City and the British Council joined forces to launch a special initiative The Selector Pro: Women In Electronic Music. Building up on British Council's renowned music industry programme that has travelled across the globe, this particular initiative was special as it laid the focus on women in India's music industry. The workshops travelled across 4 cities in India in 2018, where over 100 women were taught the basics of music production, DJing, and given an overview of nightlife spaces.
Wild City and British Council are now thrilled to announce the 3rd edition of The Selector Pro: Women In Electronic Music. Set to coincide with International Women's Day celebrations, the workshops will take place in New Delhi over 3 days, from March 8-10.
With the aim of giving women in the music industry a chance to develop skills and learn from industry leaders, the primary focus of the 3 days will be on music production and DJing. There will also be sessions on club tech which entail deconstructing the club environment.
Tom Birtwistle, Area Director – North India, British Council said, "The music scene in India is as dynamic as anywhere at the moment. New venues, festivals and platforms playing electronica are cropping up all the time. We think it's important that more women are a part of the next wave of top producers and performers. The British Council has always invested in people's futures and that's why The Selector Pro exists, to give aspiring musicians and producers the chance to turn their passion into their profession."
London and Bristol-based DJ collective Rhythm Sister will be leading the DJ workshops and masterclasses, with boxout.fm co-founder DJ MoCity on support. Rhythm Sister regularly host panels and workshops in London for women and LGBTQ+ community to practice DJing and learn music in a safe and inclusive environment. They are also planning to integrate mentoring sessions for participants following the workshops.
The Ableton workshops will be led by Perera Elsewhere aka Sasha Perera, a London-born, Berlin-based #Doom-Folk producer, songwriter and DJ. The sessions will be supported by Bangalore-based producer, DJ and label owner _RHL aka Rahul Giri, who has played an integral role in the project.
The club tech sessions, meanwhile, will be handled by sound engineer Divyang Row Kavi, who will instruct participants on how to prepare a room for a gig, understanding tech riders, basic lessons on sound check, lighting, and so on.
Gender disparity is conspicuously rampant in the music industry, including the budding scene in India. The essential idea behind this initiative is to dismantle that gap and empower women in the music industry. However, there are several other aspects to the nightlife space and music sphere that need to be taken into consideration to create safer, more inclusive environments. Over the 3-day workshop, there will also be conversations with industry leaders and thought-makers from the world of nightlife and law.
Rhythm Sister will be leading a conversation about working as women in the music industry, by sharing their own experiences and insights. We also have renowned Supreme Court lawyer Karuna Nundy, who will arm participants with legal information and the safety granted to them by law as women and professionals in the music industry.
Another highlight will be a workshop for venue owners, promoters and people who work in events on how to create safe and inclusive environments for events; there will also be free gender sensitisation sessions for security and bouncers and a digital toolkit is being created for the event and nightlife industry with guidelines and support for creating safe and inclusive environments. Created in consultation with UK-based nightlife policy experts Good Night Out, we will also be working with a local organisation to ensure local relevance to the content.
The three-day workshop has been realised in collaboration with Bira 91 and Absolut, and with support from Sennheiser, Native Instruments and Ableton.
"Bira 91 is happy to extend their support for this edition of The Selector Pro: Women in Electronic Music following the impactful introduction of the workshops last year. Encouraging skills development for women in the music industry in India is something we wholeheartedly stand by and see this as a long-term collaboration supporting grassroots talent by providing a holistic skill set. We will incorporate the expertise shared at the industry development workshops and implement the digital toolkit created to make our own events safer and more inclusive by sharing this with venues and spaces in the nightlife industry," says Rohit Pillai, associate director, events and partnerships, Bira 91.
The 3-day workshop will culminate in a wrap party, which will be co-produced by participants, and offer them the space and opportunity to DJ or play any music they've produced over the weekend. Three participants from the workshops will also be given wings to attend the 3rd edition of Red Bull Music Academy's Synth Day celebrations in May 2019, in Mumbai.
The workshop is open to women and women-identifying folks over 18. However the spots are limited and, if eligible, will be assigned on a first come/first serve basis. The workshops will also be split into 2 groups, making them suitable for both people who have no experience at all, as well as those who have previously used Ableton and CDJs.
Tags
Join Our Mailing List