Wild City #139: AerateSound & BlindNight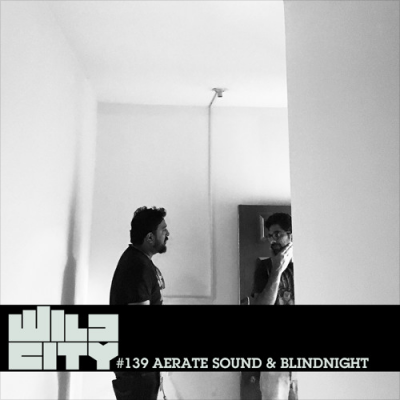 29 August 2017
Aerate Sound burst onto the scene with their debut album 'Only For External' earlier this year. Since then, they've gone on to play Boiler Room in Bangalore and have been lauded for not only their live performances but their studio work as well.
Apart from occasional appearances on the decks at Consolidate events and a few loose singles, BlindNight is a true newcomer to the game.
In that vein, it made sense for the two artists to collaborate on a mix for Wild City; one to show off his skills and announce himself; the other, a much overdue mix after such a successful year. In true Consolidate camp style, the mix is exactly as intriguing, diverse and distinctive as you'd imagine.
The nearly 50-minute mix is full of rare hip-hop, beatbreaks, samples and rap that you're not bound to hear on the dance floor. Artists like Slugabed ('Feeding Time') and Onra ('Hide and Seek') make appearances but it's the Death Grips x Danny Brown collaboration along with Shabazz Palaces that had us intrigued.
"It's always been fascinating for me to listen to how people put together songs. Every time I hear a good song it's always always a collection of great ideas knit together tastefully. So it seemed like a perfect idea to team up with my dear friend and unique musical mind BlindNight aka Suren Makkar to do a mix." - Joe Panicker (Aerate Sound)
Listen below to the mix from Aerate Sound & BlindNight.


Direct Dowload: Wild City #139 - Aerate Sound

Tracklisting:

Brockhampton - Star
Moody Good - Krong Thips
Jotu - Botany
Howie Lee - Dizi
Kid Koala - Tricks n Treats
Onra - Hide and Seek
Shabazz Palaces - 30 Clip Extention
Slugabed - Feeding Time
DJ Shadow - Good news
Alpha Mist - Errors
Vince Staples - Alyssa Interlude
Death Grips x Danny Brwn - Got 4
Sega Bodega feat. Shy Girl - CC
Jameszoo - rolrol (feat. Neils Broos)
Thelem - We Make The Noise
Kaytranada - Quinze Minutes
Knxwledge - Gonna Take It Slow
Jlin - Holy Child
Disco Puppet - Noooooooo
Brockhampton - Star (Outro)

Aerate Sound: Facebook / Soundcloud
BlindNight: Facebook / Soundcloud
*Feel free to share and blog this mix, but please reference this page*
Image Credit: Naquash
Tags
Join Our Mailing List