Wild City #114: French Toast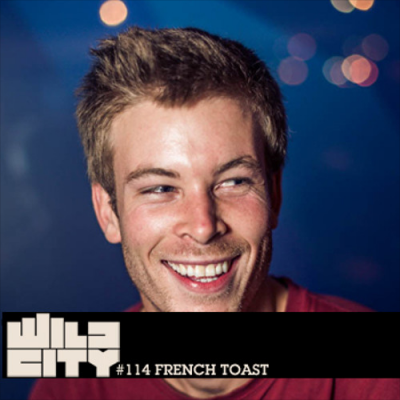 22 September 2016
Mix #114 from French Toast a.k.a. Frank McWeeny is an upbeat jumble of infectious disco and house that's tailored to kick up a storm on the dancefloor.
The ace selector has been behind the booth spinning records and as a radio presenter (his French hometown, Rennes during his teenage years before spreading out to the UK) ever since he was old enough to get into a studio. The half-English, half-French DJ and producer's musical sensibilities and tastes were shaped early on as a child sifting through his father's collection of funk, disco and soul.
French Toast has since caught the attention of big names in the industry including BBC Radio 1's Annie Mac, the UK Radio Academy Awards and Gilles Peterson.
McWeeny took time off of a busy tour schedule to send us dance-floor burner mix #114, which represents a variety of infectious disco, house and funk beats it's hard not to move to.
"In this mix I've gone all over the place! I've attempted to showcase the range of genres you could hear me play out. We kick things off with some feel good disco with key releases from my collection like Moodymann's 'Don't You Want My Love'. Then it get's more housey with a few knees-up kind of grooves, rolling in to smoother and deeper stuff like 'You Should Make Me' by Hackman. I finish things off with some nice and exotic bits including St Germain, Hunee; and a cheeky little Japanese rework by Ziggy Phunk. I hope you enjoy listening to it as much as I had fun putting it together." - French Toast
Direct Download: Wild City #114 - French Toast
David Joesph - You Can't Hide Your Love (Larry Levan Mix)
The Reflex - Come Back (Real Love) [The Reflex Edit]
Moodymann - Dont You Want My Love
Turbotito, Phillipi & Rodrigo - Cansao Para Laia (JKriv Rework)
Ziggy Phunk - The Good Girl
Rhythm Plate - Node Out
Je Dàvu - Don't You Needq
Evan Michael - Ancient Times
Yohan Esprada - Mahajanga
Raw Underground - Can't Get Enough
Sumsuch - All Along (feat. Will Brock) (Richard Earnshaw Remix)
Pete Heller - Big Love
Gigamesh - Control ft. Caroline Smith
Hackman - You Should Make Me
Devolution - Free
Bodhi - Time Warp (Club Edit)
Djebali - Bezbar
In Flagranti - Double Talk
Dele Sosimi - Sanctuary (Titeknots Remix)
St Germain - Real Blues (Terry Laird Come Back Home mix)
Hunee - Rare Happiness
Unknown - Middles Proves (Ashley Beedle's North Street mix)
The Hue - The Calling (Luke Solomon Remix)
Unknown - Sexy Robot (Ziggy Phunk Disco DJ Edit) [rare japanese funk]
Saib. - Yu Garden
*Feel free to share and blog this mix, but please reference this page*
Tags
Join Our Mailing List