Wild City #107: Slugabed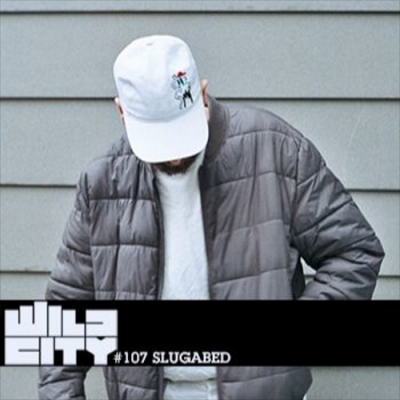 13 April 2016
Ninja Tune beatnik and Activia Benz founder Slugabed offers up a selection of filtered, twisted bass and metallic melody for Wild City Mix #107.
If you're not already clued in on London based producer and DJ Slugabed, he can best be described as contemporary bass music's leading meme informed (self confessed), polychromatic and gifted oddity. Nothing about him is completely straightforward or black and white.
Ever since he emerged on the scene as a teenager in Brighton the late 00s, where he played an instrumental role in the success of local club night Donky Pitch, the international music community has been keeping a close eye on Greg 'Slugabed' Feldwick.
2012 saw the release of Slugabed (a word defined on urban dictionary as "a lazy person; one who dislikes work") acclaimed debut album 'Time Team', via famed UK label Ninja Tune, soon after which he decided to begin his own bizarre and diverse Activia Benz label. The producers distinct sound is an irreverent kaleidoscope of compressed hip-hop beats combined with warped basslines and glossy, metallic melody.
For mix #107, Slugabed gives Indian audiences an idea of what to expect at his upcoming tour for Wild City's Various Artists series, which will see him perform in Delhi, Bangalore and Mumbai this week.
The energy packed, seamless mix begins with heady dose of big bass and grime with music by the likes of Flow Dan, Wiley, Zomby and Darq E Freaker interspersed with his own animated productions. The selections get weirder and more energetic as the mix goes on with tunes from some truly forward thinking tunes from Sega Bodega (off the Activia Benz camp), new BRAINFEEDER acquisition Ighlooghost, Cashmere Cat and more.
"When I approach recording a DJ mix, much like when I approach a live performance in a club, I try not to overthink it. i just try to have fun and hope that some of my own enjoyment shines through. As I have never been to India before, I did try to capture a broad cross-section of the kind of stuff I do. Some brand new stuff, some old classics that I have played for a while and lots of stuff by friends. Mostly I just played music that I like and that I will do when performing in India." - Slugabed
Listen and download:
Direct Download: Wild City #107 Slugabed
Tracklisting:
Slugabed - ????
Darq E Freaker - 2C-I
Slugabed - Welcome 2 My Hood (It's Lovely)
Flow Dan - No Gyal Tune
Air Max '97 - FD1
Zomby X Wiley - Step 2001
Sega Bodega - Sun Loop
96wrld - Kripkenstein
Zomby - Helter Skelter
Slugabed - Unicorn Suplex VIP
Sega Bodega - Chupa Feat. Mikey Dollaz
Iglooghost - Inca Cheekbones
Cashmere Cat - Rice Rain (DJ R3LL Remix)
UV Boi X Ryan Hemsworth - Gods
Taste Tester X Personal Trainer DJ - Flying Snake (Feat. Distal)
Awe - Koto
Jameszoo - Doc Pipper
Slugabed - Livin W/O U
Kai Whitson - Drag Hunt (Reduced 2 Clear Version)
*Feel free to share and blog this mix, but please reference this page*
Tags
Join Our Mailing List