Wild City 070: Thee J Johanz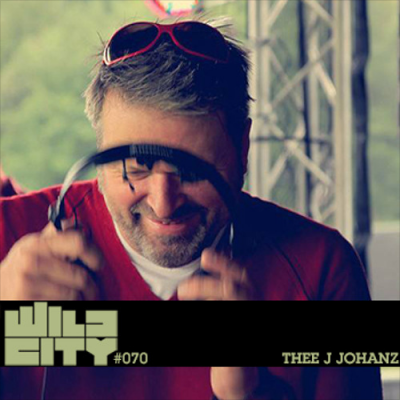 19 February 2014
Thee J Johanz is a producer, DJ and sound engineer from Holland, who has been a part of the electronic music scene, right from its early acid house days.
A keen music lover, he still to this day is pushing boundaries. And one thing he's especially keen on, is the innovative electronic funk and disco sounds which were created in India in the 70s and 80s. Those who've been following the re-birth of acid house godfather Charanjit Singh will also know that he's a part of his on-stage act, controlling drums, live-mixing and generally being an all round synth geek.
We first saw him DJ under his Bollywood moniker in a small basement in New Delhi. Over a year later he was back with Charanjit Singh and we asked him to play the final set of Magnetic Fields Festival. A real peak time groover, we wouldn't have had it any other way. Always exploring new frontiers, he dropped jams with complex rhythms and deep basslines, taking influence from Detroit techno, modern bass music, Latino, funky, deep, Balearic and disco.
As it happens, Wild City #070 is our first ever mix made up exclusively of Bollywood tracks. Well, almost. Of course it includes a bit of Charanjit Singh's 'Ten Ragas To A Disco Beat' too.
Operating at such a high level of 'over the top'; Bollywood still to this day manages to infiltrate communities the world over - particularly with its prolific disco and funk infused sounds of the 70s and 80s. Sadly, a completely forgotten sound within modern day soundtracks.
Praise be to Johanz, for putting together an hour of his favourite Bollywood disco/soundtrack moments for all of our ears. As is only possible, this mix represents only the very tip of the Bollywood disco-funk iceberg, so we expect to see more DJs busting out Desi disco in the near future. For now, let's dig this:
"Although I play various styles of music, this mix in particular is more in the Bollywood electro, disco, funk and soul style that I once played in Delhi. Many people came to me at the party to give me compliments. It was all very rewarding, and a great pleasure to join the experience."
Listen & download below:
Direct Download: Wild City #070 - Thee J Johanz
*Feel free to share and blog this mix, but please reference this page*
Tags
Join Our Mailing List