Wild City 034: Ash Roy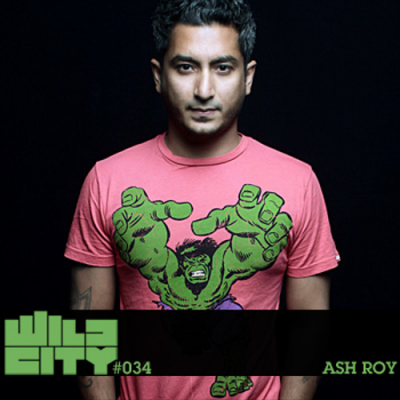 14 August 2012
Ash Roy is one of the founding members of one of India's most prolific electronic dance music acts, Jalebee Cartel.
For over a decade he's been the vocalist and provider of all percussion based elements to Cartel's live shows whilst steadily building a catalogue of original production which he's released over the years.
Based in Berlin with his bandmates every summer, Ash considers himself to have an equal footing on both sides of the globe. While the band has shared flyer space with the likes of The Chemical Brothers, Prodigy, Modeselektor and Carl Cox, he's played individually with the likes of Sasha, Cari Lekebusch, Fergie, Nic Fanciulli and Ambivalent (hear his exclusive Wild City mix here).
Not one for slowing down he's also recently released his Hour Glass EP on Vapour Recordings which he'll be officially launching on 25 August at Zoo Bar in New Delhi. To support the EP as well as celebrate Ash's return from his annual retreat to the German techno motherland we thought we'd get in touch and get a fresh as they come mix showcasing the records he's picked up along the way.
"It's been a phenomenal 2 months of gigs and experiences in Europe. Here are some of the tunes I dropped at some of my gigs; I just wanted to share the same experience with everybody back home. I've also added 2 of my tracks (Hour Glass/Beat Basket) which are out now on Vapour Recordings. Enjoy!"
Make absolutely no mistake. Ash definitely flashes some bounce and low-end crunch with this mix. He is after all a veteran artist and knows how to craft a compelling listen from start to finish.
http://soundcloud.com/thewildcity/wild-city-034-ash-royDirect Download: Wild City #034 - Ash Roy

Tracklisting:
Ash Roy - Beat Basket
Umek - Let's Go (Tube & Berger Remix)
Maurice Aymard - El Duelo (Joyce Muniz Dejando Remix)
Ash Roy - Hour Glass
Will Monotone - Dem Mai Hoes
Pirupa & Hollen - Rolling Drums
Karlanca - Insanity
Maher Daniel - House Of All Kinds
Mikel E, Danny Serrano & Soulrack - Objects (Sinisa Tamamovic Remix)
Nic Fanciulli - Round & Round
Ron Costa - Sodobah Le Photographe
Technasia - Heart Of Flesh
Jay Lumen & Gary Beck - Strange Fruit
*Ash Roy will be playing a number of gigs across the coming months in New Delhi and other parts of India. These include his EP launch as well as a show at Ricks, New Delhi on 18 August. More info on these shows happening across the country on our events page here*
*Feel free to share and blog this mix, but please reference this page*
Tags
Join Our Mailing List