Wild City 032: Distal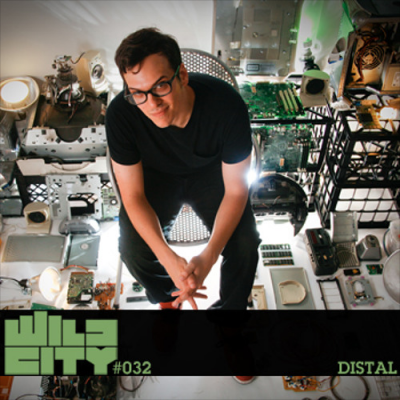 23 July 2012
Distal is a veteran of electronic music. Forgetting bpm and genre to the masses, he relies on his signature sound alone to leave a solid mark on his listeners. With the ability to compose a wide array of moods, tempos and rhythms, the 28 year old producer takes influence from his early childhood love of techno, jungle and hardcore.
In early 2010 Distal started his own label named Embassy Recordings with childhood friend Ethan Anderson and till date has put out almost a dozen 12" vinyl releases and many more digital releases, collaborations and remixes for prolific labels such as Tectonic, Soul Jazz, Frite Nite and Trouble & Bass.
He easily brings forward one of the strongest and most unique sounds out of the whole footwork, bass, electronica crossover. His signing to Pinch's Bristol based Tectonic label for the release of his debut LP 'Civilization', is perhaps a sign of things to come. Within the LP his productions take a more structured and synth laden route in comparison to his earlier upbeat drum heavy monsters.
Recently assembled exclusively for Wild City, his mix is a relentless jam of face-melting tracks, high-speed percussion and chopped-up vocal samples that's sure to break some legs on the dancefloor. Over the course of 45mins, it offers a real sense of narrative development getting harder, nastier and perkier as it progresses. Artists such as Legowelt, Duke Dumont and EDMX all see airtime, as does Distal's own tracks 'Throwing Shade', 'Ralph Muggins Acid Depot' and his collaboration with Theft titled 'We Get So Furious'.
Enjoy!
http://soundcloud.com/thewildcity/wild-city-032-distalDirect Download: Wild City #032 - Distal
Tracklisting:
Chicago Shags - International Banking
Legowelt - Shark Island Acid
Distal - Throwing Shade
Snuff Crew - Eat This
Nic Sarno - Skills
EDMX -Cerberus
Distal - Ralph Muggins Acid Depot
Duke Dumont - Underground Persistence
Paleman - Slither
Distal & Thefft - We get so furious
Thigpen - Dubplate
AnD - Stellar
MikeQ - NuCunt
J. Tijn - Decimated #1

SoundCloud
Facebook
*Feel free to share and blog this mix, but please reference this page*
Tags
Join Our Mailing List