Wild City 001: Dualist Inquiry Presents Dualism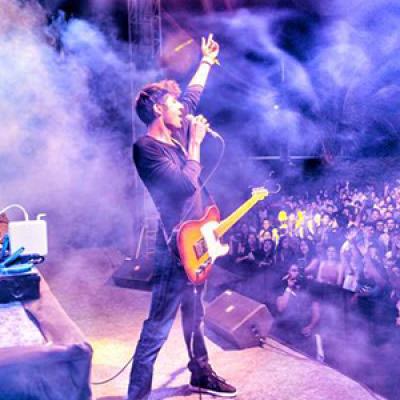 14 August 2011
Sahej Bakshi, a.k.a Dualist Inquiry, is first and foremost probably one of the nicest guys you'll ever meet. Aside from this he's also an extremely talented producer, guitarist and all round nice guy. Wait, did I already say that?
Since returning to Delhi after completing his education at the Thornton Music School, L.A in March 2010, Sahej has been touring India extensively, in addition to being selected to perform at Berlin Music Week last year. Additionally, he was ranked #1 nationally in the Burn Sasha Tour remix competition (2010) and was the 2nd Runner Up in the MTV Submerge Ultimate Pro DJ Championship (2010), held at blueFROG in Mumbai. Most recently, Dualist Inquiry performed at The Great Escape Festival in Brighton UK, opening for hip-hop god DJ Shadow.
Check out his mix here:
Direct Download: Wild City #001 - Dualist Inquiry Presents: Dualism
Already tipped by many in the electronic music community to be a major presence for years to come, Dualist Inquiry showed exactly what the fuss is all about on his debut EP Dualism which dropped on Audio Ashram earlier this year to crictial acclaim. Since then, there's been no looking back. Currently working on his debut LP due for release early next year and with remixes of Indian and foreign artists in the works, Sahej is completely focused on making music.
In my mind, Dualist Inquiry will always stand out from the pack. A hugely talented producer, who uses his own style and personal obsessions to craft something beautifully unique...
http://youtu.be/pitVX-YBfHoDualist Inquiry - Gravitat (Music Video)
We're more than thrilled to have Dualist Inquiry open up the proceedings for us here at the Wild City with 25 minutes of completely original music, some of which has been specially crafted for this mix. If I was you, I'd file this next to Daft Punk, Jusitce and Ratatat.
He's actually gone and set the bar pretty high with this one. If the standard of all the Wild City mixes to come in the future is anything like this, you're in for a treat!
"This live mix is a special one for me because it contains live versions of all four songs on my recently released Dualism EP. In my mind, I've always considered Dualist Inquiry to be as much about the live experience as it is about listening to the songs in a car or home stereo. There are some major differences in the sound of a live performance vs what's on the CD, and far from being an accident, this is something I work towards actively. This mix attempts to capture some of the free-flowing energy and balanced imperfection, that make the live experience what it is. Hope you enjoy it!" - Dualist Inquiry
Tracklisting:
(0:00) Qualia (live remix)
(5:57) "An unnamed song which until now has never existed in recorded form. It's actually a bunch of grooves (drums, bass, samples) that I throw together when playing live."
(9:00) Adustam - #2 (Dualist live remix) - "Another song I've never recorded before, usually only ever played live. The infectious intro is sampled from a stunning track by a Japanese artist called 'Adustam', only with some added club-friendly beats and a tangential guitar solo."
(13:00) Gravitat (Dual-Technologic live remix) - "I love using the vocal sample from Daft Punk's Technologic to segue into one of my live favorites; Gravitat."
(19:20) Orbital (Bigbeat live remix) - "Orbital meets uninhibited live guitars and heavy beats."
+
To see when Dualist Inquiry is next playing in a city near you, keep a eye on our events page here. You can also listen to his EP here
Links:
Dualist Inquiry - Soundcloud
Dualist Inquiry - Facebook
*Feel free to share and blog this mix, but please reference this page*
Tags
Join Our Mailing List