Wild City #209: Antariksh Records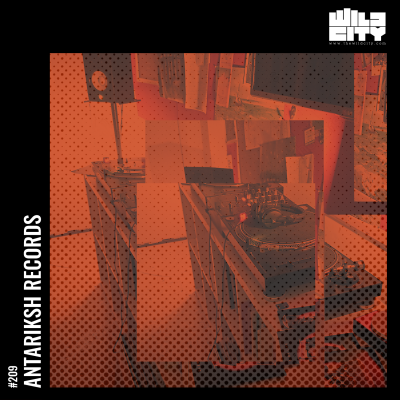 28 February 2022
Based out of Delhi, Antariksh Records has quietly but strongly left footprints in the global landscape of underground dance music over the years – releasing left-of-centre techno, break, acid house and electro tracks that have found their way onto dancefloors around the world while championing homegrown talents like Marbman, Fr4ctal, Planet Meta and Sepoys.
The leftfield approach to dance music gets underlined as the imprint stitches together its repertoire and inspirations with a label mix for Wild City.
Peppered generously with four-on-the-floor cues of Marbman's analog rhythms, Sentient's acid screeches and deeper synth runs of Russian producer Nightdrive and label-head Anandit Sachdev aka AarAv's electro excursions, the set finds its highlights in the extremes of Antariksh Records' timelines – the dreaminess of Egyptian act Wahba's 'Nazra' from the label's first VA compilation and the dense 'Calculated Thoughts' by Mutable Mercury, an artist the label seeks to work with in the future.
"The first half of the mix features artists who have released with us. The second half features some tracks which are representative of the path we wish to follow for our upcoming releases." – Antariksh Records
Listen to the mix below and head to Antariksh Records' Instagram for further information.
Direct Download Wild City #209: Antariksh Records // Head here for Mixcloud
Tracklisting
Marbman - Fresh So Low
Fresh So Low is from our first split artist release Nulyf EP pairing together two neat house tunes by Mumbai-based Marbman (Aalhad Joshi) along with two breakbeat tracks by Glasgow-based producer Kleur. We owe our first release to Aalhad and a lot more since.
Wahba - Nazra
Ahmed (Wahba) our producer friend from Egypt put together this very cool LoFi house edit using Arabic pop music samples. Featuring him on our first Various Artists compilation; ANKTSVA01 was an absolute must. He has since been doing some crazy work manipulating cassette tapes.
Marbman - Border (Lost & Found Remix) on Loom EP Berlin Reworks [ANTKSVA002] (Antariksh Records)
Another Marbman track, this time remixed by Lost & Found (Ali Amel) from Berlin. Ali is doing some phenomenal work back in Berlin with +98 records and has been a friend of ours since before the label was founded.
Marbman - Unhindered Self on Suchi Selects VA (boxout.fm Recordings)
Aalhad's sound has evolved over a period of time and so has our labels'. Suchi curated this stunning release which includes Unhindered Self by Marbman and featured this track in her Boiler Room set too. Lovely energy here.
Aezron - Link Up on 2 Years of Antariksh (Antariksh Records)
Aaron has also been a friend of ours since our Berlin days. Here he features on our second VA compilation titled '2 Years of Antariksh' released in 2020. He's a great DJ and producer and we hope to continue working with him in the future.
Mutable Mercury - Calculated Thoughts on SHUBZINVA003 (Shubzin)
We first heard Mukul's music on Crazed Behaviour and have been hooked since. He is an incredible DJ and producer. We hope to release a track or two from him on the label before the year ends.
Sentient - After Midnight (Mutable Mercury MadMix) on Acid in the Jungle After Midnight (Antariksh Records)
Mukul put together a great Electro remix for Madhav's (Sentient) track After Midnight last year. Incredible work by both of these artists of late.
AarAv - Pyaar Ka Saudagar on 2 Years of Antariksh (Antariksh Records)
Antariksh founder Anandit's track Pyaar Ka Saudagar on 2 Years of Antariksh VA Compilation.
Sentient - After Midnight (Scaefa Remix) on Acid in the Jungle After Midnight (Antariksh Records)
A phenomenal producer from the UK, Scaefa put together a groovy remix of Madhav's track After Midnight. He's been rising steadily with releases featured on La Bonne Musique, Draconian Audio and Zone Focus. We are looking forward to hearing what he puts out next.
Sentient - Unreleased
Sentient has unknowingly changed the trajectory of our label. His release Radiant Energy with Antariksh Records has been played out by Nikki Nair, Suchi, Tanya Sanadze and BEC on Mixmag London. We are incredibly excited about his upcoming releases.
Nightdrive - Untitled 8 on Juicy Spring Sampler JTFD004 (Juicy Traxxx)
Nightdrive/ Alexy is one of the most consistent producers we have had the pleasure of working with. Based out of St. Petersburg, Russia, Alexy has released with every prominent underground label we know of. His volume of works does not compromise on the quality of his productions which are absolutely stellar. We had the pleasure of releasing two of his tracks on our recent Voodoo Time EP (ANKTS008) and hope to continue working with him.
Gamma Intel - School of Common Sense on Mechatronica

Ement - How Much Is Too Much on PZ Records

Djedjotronic - Global Surveillance (Original Mix) from Boish EP

Assembler Code - Lateral Transfer on Censor Records

Nullptr - Reflex Arc

J.D. Finburg - Losing Your Mind on Juicy Spring Sampler JTFD004 (Juicy Traxxx)
Tags
Join Our Mailing List