Wild City #190: SUCHI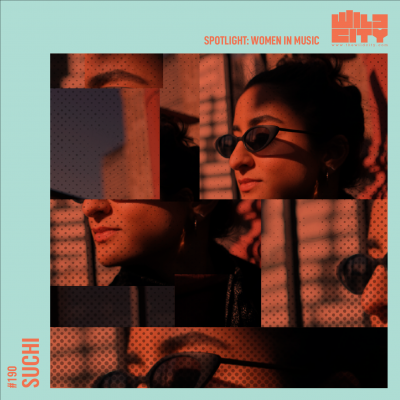 27 March 2020
Oslo-born, London-bred and inheriting a connection to Delhi, SUCHI has kept her finger on the pulse of global electronic music, perched as a seasoned radio host to notice the slightest of musical movements across continents – evident from the natural flair with which she incorporates in mix #190.
Tracks like American producer Fleksor's 'Squaggle' and Indian analog synth specialist Monophonik's 'Are You Free?' (from the compilation 'Undying of the Light'), find their way into the mix which comes as an invitation to gradually and progressively lose your inhibitions as you listen. The sonic trip reaches its peak with the adrenaline-fuelled, peppy, sensory track that is Roman Flügel's 'Garden Party'.
Befitting the occasion that it's the last mix of our March-long campaign for highlighting woman from across the music industry, SUCHI culminates her selections with British electronic duo Orbital's reimagining of the theme tune for the popular TV series 'Doctor Who', originally realised by pioneering composer and electronic musician Delia Derbyshire. Delia created the timbres of the theme tune by cutting, splicing, speeding up and slowing down segments of analog tape, giving birth to one of the first instances of sampling in popular music – although she received considerably less recognition for her work at the time.
With the inclusion of veterans like Roman Flügel, Orbital and Eliphino alongside freshly emerging acts, SUCHI not only traverses geographies, but also curates from across eras and genres, tying the selections together with the evergreen elements of dance music.
"This mix features some artists I'm really into at the moment, a mixture of artists from Ireland, Norway, France, UK, and India. It's a pretty versatile bag of ambient, percussive, big-drum sounds, leftfield techno and housey grooves peppered into it." - SUCHI
Listen to the mix below and head to SUCHI's artist profile for further information:
Direct Download Wild City #190: SUCHI // Listen on Mixcloud
TRACKLISTING:
Omformer - Return To Gravity
The Signal Phantasm - Rave-O-Lution (MFckng'Dub Mix)
RIGSON - Light Metal
Fleksor - Squaggle
Monophonik - Are You Free
Ramadanman - Glut
Syn - Temper
Eliphino - Lo Life
Stenny - Stress Test
StacEmp - Closer
Roman Flugel - Garden Party (Original Mix)
Sweely - The Never Ending Groove - HAWAII019
Ca$h Bandicoot (feat Mr. Pistachio) - BOXGANG
Oprofessionell - Will U
Orbital - Doctor Who Theme [Orbital Remix]
Tags
Join Our Mailing List