Wild City #188: Ose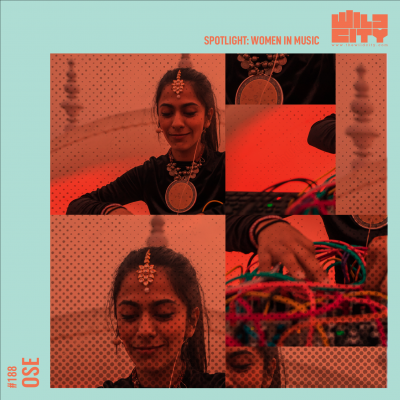 9 March 2020
Every year, March 8 is commemorated as International Women's Day, a day dedicated to celebrating women around the world and their achievements. Since we don't think a single day in the year is nearly enough to celebrate the women around us, we're going to be dedicating the entire month of March to the immensely talented women in our music community and to spreading awareness about female representation and inclusivity in the music industry, through a series of mixes, features and conversations.
We're kicking off this endeavour by a mix compiled by producer, Hindustani classical singer and modular synthesist Arushi Jain aka Ose that sheds the light on experimental sound synthesis by some pioneering female-identifying artists.
Ose first came to our attention with Ghunghru, her experiential sound imprint and curatorial project that serves to "create a space where sound is sound without needing to be music", by highlighting ambient, experimental sound art and synthesis. Her surreal album 'With & Without', which reinterpreted Hindustani Classical ragas with a modern, contemporary outlook using modular, analog synthesis, cemented her reputation as a force to be reckoned with in the alternative music realm. Ose's presence was fortified further, in our eyes, with her adaptation of technology like virtual reality and motion capture, and with her dedication to social causes – like using her music to raise funds for victims of violence in North East Delhi.
With this mix for Wild City, Ose hopes to give listeners some insight into her world, and the artists and music that inspire her. With modular analog synthesisers as her weapon of choice, and ambient music her forté, it's no surprise that most of the selections on the track list have also been performed on modular analog synthesisers such as Buchla, Serge and Eurorack, as Ose tells us, and some on standalone synths like EMS Synthi and prophet V, skilfully combined to craft a deeply immersive, tranquil experience that is meditative and, depending on the listener, potentially therapeutic.
"I restricted myself to female identifying artists, because I think the modular/analog synth community has a lot of really talented women who need more celebrating. Some of them need no introduction, as pioneers in the electronic and electroacoustic sound worlds such as Laurie Spiegel & Suzanne Ciani, Sarah Davachi, Caterina Barbieri, Kailyn Aurelia Smith. Others, are my peers in modular, such as Bana Hafer, Helene Vogelsinger, Elin Piel and Panic Girl. The overall aesthetic is one that encourages deep listening." - Ose
Listen to the mix below:
Direct Download Wild City #188: Ose
Image: RC Photography | Magnetic Fields Festival
Tracklist:
Helene Vogelsinger – Gratitude
Kailyn Aurelia Smith – Labyrinth I
Laurie Spiegel – Patchwork
Kali Malone – Empty the Belief
Elin Piel – Osmorg
Laurie Spiegel – The Unquestioned Answer
Caterina Barbieri – Pinnacles of You
Kaitlyn Aurelia Smith – Glide
Sarah Davachi – Brumeux
~ some singing by Ose ~
Ose – I Feel Incomplete Without Sound
Emily A. Sprague – A Lake
Bana Hafer – Endo
Suzanne Ciani – Concert at WBAI Free Music Store
Sarah Davachi – Heliotropic
Panic Girl – Interlude
Tags
Join Our Mailing List