Wild City #185: Jubilee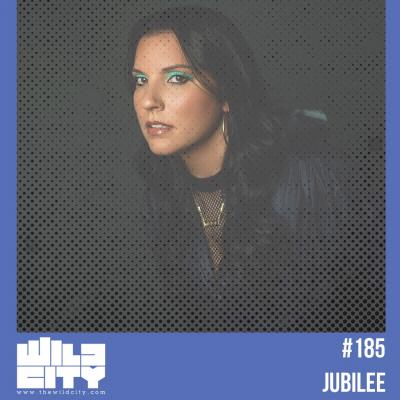 20 November 2019
The first lady of Miami bass is an anglophile and resides in New York. As paradoxical as that statement may sound, it holds entirely true for Jess Gentile aka Jubilee. The Miami-born artist scaled parties all along the coast of Florida before she took the region's sound with her to New York. By the turn of the noughties, Jubilee was running labels and parties in the vibrant scene of her newly adopted home, releasing and performing as a member of Dre Skull's Brooklyn-based collective Mixpak, and establishing her reputation as the "first lady of Miami bass".
All the while, the DJ and producer peppered everything she did with her unabashed enthusiasm for UK music, seamlessly melding d'n'b, grime and dancehall with Miami bass, breaks and even a little bit of house. Jubilee can take influences from three different parts of the world and flourish the sounds of each effortlessly even within the span of 32-minutes – as she does for her Wild City mix.
With a tracklist containing works from the likes of AceMo, DJ Tess and her own repertoire, Jubilee adapts the genres to deliver a bright, club-friendly mix. The alternating cheeriness of dancehall and the brooding low-end of bass lends a colourful ebb and flow to the set, presenting a narrative of light tension and release inviting you to dance along and forget everything else.
"Here are some of my favorite songs right now. I've been playing them out every night and they never fail!" - Jubilee
Jubilee plays New Delhi's Summerhouse Cafe for Boxout Wednesdays tonight, before heading to Bangalore for a show on November 21 at Foxtrot - House of Subculture, and then to Mumbai's antiSocial to play Disrupt 2019 between November 23 and 24. For more information and tickets, head here.
Listen to the mix below:
Direct Download Wild City #185 - Jubilee // Head here for Mixcloud
Tracklist
Bambii – Nitevision feat Pamuttae
Jubilee – Daylight Ravings
Jubilee – Mami featuring Maluca
AceMo – Just Waiting 4 u Tonight (Ann Marie)
Tommy Genesis – Play With It (Jubilee Remix)
Pete Cannon and Patrice – Butterfly
Gafacci – Rhythm of the Night Refix
Mina – One Leg feat Bryte (Surreal Sessions Remix)
DJ Tess – Iene
Tags
Join Our Mailing List