Wild City #181: Yung.Raj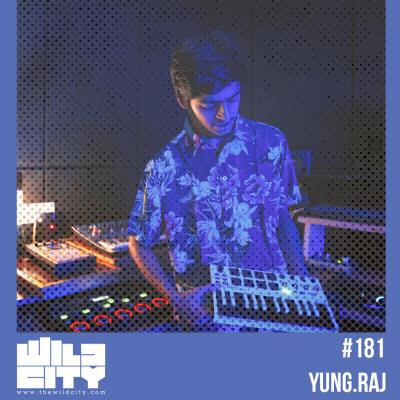 19 September 2019
Yung.Raj hit us last year pretty much out of nowhere; his growth since has been nothing short of exponential. Since his debut EP 'Laced Loops', which he released in July 2018, the Hyderabad-based producer and beatboxer has released five EPs, two beat tapes, a slew of singles, played multiple shows, and landed up in festival lineups. But the most notable aspect of this trajectory has been his growth in terms of sound and production. It's been gratifying to watch his sound evolve and his capabilities mature, and in case you missed it, he's compiled his whole journey into this mix for Wild City.
Comprising entirely of Yung.Raj's own productions, this mix is essentially an introduction to the artist, or as we see it, a compilation of his "greatest hits". If you're new to his existence, consider this a brilliantly apt crash course, 'Yung.Raj 101'. For the rest, it's an amicable, fun, playful compilation of some of his best work.
Right from the get-go, the mix hurtles you into a heady space with lo-fi beats and sample-laden hip-hop. There's an irresistible groove and swing to the music that is almost impossible not to sway along to; you'll be melting into a slo-mo gyrating puddle before you knew it. The first portion of the mix is dominated by this lo-fi hip-hop sound, starting with his latest single 'Sloride' and transcending to his older work (here, by "older", we mean his releases from over 6 months ago). It's easy to tune in, tune out – so far, the mix isn't immersive as much as it is chill, like a lackadaisical Sunday morning. However, the second half of the mix sees a transition to a higher tempo, glitchy beats, and footwork, mapping Yung.Raj's recent transition to that sound over his two-part EP 'Steppin Stoned'.
"This sets contains a mix of genres I have been experimenting with" - Yung.Raj
Listen to the mix below:
Direct Download Wild City #181: Yung.Raj
You can also listen to the mix on Mixcloud, here.
Tracklist:
Yung.Raj – Sloride
Yung.Raj – Track 1 from bonusbumps
Yung.Raj – Lil Nuggs
Yung.Raj – Punch Drunk
Yung.Raj – Gigil
Yung.Raj – Acid Naps
Yung.Raj – Rose Tint
Yung.Raj – Hot Rocks
Yung.Raj – Ruff Sound
Yung.Raj – Tweaked Out
Yung.Raj – Supatroopa
Yung.Raj – LALALA
Yung.Raj – Trollc0re
Yung.Raj – Track 3 from bonusbumps
Tags
Join Our Mailing List